I finished the coronation dress for Queen Elsa of Arendelle in February, but before I could finish my costume for Elsa the Snow Queen, I had to heal enough from my recent eye surgery, finish my taxes, and make significant progress on my grandmother's biography project for her 100th birthday this November. This time I made updates along the way as I made progress on each portion of Elsa's magical ice ensemble, so you can read each update here:
Elsa's Ice Dress
15 hours of cutting & gluing a THOUSAND ice "shingles" to the bodice, but what a beautiful effect!
Elsa's Ice Shoes & Snowflake Accessories
more sparkly fun…I just love these shoes and they are actually comfortable!
Elsa's Sparkling Snowflake Cape
Pale blue translucent iridescent fabric, custom iridescent snowflake appliqués cut with my new cutting machine, glitter paint, and even lights! 😀
Elsa's Final Details
Total itemized costs to make the entire ice ensemble, makeup, hair, and other final touches to get everything picture perfect!
Everything was ready to attend San Francisco's historic Castro Theatre's Frozen Singalong in April, so we took some photos there as the costume debut.
Queen Elsa at the Castro Theatre Frozen Singalong
In June, 24 of us including three junior Elsas had an icy blast with Elsa and Olaf enjoying Do You Wanna Build a Snow Cone? Frozen Fractals, and Love is an Open S'more at my Cinema Brittahytta Frozen Sing Along!
Queen Elsa at the Cinema Brittahytta Frozen Sing Along
At the end of the summer, I went with Jerry and his fancy new low-light camera lens for a quick evening photoshoot in the park by my house with "ice" pond, trees and grassy knolls, and ended up with even more kids wanting photos! You can finally see the fiber optic fabric in the cape in this gallery.
Of course I couldn't resist singing Let It Go in both dresses, so I've put together a video! 🙂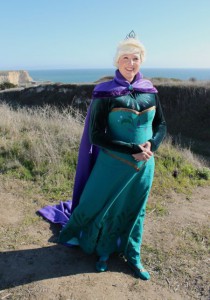 The reverse side of this dress is the coronation outfit for Queen Elsa of Arendelle, using the same wig but styled differently:
Queen Elsa of Arendelle at the Fjords
Making Queen Elsa of Arendelle


I had a little too much fun editing myself into movie stills and poster images as you can see below, but they also serve as costume comparisons to the original. I hope you enjoy looking at these costumes as much I enjoyed my time making and wearing them!