Last year I saw this fancy new "kitchen center" Pandigital PANTV1512 15.6-Inch Kitchen Technology Center Digital Picture Frame
on Popdgadget & thought it would be a nice space-saving idea to replace my bubble-style iMac kitchen computer for recipe use…however it seemed a bit expensive & overkill since I don't think I'll need an HDTV in my kitchen! The cabling for HDTV service would be annoying so not worth it. Wifi would be nice though…so since I've built up some free Amazon money from my Visa, I thought I'd look for it in case it came down in price yet. Nope, still $400. However the "you might like" Amazon suggestions showed the lesser expensive Pantouch digital photo frames with preloaded recipes from Bon Appetit
, one drastically on sale for only $130 …aha! Completely within the free money I have right now! I couldn't find the wifi USB dongle on Amazon, but I did find it on Bed Bath & Beyond online for $30, so I figured to order the frame, see if I could put my own recipes on it easily enough, then I could always add on the wifi later if I wanted it.
So for a third of the cost (free for me!), this can be a photo frame to put elsewhere if I'm not cooking (in addition to the internal memory it has slots for several types of media cards, plus for a USB thumb drive), plus I can move this around the kitchen wherever is most logical for that recipe. It does have to plug in for power though so can't go absolutely anywhere. This model only comes with the black frame, but it is removable, so I can always make my own prettier frame surround for it if I want to. For the extra cost for the "kitchen center" it would have been built-in wifi, HDTV-ready with a larger screen size, and more preloaded recipes, but I don't think I need all that. I added a couple books & a DVD I've been saving on my list to combine for free shipping, and I still have some free money left. The books showed up earlier last week, so I've already finished reading one of them. 🙂
I got the digital photo frame yesterday, so I connected it to my computer to see how the recipe files worked. It's not the most elegant navigation system, and I might end up using the remote more than the touch feature since it's only around the border, but we'll see. It will not display text files or PDF, even TIFF, only JPEG, so I will have to convert my text recipes to images to view them, but that's a big plus for scanning from cookbooks or magazines since no conversion to text necessary! To see if it was worth the effort, I took quick & dirty screencaps of most of my online Mardi Gras recipes to see if I could read them. The included USB cable worked fine, mounting as "Pandigital" on my Mac desktop, so I could just drag & drop files to copy them over to the 512MB internal memory, eject the USB drive, then it would reboot automatically after it disconnected. Hooray it worked! The image isn't huge, but still larger than recipe index cards. 😉 I definitely would not go any smaller than the 10.4″ diagonal image size though if you're going to use one for your own recipes. Unfortunately my nice sale price has gone up $100, but you can still get the frame without the Bon Appetit preloaded recipe collection
for $200. The king cake recipe was too long for a screencap, so I cobbled that together in Photoshop (InDesign would have been better but I didn't want to deal with it with my headache last night), and now all my Mardi Gras recipes are on my new "kitchen computer" in time to use for the party in 2 weeks!
In other Mardi Gras news, my fairy wings are complete enough to wear but I would like to embellish them more…but since the dress & bodice are barely begun, those will come first. The Creole Chicken Skewers are prebaked & in the freezer, and the spinach ball goop is in my fridge ready to be rolled into balls & frozen. Glad I have a 3-day weekend inbetween to decorate & make party food! 🙂
Thank goodness for the long weekend! I still have a long ways to go, but I have made great progress in getting the Mardi Gras Masquerade ready for this coming Saturday! My fairy costume is very nearly done, some tedious handstitching left on the top of the bodice, and details like adding ribbon to the mask & things, but at least wearable already! I could have been further along, but I really wanted to do the wings a certain way, which took something like 12-16 hours of handstitching I swear! 😛 A lot of the food is ready to go, but since I'm making new cookies which are a surprise, they are taking longer & more ingredients since they are oversized. All those need to be decorated tonight after work but at least I have 50 baked that haven't broken. There were more that were either attacked by stealthy kitties (tag-teaming ganging up on me isn't fair!) or just broke from being too thin in places.
Sorry for the delay in the party recap, but I've had 6 houseguests in 7 days, so I've been a bit busy since the party!
Even though from RSVPs I had been wondering if this year might beat out 2005 for the smallest Mardi Gras, there were 24 of us letting the good times roll, including two of those under 2 years old, so a good turnout, especially considering the weather turned a bit nasty with wind & rain right at 7pm. There were very few costumes this year, only Cyd the Bar Wench, Kaye in her corset, the Barbieri family, Robin & Charles, and myself, but a few others came with some purchased masks. Everybody who came said they had a great time, so that's what counts! 🙂
I hadn't made the Tricolor Scrolls in many years, so I decided to try again with different purple, green & gold contents, which were a big hit! My secret new cookie idea was lifesize edible stick masks, including some iced plain white for guests to decorate for us all to vote for a prize for Best Edible Mask. I knew this would be a great kid party idea, but you never know depending on the mix of adults who might come who might be enthused or not. Well, I had more people wanting to decorate than I had space for them to work, so I think I will work the kinks out of the concept & try again next year! I did get my prize medals finished, from supplies I had bought 2 years ago or earlier, so I was glad for that!
And the winners are…
Who Got Da Baby? Ashlyn did!
Best Mask/Most Creative Mask = Robin's gorgeous beaded wire mask
Best Costume = The Bollywood Barbieris
Most Creative Costume = Charles the Frat Boy with Beads
Best Edible Mask = Cyd (perhaps sympathy votes?)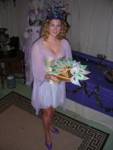 Mardi Gras Fairy Princess Britta displaying the new lifesize mask cookies