Here we go! Halloween season has officially begun! Not only am I already deep in my own party planning, but Eerie Elegance book sales have gone from selling less than 10 books each month through June, to about 40 sold in July, and 85 in August…definitely ramping up!
I did not allow myself any concrete Halloween planning until my kitchen remodel was absolutely finished, otherwise I was afraid I might get distracted & never finish the kitchen! Wheels are always turning in my head, however, and in the past couple weeks I've written up my Halloween party prep wishlist for this year, including the 2009 series of Eerie Elegance podcasts…with the first episode released on schedule TODAY!

I didn't expect to have so much information about royal icing & the spiders I make with it, but it ended up 15 minutes, so had to be split for YouTube into part 1 & part 2. You can watch the entire episode from EerieElegance.com and iTunes by searching for "Eerie Elegance" or by subscribing to the series. Scroll down to see my glowing iTunes review! Thanks amberdawn91!

Halloween, here we come!

Eerie Elegance – Awful Arachnids – Royal Icing Spiders
Whew! Technical difficulties almost prevented it, but here is this week's Eerie Elegance episode…everything you ever wanted to know about the infamous Eerie Eyeballs! Seriously, it's about 18 minutes long, and I think I answered every single question I've ever gotten in email about making my eyeballs, so it's chock full of good info & especially closeups of the painting technique. Again it's split for YouTube into part 1 & part 2. You can watch the entire episode from EerieElegance.com and iTunes by searching for "Eerie Elegance" or by subscribing to the series.
For my own Halloween planning, I have completed the herculean task of clearing the way in my garage chaos to get at the Halloween boxes & shelves, and in the process finding other good supplies for the Steampunk Study and/or my costume that goes with it. Always nice to finally find a reason for something I saved from long ago! I have decided on the 13 favorite spooky characters for the gingerbread haunted mansion quiz (I'm not telling or the party guests reading will be spoiled for the quiz!), and I've decided on epitaphs for 4 new gravestones to make…which is good since I plan to film the making of my new gravestones for the next 3 podcasts!
Eerie Elegance – The Infamous Eerie Eyeballs
However the next couple days will be Halloween hiatus since I get to be hostess for my grandmother, cooking for her in my new kitchen & driving her around California in my convertible!

Episode 3 is out today! There is an entire Haunted Headstones chapter in Eerie Elegance for making my realistic carved foam gravestones, so I decided to split up the episodes as a trilogy to get everything in. Part 1 is Designing & Cutting which is just under 10 minutes, so it'll be a good half hour total watching the entire set when it's finished! The gravestones are messy enough they are best done outside, and I have new neighbors with active little kids and a dog, so pardon some of the background noise. A lot is filmed in the dark since that was after the noise finally went to bed!

You can watch the entire episode from EerieElegance.com, YouTube and iTunes by searching for "Eerie Elegance" or by subscribing to the series. You can also become a fan of Eerie Elegance on Facebook!
By having filmed these, that means I have 4 new gravestones already well underway for my own decor! The most intricate two are completely carved ready for a base coat of paint (which also means the filming is already DONE for part 2 – hooray!), but I have to finish carving the other two before I'm ready to paint. My biggest splurge for this year's decorating arrived from New Jersey last week = 2 wallpaper murals of a fancy library so I can make my patio bar into "walls" of bookcases as I've wanted to do since 2006. My own costume I've only spent $20 so far (well those are shoes & tights I will wear normally, so maybe those count as normal wardrobe, not costume expense?) since I'm using closet finds & fabric I've had in my stash, but I still need to find old leather jackets to sew my buckley bodice. This weekend is our annual Halloween shopping trip with my friend Tash, so I'll be on the lookout for fun accessories!
Eerie Elegance – Haunted Headstones – Part 1: Designing & Cutting
After the Cinema Brittahytta Season Finale tonight (last movie night of the summer), the patio will start transforming into the Steampunk Study!
Episode 4 is out today! Little did I know how much I had to say about gravestone carving & layout…I had 30 minutes of good content my first editing pass, then it took 4 more hours to chip more & more content away down to under 10 minutes! Guess I should have made Carving its own full segment, but I did get it down to the essentials, and the 'director's cut' is probably too long anyway. Pardon the plane overhead…I didn't hear that one while filming or I would have done another take. The wind was the precursor to the freak thunderstorm we had that night, so I'm glad I got the filming done in the nick of time!
You can watch the entire episode from EerieElegance.com, YouTube and iTunes by searching for "Eerie Elegance" or by subscribing to the series. You can also become a fan of Eerie Elegance on Facebook. I've got 131 Facebook fans in just one week, the majority of them people I've never met…wow!
Eerie Elegance – Haunted Headstones – Part 2: Decorating & Carving
I am testing various Mojitoe moldmaking techniques in hopes I can come up with one I can reproduce for a decent cost so I can sell the mold along with my recipe. So far I have a gorgeous 6-toe free-standing food-grade silicone mold with spectacular detail, but it used $25 of liquid silicone supplies! The cornstarch press mold technique didn't work, so next is trying to make a closer-fitting mold form for the silicone, since that might bring the cost down enough.
Halloween shopping weekend was as fun as ever, and I still came back with a fairly full trunk, but we were a bit disappointed in the selection, especially at the cheaper stores who usually have good Halloween basics we can make into other things. It looks like they're stocking less inventory overall due to the economy. Honestly, the past 5 years or so I had been disappointed in how MUCH Halloween stuff was available, removing the fun challenge of making your own, so I don't mind. I totally scored at the Goodwill store for lots of steampunky goodness for the study! No leather jackets there like I need though, so I still need to scavenge locally for those so I can make my costume bodice. Now that I'm back in town, it's full "steam" ahead for the study and my costume!

Do you like the Beware the Brocade design? You can now buy all sorts of silly things like shirts, bags & more at the Eerie Elegance Store on Zazzle.com! You can scroll through this nifty display below, or you can always find it on the Eerie Elegance website.
create & buy custom products at Zazzle
Note that if you select a shirt with the design you like, you can change the shirt style to whatever you like, long sleeves, ladies vs. mens or kids, whatever. Hope you like them! I'm going to get my dad a silly tie for Christmas…haha!
Episode 5 is out today, completing the Tombstone Trilogy! Hope you enjoy them, since the entire 3-part series is about 30 minutes & chock full of tips I've learned while making 23 gravestones by now. Bonus points if you can read the epitaphs on the example gravestones & name the characters & what they're from.

You can watch the entire episode from EerieElegance.com, YouTube and iTunes by searching for "Eerie Elegance" or by subscribing to the series. I've got 152 Eerie Elegance Facebook fans now, and I've set up the Eerie Elegance Agonizing Accessories store on Zazzle.com and already earned $7 royalties there!
Eerie Elegance – Haunted Headstones – Part 3: Painting & Aging
The official party invitation has been sent, one month to party day, and I'm still testing Mojitoe moldmaking techniques down to the wire since that's on the schedule to film this week! My fireplace mantel is under construction probably halfway done, but I keep running down both batteries from so much drilling & screws, so that will be continued next weekend. My local thriftstore seems to have caught on since I've last needed costume leather, since all their leather jackets are now $30 or more, so I found a pair of leather pants (!) for $10 that aren't the perfect color, but I think I can make it work for my bodice. I did find a pair of shoes for $5 to scavenge for 8 matching small buckles, plus a few other steampunk props. Speaking of steampunk, the serendipitous result of my 29-year-old water heater dying last Thursday night is that I scored on leftover copper pipe & mechanical bits for my lab display! After hearing & seeing how much I did myself on the kitchen remodel, the repair tech even showed me how & actually let me solder the copper overflow pipe myself with his blowtorch…cool! That might have to be my next tool for my growing collection!

It's already October, which means Halloween is even closer now! Eerie Elegance 2009 Episode 6 is out today, the Britta Blvd Halloween classic Brittle Bones! Extra bonus for me is that my first party food is all set to go plenty ahead of time.

You can watch the entire episode from EerieElegance.com, YouTube and iTunes by searching for "Eerie Elegance" or by subscribing to the series. You can join my 169 Eerie Elegance Facebook fans if you like, and the Eerie Elegance Agonizing Accessories store on Zazzle.com is open for business. Sometime last week I passed the 500 books sold mark & more are selling every day…woohoo!

Eerie Elegance – Brittle Bones
The fireplace mantel is finally ready to test hanging on the brick fireplace, then staining can begin. All the foam stone walls & gargoyle entrance columns are cleaned up & set up, but there are bits of touchup & repair to do. Storing painted foam outside doesn't last very long, these are on their 4th year now, so I think new foam structures are in my future next season. Time for something new by then anyway! I have the flagstone gossamer & the lab chalkboard hanging in the Steampunk Study, so next will be the library bookcases on the walls over the flagstone. I painted the pipe organ with a black wash to give it spookier atmosphere, and I've tested my iPod & battery speaker with my pipe organ playlist – two items on my list last year that escaped me from lack of time. I ran new extension cords around to the back & to the windowbox since my new brick pathway foiled my previous setup. The skirt is sewn, my costume blouse is cut & pinned hopefully to sew tonight, and a purple spiderweb lampshade matching the curtains is underway for the living room, plus another curtain panel for the piano window…which means the giant cat eyes will move to staring out the office window to the backyard instead of the front…heehee! Way too much still to do as always, plus I don't have much time this weekend since instead of staying at home doing Halloween projects, I will be PAID to sing Star Wars in Concert at Arco Arena in Sacramento & HP Pavilion in San Jose…does that mean I should have watched the prequels by now? oops!

Less than two weeks until my party and only two episodes left before Halloween Day! Eerie Elegance 2009 Episode 7 is out today, showing how easy & effective it is to make the Simple Spooky Spectres I first made back in the last millenium! You can watch the entire episode from EerieElegance.com, YouTube and iTunes by searching for "Eerie Elegance" or by subscribing to the series. You can join my 183 Eerie Elegance Facebook fans if you like, and the Eerie Elegance Agonizing Accessories store on Zazzle.com is open for business. Book sales are still going strong…no day since August with zero sales!
Eerie Elegance – Simple Spooky Spectres
Only a little Halloween party progress since last week because of the Star Wars in Concert chaos from Friday through Sunday. Singing for 30,000 screaming fans total in 4 stadium gigs with fabulous orchestra, giant LED screen of film footage, smoke & flame effects, & even lasers, with singer friends from across the past 20 years of my life…now that was an experience of a lifetime! Definitely worth sacrificing some Halloween prep time for that!

I was barely able to film & edit my podcast for this week between Star Wars gigs, and last Wednesday was singing rehearsal, but Thursday & Monday I did get quite a lot done really. My ruffly costume blouse is all sewn except for bottom hem & buttons (I HATE sewing buttonholes!) and it looks great! The portrait gallery is now inside in the hallway in place of my normal travel artwork, all the spiderweb lace & tapestry curtains are up in the living room with just enough matching purple spiderweb lace for a piano scarf, the pillow covers are changed & silly seasonal pillows are out, the bathroom towels & rug are set up, the skull door knocker wreath & spiderweb doormat at the front door, the fringe is pinned on the new spiderweb lampshade, and my brown velvet spats are underway.
I am extremely thankful I hadn't set out gravestones or hung the bookcase paper yet since there is a HUGE storm today, windy & pouring rain, so that would have ruined the paper through the screened patio! Whew! But that must go up this weekend, since it's the last weekend I have before my party…ack! The to-do list for this weekend is truly scary, with not only food to make, but lots of major projects including the gingerbread haunted mansion & my leather costume bodice, plus I want the Steampunk Study set up as much as possible, especially the lab equipment, so I can film the next podcast with that backdrop…wish me luck!
Eerie Elegance 2009 Episode 8 is out today, showing how to mix your own experimental Spontaneous Sentience as one of the many possible Laboratory Libations! You even get a sneak peek of my new Steampunk Study in process. Only one more episode on the schedule for 2009!
You can watch the entire episode from EerieElegance.com, YouTube and iTunes by searching for "Eerie Elegance" or by subscribing to the series. You can join my almost 200 Eerie Elegance Facebook fans if you like, and the Eerie Elegance Agonizing Accessories store on Zazzle.com is open for business. Book sales are still going strong…no day since August with zero sales!
Eerie Elegance – Spontaneous Sentience
This weekend was a frantic push to make up for lost time from Star Wars in Concert, but thankfully I got a lot done! It was several weeks behind my intended schedule, but at least I got the cardboard mockup made for the gingerbread haunted mansion yesterday! The back is all open like a dollhouse except for the top tower, so you'll be able to see through the windows from the front, but I can turn on lights & set up figures inside from the back, plus people can see even more details by turning it. It's on a leftover chunk of EcoTop counter from the kitchen remodel sitting on my large wooden lazy susan like the Hogwarts castle was. Since there's no way it'll move from the table without a lot of help, so it's on the skull lace tablecloth with plastic protection over it for now…glad I thought of that before I started actually building anything! I like the design, loosely inspired by Addams family & a couple other mansard roof Edwardian/Victorian houses. It should be relatively easy to bake & assemble, less pieces in number but larger pieces than the Hogwarts castle, and then the decoration is what will make it cool. I have to make all the quiz characters & accessories the next couple evenings, then bake the gingerbread Wednesday night or Thursday day. Since it rained again on Monday, I'm not putting any gravestones out or paper decor on the patio until the day before the party so they won't get ruined.
I steampunked a LOT of random lab stuff on Saturday…even my straw dispenser since it was lime green plastic I didn't like anyway! LOL! I wasn't going to use the oscilloscope since it was too modern but then I thought it would look great with woodgrain contact paper & some "brass" accents…I really like it this way! I assembled the spare water heater parts with my chunk of ductwork leftover from cutting my kitchen vent hood into a contraption I really like. My costume is in great shape & is presentable even if I run out of time for any more. I would like to add the jewelry I planned & a holster or two for my ray guns, but we'll see how much time I have. Thank goodness I'm done with the sewing machine this early!
Aside from cleaning up the project mess that can be stashed last minute on the garage floor with Miata parked in the driveway, most of the house & patio is decorated at least so that feels much better than how I started the weekend. I'm still still choosing the last tracks for the music quiz, which I'm listening to on my iPhone on my long commute to & from work, and no food is made yet except the bone cookies, but food is better made closer to the party anyway, and I'm not doing as many cookies this year since I'm doing the gingerbread mansion. Thank goodness I'm taking both Thursday and Friday as vacation days from work this year, since I'm gonna need the extra day!
Now back to party prep, since way too much still to do!

For the last episode for the 2009 Halloween season, learn how to make one of the very first spooky recipes in the Eerie Elegance repertoire – the Haunted Human Heart that bleeds tasty raspberry syrup! That's it for 2009, and I only realized while editing that brings me up to lucky spooky number THIRTEEN podcasts total since I started! How perfect is that?

You can watch the entire episode from EerieElegance.com, it's split into part 1 & part 2 on YouTube, and on iTunes by searching for "Eerie Elegance" or by subscribing to the series. You can join my over 220 Eerie Elegance Facebook fans if you like, and the Eerie Elegance Agonizing Accessories store on Zazzle.com is open for business. Book sales are still going strong…still no day since August with zero sales!
Eerie Elegance – Haunted Human Heart
My party this past weekend was a grand success with over 50 guests who had a blast, and I'm still writing up my party post-mortem & organizing photos, so that will come later this week…but tonight is my first chance at a relaxing evening, so I'm going to take advantage to rest in my eerily elegant decor & maybe convince a kitty or two to cuddle, since I haven't really sat down much all weekend!
I hope everyone has a fabulous Halloween!
I'm still working on the party post-mortem, which will now be combined with Halloween day plans, but before I might forget, here is the press coverage I know about this season:
In the About.com Pool & Patio section:
Eerie Elegance Author Shares Secrets for Outdoor Halloween Decorations & Parties:
An Interview with Britta Peterson, Webmistress of the Dark
(keep reading past the ads in the middle)
Eerie Elegance radio interview with Shannon Medaglia on Edmonton, Alberta, Canada's 104.9 Easy Rock – October 31st, 2009
Thanks to Lisa & Shannon for such nice interviews!
From googling, I found myself and/or book mentioned on a few other blogs & such…
Host a wicked Halloween party
Sunday, April 26th, 2009
All Hallows Eve Menu & Digital Freebie
Sunday, September 27, 2009
Foodie Halloween
Tuesday, October 27th, 2009
Halloween Party Ideas
Friday, October 30th, 2009
I hope everyone had a horribly haunted Happy Halloween!

I do really like having Halloween week to enjoy after my party is over, especially when I did NOT get sick this year! Unfortunately I still got too busy with other fun social events, including Margarita Friday in costume, and the Gourmet Chocolate Walk in San Francisco as "grownup trick or treating" on Saturday afternoon, so I still didn't get the chance to carve a pumpkin after all…darn! Maybe next year…except that since Halloween will be on a Sunday, I'll probably barely have party stuff cleaned up enough for the photo shoot while I get trick or treaters at my door…

So, on with the Halloween 2009 Party Post-Mortem! Another fantastic big bash for Halloween at Castle Brittahytta! Numbers were back up this year to 54 including 6 kids ranging from newborns to teens, and I still absolutely LOVE the enthusiasm of my guests! That makes all the lack of sleep and hard work & pitfalls in party prep totally worth it!


The Final Push of Party Prep
I took Thursday & Friday off of work as vacation, mostly because I was still trying to work on the gingerbread haunted mansion along with the final decor after the mid-week record-setting windstorm plus the fresh food, AND none of the quizzes were finished let alone with quiz sheets! After rolling & cutting dough Wednesday night until 5am and another 5 hours on Thursday I finally had all the mansion pieces baked & cooling, did the yardwork in daylight since mowing lawns before gravestones is so much easier, then my first house-elf Kael came for about an hour in the evening for his gelatin body parts certification & bringing dinner with him.

He mixed the new eyeball recipe and poured into the molds (much easier but needs more sweetness, so will be adjusted by next year), and made the heart & the brain, so at least those were well underway. After he left I started some Gingerbread Gargoyles since I realized I didn't have many cookies for eating since I wasn't planning on letting the mansion be destroyed during the party! After a whole batch that usually makes 5 dozen Christmas cookies only made 15 gargoyles because the cutter is so large, I tried some more character work for the mansion, then hit the brick wall around 2am, frustrated the characters weren't going as well as I'd hoped. I was sure things would look better after some sleep.
My housecleaners came early, so the kitchen was still a disaster even though they nicely moved my mess around to clean counters underneath, and the rest of the house was nice & clean when they left…so wonderful for cleaning to not be on my personal party to-do list! Melanie came by to be another house-elf since she'd be out of town for the party, so she switched out the glassware in my china hutch for the spooky glassware, she started cutting the cheese slices into skulls, ghosts & pumpkins, and she helped with hanging the bookshelf wallpaper in the Steampunk Study…which also needed last-minute revising since the paper was too heavy to hang directly on the curtains, but once I got it up really looked fantastic! After some leaks & extra silicone caulk sealing earlier in the week, I did get the Skull Fountain finally working great with plain water and a thick wire brace to hold up the neck, and I left it running for quite awhile with my brewing sanitizer mixture to clean the entire machinery well…so at least that was a success! I did test an ice brain with the tube out the top & it looked great, but the running water melted the ice brain too quickly so I didn't bother with that for this year.
I mostly finished setting up the lab & screened patio Friday afternoon, really pleased with the little vignettes & where the owls were hiding, then started the outside decor before it got too dark. All the gravestones were set out front & back, Pirate Corner was setup with the new booty in the treasure chest, and I put up the plastic gargoyles flanking the garage with my new giant skull padlock & chain "locking" the garage. Fog machines were tested, down to two working out of my three, but I still need to find a better arrangement, since the fog floats away too quickly in the front yard, so more experimentation for next year. I do love how the gravestones nicely nestle between my plants that have grown so much over the past few years! It reminds me of New Orleans style lush courtyard greenery!
Around dinnertime, some of the Margarita Friday crew offered to bring me dinner plus 3 house-elves! Well, it's hard for me to organize my list for house-elf help, since certain tasks can only be done myself to my satisfaction, and I need the most help with fresh food I can't do until the day of the party. Also, two of these house-elves were quite tipsy from their margaritas! I wisely gave them tasks impossible to mess up while I prepped the pastry brie, but one still poured Splenda through the funnel onto the floor instead of the lemonade jar! haha… Rubby (Ruth) finished the cookie cutter cheese slices & cut up several veggies, and they also helped with a last few decorations for the Steampunk Study, then left about 10pm, so I painted eyeballs & unmolded & setup the other gelatin body parts so they would be ready to serve even if I didn't get around to painting them. It wasn't until 2am I was finally ready to continue with the gingerbread mansion…
It was only 17 hours before the party when I decided there was no possible way I could decorate BOTH sides of each wall, assemble the house, decorate the yard AND still finish 4 more characters to my satisfaction before the party, let alone all of the fresh party food too, so I would rather postpone the project until I could complete it properly…so I hid the characters & stacked all the baked pieces carefully in the pantry. I was disappointed, especially with so much in progress, but it was the time to cut my losses. It was actually a huge weight off my shoulders, since that meant I was finally able to edit the sound clips for the music quiz, and I was able to finish the other Gingerbread Gargoyles that Rubby the house-elf had mixed earlier using the very last of my powdered ginger, then shower, put my hair in curlers, & sleep at 6am.
Oddly the kitties didn't make any noise until I woke up at 9:45am, just in the nick of time before my next house-elf had planned to arrive! Lori brought chicken soup & a couple yummy biscuits, then started baking Savory Spider biscuits for me while I gave myself one hour to whip out all the quiz sheets & even my newspaper article for my costume! She swept the brick patio for me & arranged the extra chairs & fire pits while I was doing the last stashing of random chaos in the garage. I finished the outside cleanup, then as Lori was finishing filling the liquid reagents in the lab equipment, one of the most time-consuming tasks that can't happen until party day, I jumped in the shower & got my makeup on. Lori left as I ran to the store for dry ice & normal ice, then since it was still too early to start cutting fruit, I quickly revised the Maniacal Menu sheets. Kael was able to come by around 5:30 for an hour, and that was very helpful, since it's always getting everything fresh out & ready for party start time that's the most difficult. He made the Freshly Flayed Flesh, arranged some cookies, got the ice out of my car & put the canned drinks in the big cauldron. I was finally able to carve the faces for both the Ferocious Fruit and Vicious Veggies! About 7:05 I put my costume on, after the Barbieris were already in pirate costume & Commander Kevin of the NCC-1701 had already arrived. Why do I always make costumes with bodice lacing that takes so darn long?!? hehe…
The Party
I got most of the food out this time, even with a limited menu from years past! Ashlyn helped arrange the Brittle Bones and crackers, while I finished setting out the Ferocious Fruit. Doug poured all the punch into the 12-quart cauldron, but the Skull Fountain had issues since I had no idea that carbonation affects the fountain pump! If that hadn't been such a time-consuming pain of dumping punch out of the cauldron to lessen the carbonation ratio, the Vicious Veggies would have been put out, but by the time I was getting back to the kitchen, enough people had arrived I just gave up on the veggies this year…too bad since their vicious faces were already carved! The cream cheese Sinister Skulls weren't set out either, but honestly, I am now glad the gingerbread mansion was abandoned, since the Creepy Cuisine table outside was so full, I needed the full dining table & lab for all my own food! The dry ice got used at least once during the party, but I never did get around to turning on the fog machines until after most everyone had arrived, so I just left them off vs. forgetting & burning out their motors. The Skull Fountain worked well for a few cool photos, but the wire neck brace I'd made that was fine for several hours with plain water didn't hold and dumped the skull full of sticky punch all over the patio floor…at least it wasn't on anyone or inside the house! No dry ice while the fountain was running, and I already have a new plan for a better brace that can be stylized into the cauldron shape for next year.
Since I knew I had my new music quiz, I could not let certain people leave without playing! When Dave told me he thought they'd need to leave soon, I ran around passing out music quiz sheets trying to gather people into the living room. I won't go into the mess of technology I've had recently, but I sat with my laptop running iTunes to the stereo to run the quiz instead of a smaller portable audio device. The music had been running fine on AirTunes all evening, and through the first pass at the quiz, but the second time through playing the clips it died & stayed dead so no music the rest of the evening. At least the webcams seemed to work the whole night! Since I knew not all my guests know musicals, I made this a matching quiz, giving the list of possible musical titles to choose from for the 13 selections. I was surprised when not only Ben won with all 13 correct – not a surprise – but so did Rob! Way to go! Everyone at least had a chance, since what took so long selecting clips this time around was giving clues for those who don't know the songs, but if they heard certain people sing or certain lyrics, they'd be able to guess from the list of titles. Now I have another Name That Tune theme to include in rotation, especially since I hear the Addams Family is opening soon on Broadway, so I can replace one of the others off the list!
Since people were starting to leave after the quiz, I decided to get as many costume votes as possible, so I ran around passing out ballots. After the tally, the Britta Dolls had won two categories hands-down, and even placed in Scariest! haha… It is much easier on me to let people choose their own prize from the treasure chest, but I often prod them like "How can you go wrong with an eyeball whoopee cushion?" That proved itself more fun than we ever expected, with uncontrollable giggle fits around the whole room!
Here are the contest results! *drum roll please…*
Scariest Costume: Sean the Executioner
Most Original Costume: Ruth & Gail the Groovy Girl Britta Dolls (really there is a Britta doll!)
Ultimate Costume: The Barbieri Pirates
Creepy Cuisine:
Skones with Blood Raspberry Jam by Tracia
"Dead" Cow Teriyaki Flank Steak by Kevin C
Pumpkin Chocolate Chip Bundt Cake & Candy Corn Cookies by Maureen & Robert
Decapitare Pumpkinus Experimenti Exhibits A-J by Lyle & Galt (pumpkin yogurt with fruit & nuts in real hollowed-out mini-pumpkins)
Jack O Lantern Cheese Ball by Glen
Chocolate Chai Coffin Cake by Cyndee
"Demented Owls" Chocolate Covered Bacon by Ruth (sorry no photo but it was tasty!)
Since I had so much surprise house-elf help this year, I decide to publicly give House-Elf Honors too! Thanks SO much for all the help!

House-Elf Honors: Kael, Melanie, Rubby (Ruth), Glenny, Hoppy (Gail), Lori, Ashlyn, Tracia
As is always the case, I kept focusing on how much of my crazy, overachieving list did NOT get done, but I did have a lot of new stuff this year!

New Projects for Halloween 2009
Pumpkin Patch – My first attempt at growing my own pumpkin patch at this house didn't do very well. I had struggling small vines that bloomed a lot, never any pumpkins, so it was rather silly-looking that such tiny vines had any chance of supporting the giant fake pumpkins I added since I had them in my collection. Next spring since I won't be busy with kitchen work, I hope to prep the soil & area better to try again with seeds next time.
Mourning Glory Skulls – I have an invasive morning glory vine from a neighboring yard that is quite pretty when it blooms, but I have to keep ripping vines out every week in the summer or it'll take over my entire backyard! This year I saved a bunch of the vines, stripped off the leaves & saved them in a spare plastic trash can with water. I only had the time to try making two skulls this year, so I think I'll continue trying again next year. I like the idea of country-style floral wreath decor twisted into Eerie Elegance.

More Spiderweb Lace – I found more of the purple spiderweb lace fabric I used for curtains last year, so I made a new lampshade cover, piano scarf, matching piano window curtain panel, and even a half-circle panel for my front door window for the spiderweb Undead Room. Those who didn't notice the curtains last year noticed them as part of the overall web theme this year.
The Portrait Gallery moved inside, replacing my normal travel artwork in my hallway, and since the hutch is now out on the screened patio, there was even more wall space for the larger portraits I had stopped using in recent years. Yes, I'm a sucker for the lenticular portraits that have come out the past few years, especially now that I can find them even cheaper!
Haunted Pipe Organ Enhancements – My pipe organ playlist was looping on my iPod with portable speaker which never happened last year for the pipe organ debut. It was just the right sound level so it was obvious near the shed chapel, but not competing with the patio speakers playing the party music mix. I also painted the organ with black paint wash to blend in with the playable keyboard on the bottom. Since this wasn't "new" this year, no one played it unless prompted by me…darn!
Name That Tune: Spooky Musicals – finally! I've been waiting since Phantom of the Opera & Nightmare Before Christmas to have 13 different spooky musicals to have in my annual quiz! This was slated for last year, but when my RSVPs told me that the ones who would most enjoy the quiz weren't able to attend, I postponed until this year…
Pirate Booty – In Pirate Corner out front, the treasure chest was open & filled with sparkly pirate booty this year. 300 plastic gold coins hot-glued to a sheet of gold lame then draped over filler for the "full" chest of gold, with some random plastic jewelry sprinkled on top, looked pretty good!
Ogle the Owls contest – This was new for Halloween, but I reused the idea from the Hogwarts Celebrations. 21 owls from my collection were "hidden" around the entire party. 3 people found them all, but I wasn't very good about letting people know about the activity. This is a good way to make sure people notice the details in your decorating, so it will recur from time to time if I don't have a similar quiz to serve that function. I'd still like to have a treasure map hunt activity to go with Pirate Corner some year though…

Gingerbread Gargoyles – When I splurged on my pumpkin face cookie cutter set last year, I also scored a really cool giant copper gargoyle cookie cutter, so instead of Luminous Lanterns or Ghoulish Gravestones for cookies, we had Gingerbread Gargoyles this year. No time for icing and they looked fine, but maybe next year some icing faces & accents can happen if I start them earlier. I didn't realize until only a couple days before the party that there weren't as many cookies on my menu as usual.
Glowing Ice Cubes – Online I found submersible floral lights in purple that gave off enough UV to make things glow, so I made some 50% tonic water ice cube skulls, and put them in an opaque container with the UV light underneath. They glowed very nicely! Funny thing is that I put the same light in a cauldron with normal ice cubes and they glowed just as well…guess no tonic necessary! I plan on investing in more colors of these lights for next year for more variety.

Glowing Mojitoes – My Mojitoe recipe has been giving me grief, and could be because this year I tried adding ground up vitamin B-12 or tonic water to the mix to make them glow in UV light. They set okay but not with the same mold detail as before, and they did glow an eerie green in a glass bowl (on top of the oscilloscope) with one of the purple floral lights underneath the bowl. Even more experimentation needed next year, since now I have some really high-quality food-grade silicone molds to make a bunch at a time!
Miss Hermione G. Wells – Not just a costume this time, but an integrated part of the party atmosphere! This year the Maniacal Menu was revised not just for the lab experiments vs. other recipes, but they were all themed to Miss Wells' experiments and explorations. Only the introductory newspaper column with photo was displayed this year, but I have plans for future years to update the costume & integrate the theme with even more decor, with plant labels showing what exotic location the specimen was collected, custom labels for the reagents in the lab, and old-style photos of her global adventures. This idea will give me fun projects for YEARS to come!
…and last but nowhere near least…the Steampunk Study! Finally my screened patio vision of bookcase walls was realized and it looked GREAT! People had a hard time believing it was just a screened patio! I had great fun "steampunking" things I already had in my collection from previous mad scientist labs & potions displays, a few new thriftstore purchases, plus almost anything that would hold still, even my ugly lime green plastic drinking straw dispenser! I finally splurged on a mini plasma ball (I've always wanted one but where to store the full-size version?), even modded my old oscilloscope, and made a fun contraption out of spare parts from my kitchen remodel and water heater replacement!
Halloween 2009 – Miss Hermione G. Wells in her laboratory at Castle Brittahytta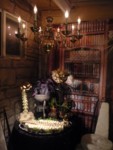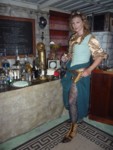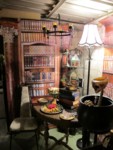 This year was interesting since there were so many different groups of people who all had fun together! My elementary school friend Debi drove over from Sacramento with her husband for a full Bay Area weekend away from their kids, more Margarita Friday people came, others brought friends I'd never met, and even a couple co-workers stopped by! There were way too many all at once for me to make introductions, so I'm glad everyone was comfortable enough to introduce themselves. I've seen a lot of new friending happening on Facebook this past week or so, with my party as the epicenter…haha!
Full photos are in Gallery as always…HUUUUGE thanks to Tracia & Kevin C. for getting great photos during the party! I am in the market for a new "prosumer" camera, since my current camera was frustrating me SO much, I actually charged up my ancient Nikon Coolpix 995 from 2001 to take better low-light photos of my decor, especially outside. Suggestions & recommendations are welcome, and a couple front-runners are the Canon G11 and the Canon S90…G11 might win since even though it's larger to carry around, I can get an attachment to add filters…a polarizing filter for my next international trip would be VERY nice!
Now to clean up, put Halloween away properly, and get out Christmas decorations! I already have chosen the date for my holiday party in December…