So much for being able to catch up on the past year before Halloween…sorry! I did get the Baby Duckie Cake from last November posted, and I'm getting closer on the Spinning Disco Ball Cake, but it's almost halfway through October, so I need to post my Halloween party prep progress already!
The Old Stone Walls technique from last year is back up…boy is that easier than covering the entire walls in flagstone gossamer! I love how it looks. That project is included in Enhanced Eerie Elegance and one of the episodes already released this season. The spooky Portrait Gallery is in the hallway again, with a few rearranged to keep things new. One has even moved into the living room!
All the holiday pillows are out, and all the curtains are changed to the black & gold tapestry curtains with the purple spiderweb lace. Since I'm still riding my exercycle in front of the TV until party day, I haven't moved my new "thrones" into place in the large window yet, but they are carved wood antiques with burgundy tufted velvet that my mom found up north in my dad's hometown…perfect for a castle!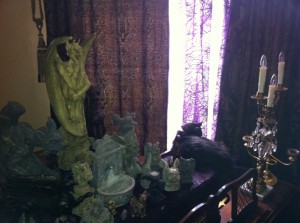 My gargoyle collection has increased with some new Target purchases and moved to a new location clustered on the grand piano. I made sure to leave room for kitty sunshine through the spiderweb lace curtains, and it looks like Ebony appreciates that. I love it when my black cats cooperate as Halloween decor! 😉
During Halloween shopping weekend I finally was able to stock up on black taper candles, since I had been low in stock since my favorite supplier Wishing Well had gone out of business…but then last week Shindigz.com had a 2-day sale with LED flicker taper candles on sale for $3.50 per pair! Everywhere I've seen has been $8 or higher for a pair, so I hadn't invested yet. I bought 13 pairs on the sale, they arrived yesterday, and look great! I prefer cutting off the fake frosted plastic flame like on the right in the video, since then it looks more realistic like a low wick and gives off more light. Even though they are real wax housings, which I didn't expect from the description, I will be spray-painting them black for Halloween, and saving a few other pairs to paint other colors for other holidays. Now I can start getting rid of my large stash of non-flicker battery candles with those ugly bare bulbs!
There are three giant projects for this year already in process. Two of them I am leaving publicly secret so my guests who read here will be surprised at the party, but the third I'm sure everyone can guess is the gingerbread haunted house! Third time's the charm, right? Hey, for all those cake challenges on TV they usually practice several times, so I'll consider the past two years as trial runs for learning experience. Soggy weather and a mandatory work trip immediately before my party foiled me last year when I had made so much great progress, and this year I already have the two days before the party off work on purpose. The bonus to not finishing last year is that I have learned what didn't work, plus with my recent Etsy profits, I have finally decided to splurge on a printer dedicated for edible art! The printer, Kopykake food coloring cartridges, frosting sheets & wafer paper have all arrived, but I'm starting the baking this coming weekend 2 weeks before the party, so I haven't practiced yet. I have way too many ideas how to use my new toy! 😀
As for food, I usually wait until two weeks to start baking, but I tested freezing some spider biscuits after last years party and they worked fine. Now from this past week I already have 4 dozen spiders slightly underbaked and frozen, ready to pop in the oven on party day. The pumpkin pasty filling is baked and in the fridge to assemble the pasties tomorrow night, also for the freezer. Those I leave unbaked since the pastry works better that way. Since the spiders have leavening, I wasn't sure if freezing unbaked would negate the rising while baking. All the other cookies and the haunted house will be baked this weekend.
Also speaking of food, I updated the Halloween Recipes page with some new recipes from both books, each recipe shows which book it's in, plus the entire Halloween section now resides here on Britta Blvd with auto-redirects from the old britta.com location so no one will get lost. Camera.britta.com will remain the webcam page, and I really hope both webcams will work this year since I have a new Mac Mini home server! Still troubleshooting one cam at this point though…wifi is the bane of my existence out on the patio! *sigh*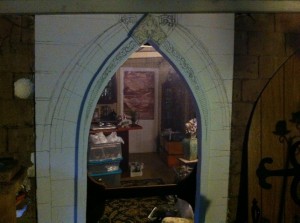 My poor archway has seen better days, but it's originally from 2004 so 7 years is decent value out of about $20 of foam! First it split at the top of the arch where it met the roofline, so I reinforced by adding more foam layers, but then the "legs" kept breaking in storage more each year, until last year it was barely held in place only supported by the gargoyle columns. I bought foam in February, measured and cut last weekend including an extra arch layer around the entire opening, and finally last night I had inspiration for the carving design so that is all sketched on the foam. Hopefully tonight I'll get carving with the woodburning tool and film for a future episode of the Enhanced Eerie Elegance series.
A big disappointment was that when I took my stone walls out of the shed, where I thought they would be safer away from elements, I found lots of damage from a new rodent population that moved in this winter! 🙁 Even the "ruins" have been chewed down to the white foam so need repainting. Since I have the new archway too, plus I will reveal that one of the secret projects includes a LOT of foam carving, I decided to finally invest in a paint sprayer. This Wagner 518080 Control Spray Max HVLP Sprayer
had fantastic reviews on Amazon for the $100 range, not even needing to thin interior latex, so I hope to have enough carving done to start using he sprayer this weekend! Painting requires daylight outside but baking can be inside into the wee hours… 😉
I was hoping to start my costume much earlier, but I didn't find fabrics I liked that early. I finally found everything I needed at Halloween shopping weekend. The fitted blouse is completely finished as of last week, which includes button holes, finished hems & scalloped edging trim on the standup collar and cuffs, but the corset bodice & matching mini top hat only have pattern pieces so far. I have purchased a soldering iron & solder since the hat needs a wire frame, which is a new skill for me to learn. At least the skirt should be easy, and the stockings & boots I already have. I won't say what the costume is, but when I start posting photos I'm sure many of you will be able to guess. 🙂
That's it from me until my next update, hopefully next week. How are your Halloween projects going? Hope you're enjoying the season so far!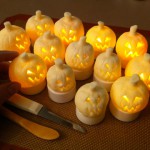 I've made a lot of Halloween progress this past week! Since I can't assemble the gingerbread haunted house until the last couple days, I've been working on the accessories so they're all ready to put in place. I can't show you the figures because they are part of the quiz, but at least they are as complete as they can be before putting in place. These are mini hollow jack o' lanterns hand-sculpted from marshmallow fondant that are open on the bottom to sit over LED flicker tealights. I will paint them orange later but I was so excited they turned out so well I already took a photo!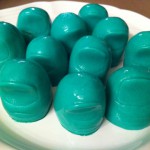 I've also been experimenting with new Mojitoes, since the original recipe I thought was solid enough for the first book in 2008 was acting weird in 2009, so I took a year off last year. These are lime gelatin with mint extract, rum & evaporated milk, and conveniently one box of gelatin (1.5 cups liquid) makes a dozen of my toe molds. I think I finally have the best plan for making the food-grade silicone molds with the least amount of material, so I plan on selling them next season with the recipe included. I will be making "virgin" Mojitoes too, with different color toenails so everyone is aware which ones they're eating!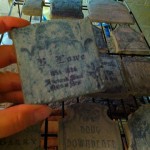 Sunday evening was a continuing frustrating fight getting the gingerbread all baked first, so when I finally got out my new edible printer, set everything up, and printed my first frosting sheet of Tasty Tombstones, I was literally so happy I squealed for joy! 😀 These are the first batch, and I decided to try baking the sheets directly on the tinted gray shortbread, and they worked perfectly & taste great! (And since I used margarine, they're even vegan, including the frosting sheets!) These are images of my foam carved & painted gravestones, with the original eiptaphs edited out in Photoshop, then with my favorite "punny" epitaphs instead. These will populate the haunted house cemetery (one you cannot see in the photo is a clue!) as well as I have 5.5 dozen more to serve at the party. Since I can mail the printed frosting sheets in flat-rate USPS Priority Mail envelopes, I plan to sell these next season too, as the set of 13 punny ones with the recipe included, as well as a blank set to write your own epitaphs with food coloring pens, or custom epitaphs for a higher price.
So for party food progress, I am very pleased that these are already done:
4 dozen Savory Spiders biscuits in freezer, ready to bake party morning
5.5 dozen Pumpkin Pasties in freezer, ready to bake party morning
5.5 dozen Tasty Tombstones ready to serve, plus 14 for the cemetery
3 dozen Mojitoes so far, easy to whip up a dozen to set in the fridge overnight so will continue
11 dozen Brittle Bones safely in plastic hoping they don't go soggy
Freaky Witches Fingers dough is chilled, ready to form & bake soon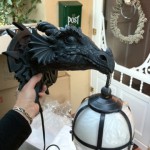 The Etsy-profits spending spree continued with these dragon sconces I've had my eye on for years from DesignToscano.com. I finally splurged on the set of 6 for Halloween decor now, plus permanent installation in the castle I will build someday. 🙂 2 will flank the pipe organ, 2 will be out front as part of secret project #2, one will be in the dining area, but I haven't found a place for #6 so it's safely in the box.
Since the current Airport Express models allow wifi and cabled ethernet now, I have solved the patio webcam wifi issue by avoiding it! A long ethernet patch cable from the Express inside the garage out to the webcam is working like a charm now, but the cable is thick enough it won't fit through the door gap like the thin power cable does, so I will be drilling a hole this weekend for the cables to come through the garage wall to the patio up at the ceiling corner. Cron jobs are set up to capture final party prep & the party, so it looks like the webcast will be a go again!
Hopefully I won't jinx myself that I think I have now solved all the technical difficulties that cropped up for secret project #1, so that is definitely a go! Secret project #2 is well underway, and the new paint sprayer has been working great with only a little water required to thin my paint, but has a LOT to finish this weekend. I am very pleased to have two house-elves who volunteered this year, one for extra hands & collaborating with the two secret projects, and another for Thursday evening, Friday evening & party day prep! I painted all the LED tapers black one by one over several days, but since it's spray paint over wax, it can easily be scratch or bumped off, so I have saved the original plastic box packaging for later storage. All the gingerbread haunted house pieces were baked over the weekend & are safely in plastic bins with silica gel until decorating commences this weekend, but I still have to get my costume done first so all the non-food projects can clear the main worktable. Here are a couple hints since the shirt & skirt are now complete…can you guess what my costume is yet? 😉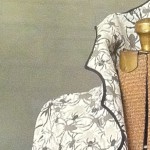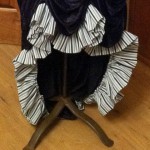 I'll try to update again next week before the final party prep crunch! Hope everyone is enjoying your Halloween season!
Here we are, last chance I'll have time to write up my progress until my party is over! I'm taking Thursday and Friday off work so I can hopefully get everything done and even some sleep along the way if I'm lucky. 😉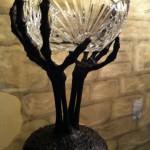 Another splurge arrived! Pottery Barn had sold out of these skeleton hand spigot jar stands last year before I even got the catalog, so this year I ordered online back in September, but they didn't ship until Oct 17th. The jar was sold separately for $70(!) so I just bought the stand, which was expensive enough! It doesn't fit my spigot jar, but it does fit my crystal bowl, so I think it will hold some lighted Mojitoes nicely.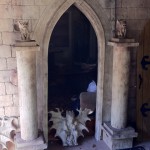 Even though it was well past dark, all the major painting was finished on Sunday night, including the new archway for the patio. Here it is in place, along with the two freshly-painted plastic gargoyles that will hang on the walls flanking the archway after the door goes in. I'm letting my kitties enjoy the patio for as long as they can, since they're cooped up during the party, and they can't open the screen door but they can scoot open the arch door!
I was able to drill through from my garage to the patio, so the patio webcam is still working, now without ugly cables! I hope there's enough lighting, since the main patio light fixture has failed, not working even with brand-new bulbs, so I'm relying on the chandelier, floor lamp & lighted lab display. A new patio light fixture is now on the list for the next Stitches Project Weekend with my dad in February.
Secret project #1 is a go, all technical issues resolved with replacements, stable stand built and painted, ready for testing in final setup Friday night. Crossing my fingers for no rain but the forecast looks good so far…I can't wait to reveal this one!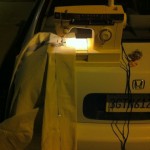 Even though I was painting well into Sunday night and sewing by streetlight in my driveway, secret project #2 is all ready for installation tomorrow! I think this will rival the gingerbread haunted house as the most elaborate and time-consuming single Halloween project, but I do think my guests will be surprised and impressed. I would still be painting if I hadn't invested in my new sprayer that worked like a charm!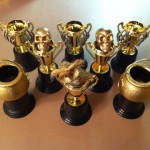 I didn't have enough trophies leftover from last year for all the contests, plus I couldn't find those skeleton hands this year, so I whipped up some new trophies, now all ready to print out the labels on my new inkjet gold foil label paper!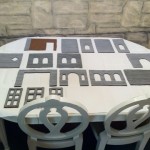 Speaking of gingerbread, I decided that piping royal icing siding would give the look I want better than rolling fondant and stamping with woodgrain pattern, plus hopefully help protect the gingerbread against ambient moisture. All the exterior wall siding was piped Monday night, using about 9 cups of royal icing! I decided this year to splurge on meringue powder instead of having a ton of egg yolks leftover, but I've already almost used the whole can! Even though my hand and arm were sore from piping the stiff icing, I really do like the look. After I took the photo, I shaded the walls with black & purple sprays for some run-down haunted feel.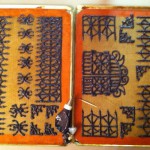 I peeled off all the black candy melt shingles from last year (no one has black candy melts this year so I'm sure glad I bought a ton last year!), melted some into modeling chocolate to rollout for the shingles & some window trim, then melted more plain directly in a plastic piping bag in the microwave. These are the railings, brackets & gate that I sure hope will survive assembly! I made them thick, and I hope the back side will be a cleaner look since it will all be flat, but we'll see. I did a test peel at a railing corner and removed a spider, and those were okay already. If they seem too fragile or are warming up too quickly from handling, I'll pop them in the freezer so they're nice & solid before attaching to the house. Once they're on I think they'll be fine, but they will also be one of the last things for fear of anything falling on them or me bumping them while decorating other bits or adding figures!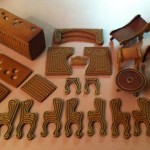 Last night, I decorated the chairs and pipe organ with "carved" detail piping, brown icing on raw gingerbread. Tonight I will add purple fondant tufted cushions to the chairs, couch, benches & lounge chair, then royal ice them together and brace them to dry in proper shape.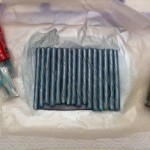 Of course my haunted house must include a pipe organ! 🙂 The pipe organ pipes are hard candy sticks sprayed with silver luster dust from the Ace of Cakes decorating line since handbrushing luster dust wouldn't look as smooth. You can see the other pipe organ pieces in the carving photo, with the two curved sides, music stand, and the curved double keyboard. I'll add white fondant for the keys, then pipe black chocolate for the black keys, then add the pipe rank to the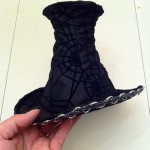 back during assembly. It also has a matching bench that will get a fondant cushion but will probably be mostly covered by character clues.
I have finished my costume enough to wear, but I'm really hoping to squeeze in a little more accent decorating if there is any chance. Here is the matching hat I made from scratch. Any guesses yet? 🙂
Thankfully the inside is mostly cleaned and decorated except for the kitchen that is always a war zone, especially with all the gingerbread work going on. Friday the housecleaners come, some of the best money spent so I can avoid the drudgery of party prep and concentrate on the fun stuff. 🙂
Still to do…
Design & print the inside walls on frosting sheets for the wallpaper only, leaving the raw gingerbread for brown piping as dark wood wainscoting. Since I'm printing anyway, I'll print wood flooring (already found good clip art to tile into large sections), some portraits directly on the walls, and Lord Byron's big bookcase I photographed last fall. 😉 All of those will be accent-piped for 3D detail for frames and furniture edges.
Roll out black modeling chocolate for shingles & window trim – shingles won't go on until after assembly anyway so the roof can be completely stable before adding extra weight.
Figure out exactly how I can put other food on the gingerbread table. This is getting tricky! For the large enough yard to include all the gravestones & the jack o'lantern walkway, I won't be able to rotate the house, so it'll have to be at an angle so people can walk around to see the inside rooms.
Assemble the haunted house! Extra hands scheduled from 5-7pm Thursday for this task! 🙂
Decorate outside! Both secret projects are outside, plus pirate corner, ruins & gravestones will go out on Friday & be tested with fog machines & lighting. Some touchup is usually required for the gravestones from being in storage all year.
Set up the lab! I can't do too much setup on the tables before the library walls go up, otherwise I'm in danger of knocking over lab glassware. Since the walls are only paper and it gets moist at night, I don't want them up too many days since they can get soggy, so they will go up on Friday, after the housecleaners vacuum both patios for me & clean the rest of the house!
Final party food! Donut Be Scared Peekaboo Pumpkins, Bizarre Brain Pate, Haunted Human Heart, Eerie Eyeballs, Vicious Veggies, Ferocious Fruit, Freshly Flayed Flesh, are all coming in the next couple days, plus the freezer prep will need rebaking the morning of party day.
Print & cut voting ballots, including Ghoulish Gingerbread quiz sheet!
Set out the owls for Ogle the Owl – have a couple new owls so I'll need to pay attention to how many, plus retire a couple from rotation.
Set up the outside food table! Since my patio couch is facing the pipe organ, and the forecast is decent, I'm putting the Creepy Cuisine table out on the brick patio, complete with extra lighting so people can see well enough. This will probably help the witch cauldron lemonade get more traffic by the shed. I might put the skull fountain out there too since the lab is cramped with the love seat in there now, but it needs power for the fountain. We'll see what I figure out. At least I finally fixed the pinhole leak in that cauldron!
Hope you are thoroughly enjoying your Halloween season! I'll let you all know how the party goes with complete photos! 😀
Another Halloween party is over! We set a new Halloween record this year with 66 party guests…wow! It didn't feel cramped so that surprised me when I counted everyone the next day! Thankfully the weather cooperated both for having all the patios available for guests and food, as well as for the new decorations and FINALLY the Ghoulish Gingerbread Haunted House!
…and the winners are…
Ghoulish Gingerbread Haunted House – Angie got all 13 spooky stories first!
Name That Tune Spooky Movies – Angie & Doug tied with 9 of 13
Creepy Cuisine – Tastiest – A Deathly Bite (Maple Coffin Cake with Spider) by Robert & Maureen
Creepy Cuisine – Best Presentation – Bloody Glass Cutcakes by Scary Jerry
Scariest Costume – Galt & Lyle Loving Each Other to Death
Most Original Costume – the Barbieri Solar System
Ultimate Costume – Cyd the Vintage Tintype
The costumes were fantastic and so much clever Creepy Cuisine that it was challenging to judge! Everyone had a great time, even after last-minute gingerbread chaos as guests were arriving led to food prep chaos, I was still in full vintage Webmistress of the Dark costume by 8pm, and the Rock Band after-party continued until 3:30am! I'm still recovering from only getting 6 hours sleep total from Friday to Sunday, but it was a blast! Hope everyone had a Happy Halloween!
Keep reading for the full party post-mortem & to see the entire photo gallery. There will be a separate post for the Gate Ghost (Secret Project #1) and Castle Brittahytta (Secret Project #2), plus another post for the Ghoulish Gingerbread Haunted House, telling its three-year story of planning & execution!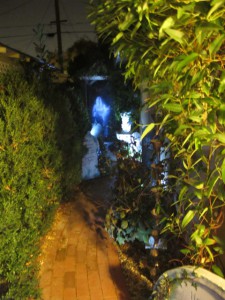 Since they had more impact as surprises for my guests, my big secret projects this year were the Gate Ghost (#1) and Castle Brittahytta (#2), but I had trouble keeping them secret since I was so excited! The castle roof foam stone ramparts was an idea last year that I had no time for after coming back from my Ireland trip, plus I needed to coordinate getting the large sheets of foam home. I've been wanting to project ghosts for many years, one of the reasons I bought my first projector 5 years ago, but weather last year defeated me as I had finally gotten progress made, and this year I had an enthusiastic helper who egged me on to making it even better than I had originally planned. 🙂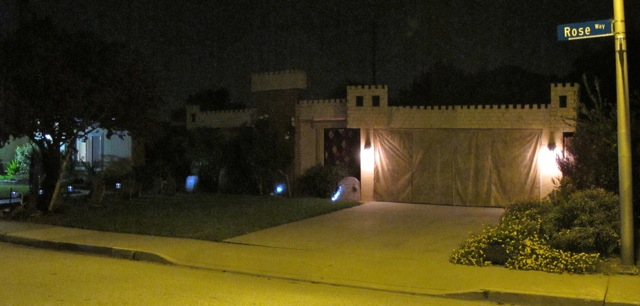 Way back in 1999 after I made the gingerbread thatched cottage in the summer, I thought it would be fun to make a gingerbread haunted house for Halloween, complete with fun tiny details. That very same fall Martha Stewart's magazine had a big fancy kit for one, so I decided against it that year for fear of people accusing me of copying her. As my parties got bigger and bigger the idea kept getting postponed, until I was able to do the lighted gingerbread Hogwarts castle for the final Hogwarts Celebration in 2007, so I thought I had solved how to accommodate a major gingerbread project into my hectic party prep schedule. It was just as well that I waited so long because I have learned so many more cool edible art techniques over the years that the end result was much better, I designed it so that I could scratch some of my dollhouse miniatures itch that has been unsatisfied for years, plus I was even able to make it into a quiz activity for my party guests! You too can play the quiz from looking at these first photos, then I'll reveal the answers at the very end after explaining the three-year saga, including a 4-minute webcam recap movie of the 50+ hours of construction. 🙂
Ghoulish Gingerbread Haunted House
Spot the 13 spooky stories shown by the creepy clues & characters in & around the haunted house. Bonus points if you can also find all the denizens of Castle Brittahytta.
(answers are listed at the end before the photo gallery)
Keep reading for the full details of the Ghoulish Gingerbread Haunted House!