I'll admit I've already been working on a couple Halloween projects, but I'm officially kicking off Halloween 2010 with a special Friday the 13th announcement…*drum roll please*…
New for 2010 is the DVD Eerie Elegance: 13 Fabulous Frights – the perfect accompaniment to the Halloween party book Eerie Elegance! Watch over two hours of full quality video to learn these projects and recipes demonstrated by your Halloween Hostess, Britta, Webmistress of the Dark. Ideas range from the simple and budget-conscious to elaborate environments and everything in between, so there is a project for everyone inside Eerie Elegance!
Originally released online as a weekly seasonal series in 2008 and 2009, all THIRTEEN episodes are included on the DVD in full quality video to watch anytime you'd like to get into the Halloween spirit! To order your copy, please visit www.EerieElegance.com!
Happy Friday the 13th everyone! 🙂
Happy October everyone! I've been back from my adventures overseas just over a week now, and I've already made excellent Halloween progress! My first major project is not only completed for my own party, but available for sale!
Inspired by authentic antique pharmacy jars, these weathered apothecary labels are perfect for your vintage mad scientist laboratory! For only $6.95 plus shipping, the Wells Apothecary Label Package includes 20 pre-printed labels plus 20 write-your-own labels in various sizes on 4 full pages to trim as you like.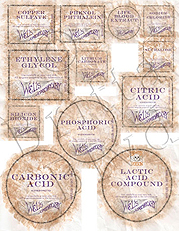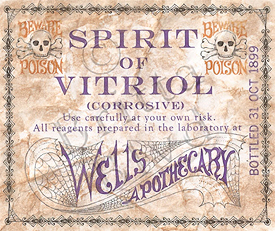 I even figured out how to use Paypal better, so now I have a shopping cart where shipping can be combined if people buy up to 5 items in one shipment for me to squeeze into single flat-rate USPS envelopes. I've already had a handful of orders for the DVD + autographed book together, so I can easily see someone buying all DVD + book + set of labels for the single $5 domestic US shipping!
As for other Halloween progress, you've probably guessed by the apothecary name that I'm continuing the Hermione G. Wells theme this year. I ran out of time & never found the supplies I wanted for the leather buckly bodice last year, so that's on the plan this year, plus last weekend I already covered a cheap costume top hat with the same bronze upholstery velvet I used for the spats, and I love it with the grommeted belt as a hat band! I think I'll remove the buckle to use a cool aqua map cameo I bought last year, but there should be time for that later. I also might need to scavenge that belt for some of the bodice since the grommets are so cool, so I'm not altering the hatband until the bodice is complete.
I have a huge to-do list this weekend, including getting out all the boxes from the garage, my annual Halloween shopping trip with Tash is next weekend, then thankfully there are still 2 full weekends before my party! Even with the mandatory 3-day work trip getting home 24 hours before party start time, I think I'll be able to get a lot of major new projects done!
I've been in a whirlwind of party prep so far, and excited that Eerie Elegance book sales finally cracked the 800 mark this week, but first a little bit of news…Karen Waschinski was kind enough to post a nice review of Eerie Elegance and a few of my recipes as part of her Halloween Studio Tour website, a group of artists banding together to benefit Bat Conservation International. Karen makes very cool plush sculptures…her miniature rats & bats are adorable, but my favorite is the dragon!
Now for the party prep progress! Food first:
4 dozen witches fingers safely in airtight tins
5 dozen meringue bones in airtight plastic (larger bones this year so not the usual 14 dozen)
6 dozen pumpkin pasties in the freezer
5 dozen mini jack o lantern pumpkin spice donuts in the freezer
4.5 dozen gingerbread gargoyles ready for piping decoration
shrimp already ground & refrozen for the brain later
(since the food processor was out for the pie crust dough, this way I don't have to clean it again for this party!)
I think that's almost half the menu, which is awesome! The fresh stuff & gelatin body parts have to wait of course, but I feel much better having this all done already, especially since the gingerbread mansion must be assembled this weekend since I'll be gone most of the week before my party on my work trip!
As of 3am Friday morning, Miss Hermione G. Wells' leather buckle bodice is ALL DONE, so I can finally put the sewing machine away! Since the top hat is already done, and the rest is reused from last year, with a couple more accessories on the utility belt, that's my costume finished a whole week before the party…thank goodness!
As for decor, it's beginning to look a lot like Halloween! 😀 I was lucky & very thankful to have a house-elf appear last Saturday afternoon for several hours! Not much outside decor yet since I'm afraid of more rain this weekend like this past weekend, but if even I don't get to decorate any more inside, Castle Brittahytta and the Library Laboratory will still feel nicely spooky!
skeleton hand lights in front corner bushes
started new aging technique on gravestones & foam stone walls
both backyard sheds covered in flagstone gossamer to match
purple web fabric cover for front porch light
12 new pillow covers in 3 spooky fabrics – more elegant than the old cutesy pumpkin pillow covers
new inside wall decor – plaster wearing away from stone walls – filmed for a future podcast
spooky portrait gallery in hallway
gargoyle collection arranged on fireplace mantel
living room tapestry & web curtains
black candles in all candleholders (thanks Melanie!)
new canvas curtains hanging in patio – had waited until after summer season over (thanks Melanie!)
all bookshelf wallpaper murals ready to hang to cover all patio walls this year, but not hanging until party time in case it gets moist outside
all spooky drinkware in place on the bar bookcase – fills 4 shelves! (thanks Melanie!)
patio garage door & fridge are "hidden" bookcase functional doors
wine fridge & side of patio fridge covered with woodgrain contact paper
13 frames all in place & 8 images already edited for new quiz "Where in the World is Miss Wells?"
skull fountain reinforced & in place over the skull lace tablecloth on a sturdier table in the corner
shelf-safe potions already in lab bottles with new labels (thanks Melanie!)
new permanent patio bar chalkboard = Michaels half-price frame sale (but still $50!) + $3 thin MDF + $5 chalkboard spray paint = invested since will be year-round, especially Cinema Brittahytta in summer!
curtains behind pipe organ on outer patio
rewired pipe organ so iPod & keyboard play through built-in speakers
new gold & black foam carving detail for pipe organ
same foam stone walls for arch door on patio
outer patio furnished more as another interior room, including Creepy Cuisine table
Name That Tune quiz audio clips already edited & arranged in playlist
finished new gravestone aging techniques – painted moss plus vines – filmed for a future podcast
Still on the list:
decorative frame around the plasma TV back in place against the wall, with digital photos as the artwork cycling through (has to be landscape format though). Haven't chosen the photos yet, not sure if I should use canvas fabric, paper, or cardboard, for the fancy frame.
revise projected ghosts to higher contrast – Zoombox/DVD projector will work sitting on gate arbor & shooting onto house wall, but last year's DVD only shows white blobs so needs more detail. Tested new projector but the ancient DVD player won't play the new burned DVD and I need the PS3 for the living room TV.
finish 5 more Miss Wells travel photos but shouldn't take too long since images already selected & prepped.
finish new ruin aging techniques – painted moss plus vines
new quiz sheets Miss Wells, gingerbread mansion, 2010 voting – need to design, print & cut
prize trophies – have had this idea for 4 years I swear, so hoping it finally gets done with a new cooler brainstorm from this week
all the fresh party food of course! Waiting for menu signs until the last minute in case any items need to be cut from the menu
Wish me luck getting the gingerbread mansion done this weekend, even with moist weather forecasted! :-O Hope everyone is enjoying their Halloween season!
Another Halloween has come & gone! It was another great party, with 35 adults, 7 kids from babes in arms to tweens, and the first Halloween rain in a decade, but fantastically creative costumes & deliciously creep cuisine from everyone! This post is so late because I kept hoping to post a few more photos along with this, but our server has been struggling so badly lately (see below), that I finally decided not to wait any longer.
I can't remember a wetter October since I've been hosting Halloween! Due to the wind & rain, I didn't get out the fog machines, nor did I try the projector ghosts for fear of damaging the electronics. Hopefully next year my weather luck will come back! I also knew I didn't want to use foam or cardboard, but I didn't get the chance for the plasma TV frame, nor did I get photos chosen for that slideshow, so that's on the list for next year too. This year the Gingerbread Gargoyles got decorated so people could tell what they were, I did finally get the prize trophies done, after at least 4 years of having the idea on my list, the ruined walls were finished for out front by the pirates, and all 13 travel photos got finished & framed for the quiz "Where in the World is Miss Wells?"
Even though the rain was on & off all day, thankfully it didn't actively rain during the party, but it was still chilly enough no one ventured past the covered patio. Just as well that I didn't spend time decorating the backyard this year. Many were searching for all 21 owls inside & outside, and I insisted everyone try the Miss Wells quiz even if just to appreciate my Photoshop efforts. 😉 Except for the oldest, the kids ended up watching The Nightmare Before Christmas in the guest room, having a grand time, while around 10pm the adults played the Name That Tune Spooky Shows quiz. Somehow either when I prepped the quiz back in August or transferring to my iPhone I ended up with only 12 clips instead of 13…ack! I tallied the votes for the costumes, some furious competition between categories, then announced the winners, presenting them all with their custom trophies! I did sever & serve the Haunted Human Heart again out in the lab, to the lovely disgusted looks on faces around me. 🙂 About 11pm people started leaving, with the last guests gone by midnight, fairly early for Halloween, but everyone said they had a great time!
And the winners are…!
Scariest Costume = Glen attacked by spiders
Most Original Costume = Bugs Bunny Ruth & Elmer Fudd George, complete with gun that said BANG!
Ultimate Costume = Bun in the Oven Audene with Chef Jeff, complete with detailed recipe including sugar & spice, with alternate snips & snails, & warnings of oven being tempermental while baking!
Ogle the Owls = Piper got all 21 first! Since people kept asking me for hints, this was more difficult than I thought!
Where in the World is Miss Wells? = Mari! Everyone got them all, so I picked number from 1-20 to break the tie
Creepy Cuisine = Glen for his glowing jack o lantern cheese ball!
Name that Tune Spooky Shows = Ben & Marco with 11!
For all the photos I've been able to post so far, including all the costumes & all Creepy Cuisine, click here.
For even more details, you can keep reading…
(more…)