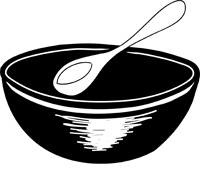 The first set of recipes here on Britta Blvd was my Halloween Recipes, which has become well-known throughout the World Wide Web. Of course, the logical place to link that page was from the main Halloween section, and it still is. When I was specifically asked to post my Mardi Gras recipes as well, I started thinking that perhaps I should consolidate my various recipes into one links page, especially because of the several other "coming soon" recipe pages as well…so here it is:

Halloween Recipes
This page keeps growing, since every year I try to come up with something new & disgustingly realistic…
Mardi Gras Recipes
Even though my Scandinavian taste buds make things a little light on the cayenne pepper, these are authentic!

Star Trek Recipes

(coming soon!)
Recipes from the Star Trek Mystery Party which I hosted on April 28th, 2002
Hogwarts and Honeydukes Recipes
Uniquely creative in addition to authentic British recipes from my Harry Potter parties…
SmorgaBritta Recipes
Traditional family recipes, including Lefse and Astoria-style Pickled Salmon, and coming soon, Sanbakkels, Krumkake, and Swedish Meatballs…

You can also view other recipes here. Enjoy!