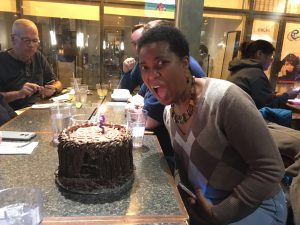 Happy Birthday to Gail, Queen of Chocolate! She requested chocolate with peanut butter this year, so I made her a from-scratch blackout cake with peanut butter cream cheese filling and dark chocolate whipped cream frosting…everyone loved it, and some even assumed it was a bakery cake, with comments like "I don't usually like frosting…what IS this?!?" This cake was assembled from recipes made for previous birthday cakes, but since many have specifically asked for this recipe, here is the Queen of Chocolate Cake with Princess Peanut Butter!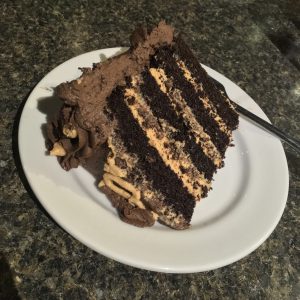 Last year we were on our big East Asia cruise for Gail's birthday, so the last cake I made for her was the Chock Full o' Chocolate Cake, which was delicious but GIGANTIC! Since I was including 10 different kinds of chocolate in that creation, during recipe research I found a blackout chocolate cake, and it was so delicious and so dark that I knew I would make it again! I used Hershey's Special Dark cocoa powder, cornstarch, and Gold Medal all-purpose flour, and I did not use espresso powder. It is quite gooey so does take forever to bake until a toothpick in the center comes out clean, so make sure you have more like 90 minutes + cooling time to keep watching it. If you cannot frost it as soon as it is cool, cover completely in plastic wrap to keep it moist overnight.
Blackout Chocolate Cake
(from http://www.kingarthurflour.com/recipes/chocolate-fudge-blackout-cake-recipe)
2 cups sugar
2 cups King Arthur Unbleached All-Purpose Flour
2 tablespoons Cake Enhancer, Instant ClearJel, or cornstarch
3/4 cup Double-Dutch Dark Cocoa or Dutch-process cocoa (or Hershey's Special Dark cocoa)
2 teaspoons baking powder
1/2 teaspoon baking soda
1 teaspoon salt
1 teaspoon espresso powder, optional; for enhanced chocolate flavor
4 large eggs
3/4 cup vegetable oil
2 teaspoons vanilla extract
1 1/4 cups water
Preheat the oven to 350°F. Lightly grease two 8″ x 2″ round cake pans. Line them with 8″ parchment circles, if desired, and grease the parchment; this step will ensure your cake's crumble-free turnout from the pan.
To make the cake: Whisk together the dry ingredients. Add the eggs, oil, and vanilla; beat on medium speed for 2 minutes, scraping the bottom and sides of the bowl. Stir in the water; the batter will be thin. Pour the batter into the two prepared pans. Bake the cakes for 35 to 45 minutes at 350F, or until a toothpick inserted into the center comes out clean. Tapping to springback is not done enough! Remove the cakes from the oven. Cool them for 15 minutes, then turn them out of the pans to cool completely on a rack. These domed a lot in my oven, so trim flat before stacking.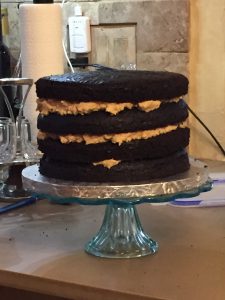 Two of our Friday-night dinner regulars love peanut butter & chocolate, so I have tried several peanut butter frostings over the years. Many are not much peanut butter flavor, then if you add more peanut butter, they aren't spreadable enough. This recipe is an excellent consistency that is spreadable without losing shape, still creamy like fudge, and the perfect peanut butter flavor!
Peanut Butter Fudge Frosting
(from http://communitytable.com/22609/donnaelick/reeses-peanut-butter-fudge-brownies/ )
1 (8 oz) block cream cheese, softened
1 cup unsalted butter, room temperature
4 cups powdered sugar, sifted
1 (15 oz) jar natural peanut butter
1 Tbsp vanilla extract
½ tsp salt
Combine cream cheese and butter in the bowl of a stand mixer fitted with a paddle attachment. Beat on medium speed until smooth and creamy, about 3 minutes. Add sugar. Beat on low until combined, then switch to medium speed and eat until light and creamy. Add peanut butter, vanilla and salt. Beat mixture until well combined.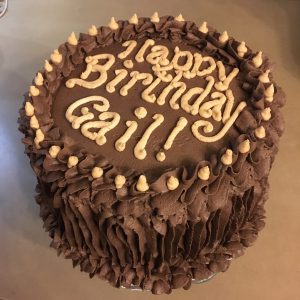 Over everything was the same Chocolate Mousse Whipped Cream Frosting I've made a few times now since everyone loves it and it spreads so easily! Since this time I didn't use this frosting between layers, there was a cup or so of leftovers, which several days later was still a good consistency in the fridge and spreadable by knife, but I'm not sure if the cream might break if thawed enough for piping, so I still recommend decorating your cake when this frosting is freshly whipped. I do know from experience that whipped cream frosting stays moist enough to melt wafer paper decorations, so use buttercream that crusts or royal icing for those. The only difference this time was that I ran out of normal cocoa powder, so I made up the difference with the special dark cocoa powder. It turned out a little more gray than the usual brown, with definitely a little darker chocolate flavor, but this is the frosting that received the comment "I don't usually like frosting…what IS this?!?"
Dark Chocolate Mousse Frosting
(from http://www.cooks.com/recipe/r74ya4rg/chocolate-mousse-frosting.html)
4 c. heavy whipping cream
2 c. sifted confectioners' sugar
1/2 c. sifted cocoa powder
1/2 c. sifted special dark cocoa powder
Dash of salt
In a chilled bowl blend ingredients, then whip until mixture holds a peak. Do not overbeat or you will end up with chocolate butter! Refrigerate if not using immediately. Frosts 2 (9 inch) round layers, split in half plus sides and top, with enough leftovers for fluffy piping around the edges.
I hope you enjoy your cake as much as this birthday girl enjoyed hers! 😀