My annual Mardi Gras party is 4 days away! I'm not quite as enthused this year since it's the perfect storm of Presidents Day holiday weekend, Valentine's Day, Chinese New Year AND Mardi Gras all the same weekend, so most likely only about 15 people are coming, but I'm sure we'll still have plenty of fun. I've decided to do an easy costume this time, using tricolor costume bits I've gathered over the years to be a sparkly Mardi Gras Girl. I decorated my mask Sunday evening with some giant plastic jewels to go with the sparkly necklace I had. Most of the decorations are in place, but beads still need to be draped everywhere plus food tables set up, and the housecleaners are scheduled for Friday so everything will be nice & clean. Friends have volunteered to make the King Cake this time, so that's a long project for Friday evening off my plate!
I think we'll have plenty to eat…here's what's already done:
double-batch crab puffs in freezer
10 dozen spinach balls in freezer
5 dozen tricolor scrolls in freezer
2.5 dozen creole chicken skewers prebaked in freezer
40 life-size edible mask cookies baked, ready for decorating
Add those to the shrimp mold, pastry brie, sliced cheese & crackers, fruit & veggies, plus the King Cake coming, and we have a decent spread! Since there's always so much punch leftover even for the larger parties, I've decided to forgo the punch this year & only have hurricanes plus the full bar. There is one more edible experiment I'm hoping to figure out, but that will remain a surprise.

Decorate your own edible mask was such a hit last year that I'm only going to decorate 10 as examples, leaving the rest with white basecoat icing, and more table space so more people can decorate at once. I bought reusable plastic candy/icing mini-squeeze bottles with tip covers so no one will have to wait for icing, I have extra decorating sprays in hopes we won't run out, and I'll get out my fun confetti sprinkles this time too. I can't wait to see everyone's creativity this year!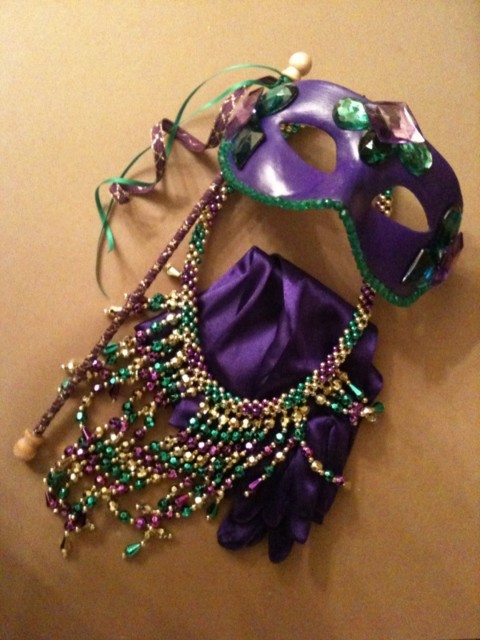 Bejeweled & Bling
Laissez les bon temps rouler!
Even though the perfect storm of scheduling conflicts had a lot of regular attendees lost to other events, whether Chinese New Year, Valentines celebrations, or going away for Presidents Day holiday weekend, still 20 of us had a fabulous time, with Lyle bringing a delicious homemade King Cake, everyone enjoying decorating the cookie masks, and Kevin C playing bartender all evening with his hurricane recipe, much better than the one I found. Kevin, I think you have a new annual job!

This year I only decorated 10 edible masks as inspiration for the 30 plain ones for guests to get artistic. I did try a new marbling technique with food coloring into the wet royal icing basecoat swirled around with a toothpick, but I didn't think of the idea until most were already iced, so I only tried 3. I think they turned out very cool, but I would use other icing vs. straight food coloring since it was too dark, plus some spots didn't dry properly. The effect looks a bit like feathers, and nice to have finer detail than you can ever get with a piping tip.
This year's new idea was fried wonton Jester Hats…but as I feared, no one guessed what they were until I told them! Maybe little heads of something edible to be wearing the hats would give a better clue? They were cute enough & tasty without being super sweet or heavy, but they take forever to fold the wontons, and I used the deep fryer which is a bit of a mess. I may try again next year without frying them & see if I can make it easier and more identifiable.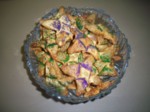 Even more details if you're curious…
Mardi Gras has usually been the "easier" party in my annual schedule, and this year I had a pretty good handle on things by starting as early as possible on food prep, especially cookies, and trying to space out tasks so I could get decent sleep at least until party eve. Work thankfully hasn't been as crazy as last year at this time, I had learned from my mistakes from last year's inaugural round of lifesize cookie masks, and when I only had 15 RSVPs, I scaled back my food & drink plans, like not making the giant batch of punch so few people drink anyway. Why not make it easier on myself if everyone still has fun? I was in most of my costume, tables were already arranged, things were already in the oven and I was well underway with the fruit & veggie trays when the Barbieris arrived early to get dressed, so that's a lot better than some years! All the hot food is what gave me trouble this time, perhaps because it's the first time for many of these recipes in this new oven from the kitchen remodel, so I think next time I'll just bake the tricolor scrolls in advance to serve them room temperature, and prebake the spinach balls so they can just be reheated for serving.
Last year was so damp & chilly no one went out to the patio unless they were quickly getting a drink at the bar, otherwise I would have set up the cookie decorating station out there so more people could decorate at the same time, plus have some munchies out there. Of course this year wasn't raining but still chilly, but everyone immediately went out to the patio to hang out! I quickly threw a bowl of chips out there, but I was sad because due to my new living room entertainment setup, my patio speakers aren't hooked up, so everyone out on the patio couldn't hear all the zydeco & dixieland jazz from my Mardi Gras playlist. It also meant that since there were only two decorating seats at the main food table, there was always someone waiting for a turn to decorate! I had lots of sprinkles & wider assortment of frosting this time, and I see from the results that people did use my examples of various techniques as inspiration, so people really got into it!
Lori started the king cake cutting since she wanted to have some before leaving early. I usually would cut all the cake at once so everyone was around to see Who Got Da Baby. Since self-serve was already started, I went with the flow, and Lyle said when he was in New Orleans everyone just served themselves, so why not? People started leaving before any voting had started, so I had a handful of ballots from asking them to vote before leaving. Lyle was still decorating his second mask as I had tallied up the votes for all the other categories, then only 3 of the 5 categories were present to claim their prizes!
And the winners are…
Who Got Da Baby? Robin did!
Best Mask = Galt's asymmetrical feathered frenzy
Most Creative Mask = Knotty Robin & Charles made elaborate Chinese knots as their masks
Best Costume = Mardi Gras Barbieri Bling
Most Creative Costume = Glen the New Orleans Saints fan, complete with commemorative Superbowl mug
Best Edible Mask = Sheila's gorgeously detailed swirly creation
The reward for staying past 11pm was Beatles Rock Band! Sean & Laura had never played before, Kevin is now an expert from his own set, Glen has Guitar Hero & the Barbieris have Guitar Hero World Tour, so we all rocked until about 1:30am. Tween Ashlyn held her own on vocals & bass even though everyone else was over three times her age.

Rob had fun trying to get crazy photos of everyone, and I'm very thankful for him grabbing mine & Tracia's cameras when idle to get snaps of just about everything & everyone, which are all here in Gallery. Kevin got a video of us trying a song none of us knew, which was extra painful since the song was boring and just would NOT end! I said "there's a reason why none of us know this song!"
Cyd has traditionally been the laughter life of the party, and she did not disappoint, however she just might have competition for the title after Glen's display, ranging from bloody cookie performance art to incessantly chanting for Sean during Rock Band, giving us the giggle fits so hard I ended up crying! I haven't laughed that hard in a long time!
I am very glad for another successful party, especially since I had been worried and not as enthused myself. The lower attendance this year & last year plus less people coming in costume has had me wondering if people were bored enough that I should take a break from Mardi Gras for awhile, but after Robin got the baby and she & Charles offered to bring the King Cake next year, like the real tradition says, plus others talking about future costumes & many mentions of "next year" I guess I will keep it going! I didn't buy anything except food for this year's party, just used all decor & beads I already had, and even my costume I only purchased a few beads and added to a mask I already had…so I might as well keep throwing my easiest theme party of the year.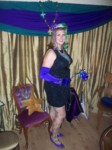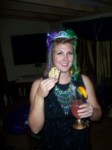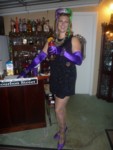 Happy Mardi Gras from Mardi Gras Girl aka Bourbon Street Britta!