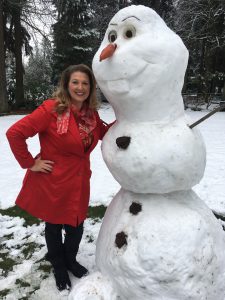 We got lucky with a white Christmas at Grandma's house in Seattle this year! Glen woke me up early Christmas morning with the video of "Do You Wanna Build a Snowman?" from Frozen, and it took a couple hours for us to finish, since he was on a mission to go bigger than his brother's snowman from Thanksgiving!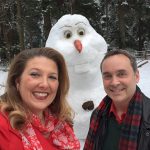 After the head was in place at over 8 ft tall, I decided to make it into a giant Olaf, so I did my first snow sculpting with garden tools, a sweet potato nose, mason jar rings around cut-out leaf eyes, big sticks from the yard for arms, hair & eyebrows, and dirt clod buttons…not bad for not building a snowman since I was 9…? We got my 6ft 5in father down the stairs to show scale, and that was definitely NOT a warm hug! We christened it Olaf-Zilla but sadly he didn't even last a whole day!
It's snowing just in time for a white Christmas! 😃No need to dream anymore! ❄️🎄🎁⛄️
Merry Christmas! Do you wanna build a snowman?!? Our Olaf-Zilla is 8ft tall! I hadn't built a snowman since I was 9, but Glen was on a mission to go big! Thanks to Mom for taking photos, thinking of the sweet potato nose, and mason jar rings & cut out leaves for eyes!
Our 8ft tall Olaf-Zilla is already leaning so some last photos before he melts away! Hope everyone is enjoying their Christmas Day!