Look what I found for FREE today!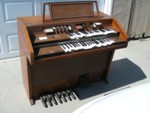 semi-functional electric organ
Around the corner from my house they are doing a major remodel down to the foundation, and today I saw this sad organ out front. I figured at the very least I could salvage the keyboard for my Halloween pipe organ, of which I've already been acquiring free PVC pipe scraps for the pipes. I asked if they were offering it for free or trying to sell it, but the owner said she'd just like to get rid of it, but that "it actually works, but it probably needs tuning." Sure I thought, since many of the keys are stuck and it looks in pretty sad shape, but still it's FREE! I continued on my walk to Longs, came back, tried lifting the organ but it's too heavy for just me & no wheels so I couldn't take it around the corner by myself. My neighbor who has a dolly wasn't home, so I came back & sweetly asked the workers onsite if they had anything that could just roll it around the corner and I'd bring it right back? They said no, but how heavy was it? Two guys lifted it & said, "We'll just carry it over there for you" then the 3rd older guy, who had not offered any help before, said "Put it in the pickup then just unload it after we drive it there" so they did. Hooray! I gave them each a bottle of Brittahytta brew, apologizing that it wasn't cold & thanked them profusely! Did I mention I was wearing a short denim skirt & a tank top? Maybe that helped…hehe…Now it's sitting in front of my garage since I don't have space for it inside the garage yet! I'm going to try making space before I leave for our concert tonight, but if not, the Briata might have to live outside for a day or two until I make the space.
Oh, I did plug it in…technically it works, and I'd take that sound as a Halloween spooky chord, but it NEVER SHUTS UP so, no! I might try fiddling around with the keyboard, since it seems like it's only doing this because so many keys are stuck in the down position. I'm sure I won't hurt anything any worse & just might learn something! The pedals even seem to work a bit, but only on one stop. Something had made a nest inside, so I carefully pulled out the shredded newspaper, but didn't find anything alive or otherwise. This will obviously be a post-Potter project however!
Happy Friday everyone!
Halloween season never really ends for me, since my brain is making new plans all year long, but it is highly apparent that the rest of the world has a ramp of interest that begins in August, reaches its height by Oct 31st, then drops off like a cliff. This year I have Google AdSense giving me a sense of my website traffic, and July was the Harry Potter frenzy of course, with $36 July 1st through 21st, but by mid-August, Halloween had outpaced Hogwarts by miles! My August total was $66, and now only halfway through September, I'm at $80 more already! Obviously not enough to live on (yet?), but enough to inspire me to get my act together, finally update my Halloween Recipes page after 7 years with no new content (I've been working last week & this week, and I'm SO close to finishing – just need to do the final formatting & image placement!), and try my best to get Halloween 2005 & 2006 pages up this season. Of course this is difficult since working on new Halloween projects is SO much more fun than documenting ones I've already done! hahaha…but speaking of new projects…

Mojitoes
The first test "mojitoes" were made last night! No, that is not a typo – heehee! The inspiration was from last year's party, when Kevin S. & Cyd were making mojitos and Kevin commented about "Britta should figure out how to make mojiTOES!" Funniest to me is that I wasn't even in the room, so I only know this because of the video footage! I agreed that was hilarious, but how to do it? Jello shots or ice cubes seemed most obvious, but I didn't want to exclude kids & teetotalers, and ice would be too difficult to keep intact throughout the party on display. So, if I made just a gelatin mojito mixer toe, that could be eaten by anyone, then the toe could be placed in a glass, rum poured over it to dissolve the gelatin, then stir and instant mojitoe beverage! I made a couple Sculpey toes, since I have looked and can't find any toe molds let alone plastic toes that were good to mold, then I used food-grade silicone putty I only heard about earlier this year to make molds of the toe originals. Adding the gelatin mixture & waiting overnight with them in the fridge, I have my first "mojitoes" so successful proof of concept! I was concerned that the 20% real lime juice in the mixer might be too acidic for the gelatin to set, so I'm very glad that worked. I think I would rather have them be more opaque, so the next test batch will have evaporated milk. I originally thought that might taste odd with the lime and mint mojito flavor, but then again the raspberry and milk heart tastes fine, and so does the pineapple with cream cheese & marshmallow eyeballs, so it might work. Now whether they dissolve easily in rum is still to be tested this weekend…plus since mini candy canes won't work, I've ordered some white mint stick candies online that should be perfect to add into the toes as the bone sticking out of the severed end that will also function as a "handle."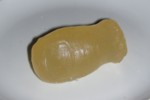 First Test Mojitoe!
Ghostly Greenery
I already finished this project…Ghostly Greenery! I found black plastic pedestal urns for really cheap this past year, so my thought was to put lovely pale gray and fuzzy dusty miller in the urns in separate removable pots, and put dry ice in water in the space between the interior pot and the urn. When discussing this idea with my parents, my dad was afraid the dry ice temperature would kill the plants so recommended less contact. Group brainstorming led to my thought of getting a plant saucer to match the width of the urn, cutting it around the pot to fit just below the top lip of the urn and hot-gluing the saucer to the pot to be watertight. That will not only limit dry ice chill in contact with the roots, but also will limit the amount of dry ice and water needed for the fog to escape out of the urn. I scored on large heavy-duty clear plastic plant saucers for only $0.25 each, and had saved gallon grower pots in my shed, so I hot-glued the cut saucers to the grower pots, checking with water for a tight seal and regluing where necessary. The actual plants I bought were in gallon pots which fit inside the saucer pots, so the only part that hasn't been tested is the dry ice. I can't wait to see the fog rolling out of the urns onto the ground under the fronds glowing in the moonlight!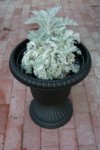 Ghostly Greenery
Glowing Mad Scientist Display?
Ever since I changed my mad scientist display to a drink station, I haven't had anything glow, which I miss. The old glowing mad scientist display is just water with the tiniest bit of fluorescent paint added to still be transparent solution, but enough for the particles in suspension to glow in the black light underneath the glass table. I thought about having glowing containers in the back, but I didn't want anyone confused about which were drinkable or not. I did get glow bracelets to be drink stirrers, but that just isn't enough, and this has been bothering me the past couple years, so I keep thinking. My non-toxic fluourescent poster paint solutions are not even 1 tsp to 1 qt, much less concentration than a kid licking paint off a finger, and we drank some for fun way back the first black light year to no adverse affects, but it tasted chalky. I immediately though of the alcohol being the strongest flavors, so those would probably work, but again I don't want to exclude kids or non-drinkers from the fun of glowing beverages, plus most of the alcohol is leftover so gets used for other non-glowing uses. If I put the paint in strong flavored transparent drinks like the sports drinks or cranberry juice, might the flavor be okay and still glow? Hopefully some testing tomorrow and I'll find out. If any of my guests are concerned about having the tiniest bit of paint in their own drink, they don't have to drink anything that's glowing. I can even provide duplicate sets, plus anything opaque wouldn't glow anyway, so pineapple juice, grapefruit juice, milk, cream liqueur, etc, will all be completely normal. Another option is to have a weak solution of paint & water in a flask with a pipette, so people can add luminescence to their own drink…hmmm…
Other new Halloween projects underway:
sexy red devil costume – found some fun cheap accessories, so might as well continue the recent "Halloween archetypes" costume theme
backlit window stencils finally! Idea since 2003 that hasn't happened yet
functional doors on my shed that will look medieval – including cast aluminum door straps, sliding bolt lock, etc
window sheer curtains with a stenciled "lace" pattern, inspired by the Haunted Mansion eyeball wallpaper, including glow in the dark paint on the eyes
pirate corner, dressing up a skeleton in my pirate outfit sitting by my newly-constructed treasure chest
biohazard, radioactive, etc, labels for mad scientist display – images downloaded 2 years ago but not used yet
pipe organ I hope, but might run out of time & need to postpone until next year
assorted minor projects & possible new recipes we'll see if get done before I reveal

Happy Friday everyone!
Check out Robin's post from yesterday…hahaha! I've been saying for over 10 years of www.britta.com that the world keeps getting smaller every day that the Internet keeps growing…

Thanks Robin!
Hooray! After 7 years of no new content on Britta Blvd, I have finally updated my Halloween Recipes page as of tonight!

There are about twice as many recipes as 2000, so I even had to split my table of contents into two columns.

On that note, since they're still under development they're not on the public recipes page yet, but Batato Chips from purple potatoes are a success, plus some Savory Spiders with Gooey Guts are in the works as well. The Mojitoes are okay as-is, but to hold together in the toe shape, the gelatin takes about an hour to dissolve in the rum & soda mixture, so that's not as successful as I'd hoped. I think they'll still be funny as a pale green toe sitting in a skeleton hand goblet with a clear lime soda, mint and rum drink.

Speaking of drinks, glow research has begun, with the best glowing edibles so far being bright blue tonic (blech!) and chartreuse-yellow B-vitamin-tablet in water (double blech!) so I'm searching for more things I'd actually WANT to drink…even though mixing those together does give a very nice glowing aqua teal color…

Hope everyone had a good weekend!
Well, I'm nowhere near as far along as I should be on my Halloween projects due to the whiplash, plus I got a nasty cold over my annual Halloween shopping weekend that's made me even slower. Forcing myself to slow down is one thing, but laying down to rest my neck properly requires absolutely no drawing, painting, computer work, even eating, so that's a work stoppage to me. Very foreign concept to watch TV without doing any projects at the same time, but at least I'm fairly caught up on the new shows this season.


Halloween shopping weekend was a success as usual. My friend Natasha & I have SO much more fun shopping together, especially with her young son. I did find McCormick's Neon food coloring, so I'm eager to see if it glows in black light. I'm set for black candles from previous years stock, plus IKEA has unscented plain black 3″ pillars so I scored there already, so I bought only things I'm pretty sure I'll use. For the 2nd year in a row I have not bought any more prizes, since the treasure chest is STILL full! I wanted red bat-style wings to go with my devil costume, but was having poor luck finding any, not even at Spirit…but we walked into Party America and they had not only red wings but with FLAMES on them…talk about perfect! I will add glitter to the flame design to match with the glitter flames I will be adding to the dress, but I still can't believe that. I still need a good name for my devil costume that doesn't imply the Bay Area connotations of "flaming."

The store where I spent the most money was Target, not surprising since they had so much cool new Halloween stuff this year that I couldn't resist, like the rubber fake iron look spiderweb doormat, skeleton bath mat, skeleton fleece blanket. I would have bought more but they were out of the mini-gargoyles at that Target. I even found orange brocade fabric at JoAnn for $2/yd for my next year's costume! I had the idea about a month ago after I'd already bought all the devil stuff, and it'll require more design & more time than I have right now, but I'm already excited for next year's Halloween costume. To have found an excellent fabric for only $2/yd is even better! …and no, I'm not telling you what it is yet!
So I have spent a pretty penny on Halloween already this year and I haven't even bought most of the party food or beverages yet. However, November 5th I'll be receiving my AdSense payment for August & September combined, which will be just shy of $300. Since October is already $150 in the first 10 days, I think my entire Halloween season might be paid for this year! That's a very nice feeling!
Other project status:
pipe organ – caster wheels have been added thanks to Dad's help lifting it, but due to not wanting to exacerbate the whiplash, I'm postponing until next year. *sigh*
shed doors – almost done! Dad & I added bracing behind the sheets I had cut already so they won't warp, added the hinges, hung the doors, made sure they actually open vs. the brick patio in front, but I still need to take them down to seal the screws that will rust in the winter rains, plus paint them to look more like real wood.
chapel facade – foam needs to be recut to accommodate the new shed doors, then repainted & re-aged. If I have time, I'd like to add some more decorative foam carving detail before painting, but we'll see how this weekend goes. At least I know have my own electric knife, scored at a garage sale for $3, so that should make the foam cutting much easier!
entryway columns – hopefully I have enough foam to do these. I'd like a pair of columns to flank the entry arch door that will help hide the foam wall seams. These could also be where my matching guard dog gargoyles could perch. We'll see if this happens this weekend.
"lace" pattern curtains – design sketch underway, now intricate enough I think I'll make a stamp vs. a stencil. The painting won't take long, so it's all the design & stamp construction that needs to happen first.
pirate corner – still not sure exactly where this will go, but got a tattered Jolly Roger flag and received my new padlock & hasp to improve the treasure chest
new mad scientist display – Figured out a shelf effect to hide the black light on the display table. Found neon food coloring so will try soon. Still trying out cheapo drinks in case they glow. Most don't, so I'll have to think up a new drink that uses tonic water, vitamin B-12 & something to make it taste better.

window silhouettes – skeleton is up, looks good with the purple light, paper all cut to window size, need to draw, then paint. Extra clamp lights purchased, but various color bulbs purchased in the years since original idea in 2003.
Batato Chips – grand success with purple potatoes found at Draegers! Waiting to bake the rest until closer to the party for freshness.
Mojitoes – will try adding melted marshmallows ala the eyeballs in hopes of more opacity, the mint sticks didn't work and I haven't found a substitute yet. Still can't figure out how to melt the toes into a drink without heat, so I think I have to give up on that part of the idea.
spine rollups – obviously needs a better name, but from waiting in the chiropractor's office, I've been thinking the purchased Party Swirls in my freezer could be arranged into a realistic spine…maybe matching cheese slices inbetween for the cartilage discs? Still thinking on this one…might be easier to get a more realistic shape by rolling the tortillas myself before cutting to add the vertebra flares since vertebrae aren't just round…hmmm…
Hope everyone is enjoying their October so far!
Mental Floss Magazine is using 3 of my recipes & photos in their article today about Gruesome Halloween Party Food.
That fleshworm is pretty nasty & realistic…and yes, the infamous Kitty Litter Cake is also featured…thanks, but I still think the kitty litter cake doesn't fit with my Hallloween themes…

Reader Tammy just alerted me in comments that my photos & ideas are used in an ebook for sale digitally on eBay that include resale rights. I suspect this is the same joker that was doing the same thing 2 years ago just not on eBay. At that time that person had stolen ideas from all over the web & was selling as "sell this ebook to your users" in forums, so the person who alerted me by a cellphone call when I was in Scotland spread the word back then. Since my content is free and out there for so many years, I figure there's only so much I can do. Unfortunately with the Marauder's Map mess, I only joined the VeRO program for ebay.co.uk, not US, so I've go to go through the whole darn fax crap all over again. *sigh* I did the "ask seller a question" link telling the seller I'm reporting them since they're using my images without permission.
This is exactly why I don't have my decoration how-to's on my website, and why I'm working on my own real book instead. It makes me steam to see the greedy, opportunistic ones making money off people who generously provide their ideas online. That is not right in the least.
Thanks, Tammy, for letting me know. I'll shut this person down in eBay if I can, since I know I'm not the only person they stole from, then I'll get back to having a Happy Halloween…
Edit: there are 4 active listings for the ebook, so all 4 are now reported by fax…now it's up to eBay…
The eBay seller replied this morning that they had purchased the ebook with "full resale rights" so had no idea permission wasn't given. I replied that eBay will still take the listings down as a violation, but if they would give me the contact details who they purchased from, I would follow up to explain to them as well. No further reply yet. I'm fine to leave it at that & I've already saved a search to get email alerts for anything from that seller. All 4 listings are already gone from eBay.
Another email came in this morning saying she read a blog that had 3 of my recipes but no credit so they thought I'd like to know. Yep, they were my recipes all right so I submitted a comment saying they were verbatim from my website & here's the link. The blog author replied very quickly & apologetic, since he purchased that content that claimed to be "unique" and said he obviously was lied to since he checked out my page. He offered to take down the post but I said a link & credit was fine, so he's already updated. This thief seems to have wider distribution than I knew, but there's only so much I can do. I don't want to spend my time policing the internet for theft of my ideas…I'd rather keep creating more ideas!
So, a bit frustrating, but the GOOD points in this are that I'm popular enough to steal from, plus I actually have "fans" that are watching out for me, otherwise I would never have known about these in the first place! After I thanked her profusely & let her know what was going on with the blog author, the lady this morning replied she's glad she's done her good deed for the day!

I'd really much rather post about my Halloween party prep progress but I've been too busy with actual work…maybe tomorrow…? The genereous but no-longer-blue-haired Angie () is coming over tonight to help me out, so that will be fun!
P.S. I just checked, and my October ad revenue as of right now is $444…bringing the "Halloween season" total (Aug 1 to current) to $734! Nice!

Don't worry…I'm prepared for it to drop back to only a trickle as of Nov 1st…
Busy & frantic of course! I've done a lot so far, but since I wasn't able to do as much the first couple weeks of October as I'd planned, I'm very behind from what I wanted to do this year. Some projects are being postponed yet again, but a couple I'm holding out hope I might just be able to finish them before Saturday night…especially since Thursday night not only will I probably have 's help again, but also an eager teen Alton Brown & Duff Goldman fan! Hooray for house-elves!

Sorry no pix since I haven't had the time to organize or upload, so you'll just have to wait until afterwards…


Halloween party prep progress so far
already done!
all foam stone painting done, including better aging technique & new crack detail, for new gargoyle entrance columns, new entrance archway, patio walls, chapel walls & bell tower – big thanks to Ruth who came over for a couple hours on Saturday afternoon and painted the base coat on the columns for me!

shed doors completely painted – functional & beautiful! Thanks for all the help, Dad!
cauldron & tripod with stand ready on patio
extra table out on patio already with canvas tablecloth
my devil costume is finished – best name so far is Incendia (courtesy of Angie) but I'm still not quite sure
configure both webcams for broadcast & upload
7.5 dozen witches fingers safely in their airtight tin
6 dozen pumpkin pasties safely unbaked in freezer
9.75 dozen gravestone cookies baked and iced (thanks for helping Angie!)
black & flesh candles into holders – thanks Angie!
22 dozen tiny meringue bones (19×7 fit on each cookie sheet)
guest bathroom completely decorated
living room stuff out, Catoween tapestry, pillow covers, but needs arranging
new hardware & padlock on treasure chest
Mad Scientist glowing drinks testing pretty much done…neon food coloring didn't glow either, so we're restricted to blue tonic & green B-12 really, unless I get the chance to cook spinach tonight to see if that juice really glows red. None of the spinach juice containing drinks I bought ever glowed.still to do
finish the Name that Tune quiz – just need to edit 2 soundfiles into clips
cleanup & decorate screened patio/bar area
design & paint back window stencil – might have to be postponed but I'm holding out hope!
finish painting lace curtains – this is going slower than I thought so only one curtain panel is half-painted – I really hope this doesn't have to be postponed!
set up mad scientist display – after major food prep is done, since table space required, especially with helpers!
set up graveyard – no earlier than Friday
test new fog machine w/ chiller – backyard or front yard?
set up pirate corner in backyard – no earlier than Friday
make mojitoes as many times as I can – only 9 toe molds – trying some as rum jello shots & some without
all gelatin body parts (brain, heart, hands, eyeballs) – Thursday evening
cut & bake Batato Chips – Thursday evening
form & bake Savory Spiders from dinner rolls – Thursday evening since I'll have help
mini cookie cutters for sliced cheese – Thursday if helpers are fast?
all fresh food – Friday night/Saturday afternoon
sleep at some point? heh…I probably won't get to post again until after the party, so I hope everyone has a great weekend!

P.S. Kylie is taking her medicine like a good kitty but neither the sneezing nor eye is better or worse…
Whew boy! What a month…honestly, this is the worst October in general I have ever had, so I'm ready for it to be over! Of course saying that I'm wondering if I'm jinxing myself for something even worse happening in the next couple days…let's hope not!
The party did go well, but I would never have made it through at all without my helpers, especially Kael who came over again on party day. Thanks SO much Kael! I could not have managed this year without the help. The added stress & worry about my poor kitty feeling so awful sure didn't help. During all my frantic party prep I was still feeling so sad every time she would look up from her water dish, drooling everywhere, meowing at me to help her, but she only wanted so much petting or hugging, and I had already done all I could do for her until Monday. It was still very hard for me to see since I feel so helpless. I put up my new Black Cat Crossing road sign on my bedroom door so party people would leave her alone which worked well. We heard her meowing every so often since my bedroom sliding door is to the patio, but every time I checked on her she wasn't even under the bed or in the closet like most parties, so I hope that meant she was calmer this time. Since it was only making it hard for her to drink, no costume for Kylie this year.
So, for the party itself now…only 40 people this year, so backsliding a bit for numbers from last year, unsure why but sometimes it happens. I had figured from the Evite count only being 42 it wouldn't be much larger than that, and there were 4 who had RSVPd and didn't show. It was still a fun crowd who all said they had a great time. The ones who hadn't been in the loop yet for how many things have gone wrong for me this October said they never would have guessed, so that's good! Since we had 55 people last year which fit in this house fine, 40 seemed a little small to me, even though we still couldn't all crowd into the living room for the music quiz, so the patio speakers worked well to expand the quiz out there too.
Name that Tune Spooky TV Themes: So many people all got 11 out of 13 that I just had them all claim a prize, but I forget who! I think it was Nat, Nathania, Tracia, Daniel, who else won? Help me remember please!
Scariest Costume: Dave as Senator Larry Craig, complete with toilet seat, bald cap & muscle men magazines – he got more votes than the really creepy Grim Reaper, so truly scary!


Most Original Costume: Jack & Johnathon as Jack & Coke…heehee!
Ultimate Costume: Robin & Charles as The Spartans ala 300, complete with hand-hammered brass cloak broach & armband – they even got compliments via webcam & email during the party!
Creepiest Cuisine: Since your Halloween Hostess was sole judge and I couldn't decide, plus I have plenty of prizes, I gave three awards:
Best Appearance: Deviled Eyes by Dave & Wendy – yolks dyed red with an olive slice as the pupil
Most Clever Presentation: The Last Temptations by Lyle – little chocolate confections with candy corn garnish, but with little signs describing the various temptations
Most Daring Culinary Risk: Frosted Bat Wings by Ruth – chocolate covered bacon! She won because they were not only clever but really tasty!


Halloween Party Post-Mortem
As I said, this has been a crappy month, and my mantra along the way has been "it could be worse" but then it seemed to keep getting worse! Kylie's eye developed her problem a week ago, and they took blood work to check everything out, but she had been status quo since then, still sad her eye wasn't working but otherwise okay, so I was cranking along on as much party prep as I could, including Angie helping Tuesday evening, Kaelyn & Angie both on Thursday evening, and Kael & Melanie on Friday afternoon. Kylie was still status quo until around midnight Thursday night, and we slept okay, but Friday morning she started drinking water constantly and drooling it all over, meowing at me like a request for help all the time. I called the vet after 3 hours of seeing no improvement, and I was still waiting for the callback when Kael & Melanie arrived and I was getting to be a wreck of worry by then. Melanie vacuumed and cut quiz sheets and Kael worked on cutting Batato Chips while I ran Kylie to the vet for another blood sample to see if they can confirm high thyroid, which is treatable but they wouldn't give me anything to make her more comfortable this weekend since they have to wait for a confirmed diagnosis. I'm calling the specialist first thing Monday morning, but my heart has been heavy from not being able to help her, and I've been feeling guilty for trying to have fun and host a party while she's obviously miserable.
Since I had done all I could do for Kylie, back to party prep, albeit distracted all along, so I was even more disjointed than usual. I often have so much to do that I end up half-finishing one thing while I walk past something I can do quickly & get it off my list, but this year I noticed myself doing that even more! Very good I actually made the big final to-do list, printed it out & stuck on the fridge for Kael & me to use on Saturday, since Kael kept things on track by referring to the list while I was running around setting up yard decor & getting the food tables arranged. I worked on food on Friday vs. yard decor so there was no night-before decor lighting or fog machine test this year. I did get the outside webcam set up with lighting and proper aim the night before at least. Friday evening I worked on cleaning up & food, baking Batato Chips, making 4 dozen mojitoes 6 toes at a time, including decorating the heart, hands, brain & eyeballs until 5am, but didn't get the mojitoes painted. By the time I showered I was asleep by 6am to try to get a few hours rest, since anything would be better than the 45 minute nap I got last year, but unfortunately Kylie wanted to cuddle with me but still would get up for water every 30 minutes, meowing for help & drooling in my face when she'd jump back on the bed, so I didn't get much rest and gave up, getting up at 9:30 to get the dry ice at 10am. Kael came over by 12:30, and we cranked through the list, getting the patio ready this year before 6pm thankfully, until I decided my costume should start going on about 6:15, including the fight with my fancy giant fake eyelashes. My eyelids just aren't built for fake eyelashes but I finally got them on. Cyd came over straight from work getting the ice on the way, arriving around 6:45 putting drinks in ice before getting her go-go costume on, then the first official guests were Noelle & little Galen at 7:07, so Noelle was put on candle-lighting duty as I was rushing around figuring out what last food I could get ready…but at least my costume & makeup were on by about 7:15 this year! That might be the earliest time I've been in full costume for any of my Halloween parties!

Since I have been consolidating my food table space by using my tier trays, the food signs I made so many years ago don't really work anymore, and new food signs would be difficult on the tiers, so this year I made a Maniacal Menu board with the names of everything, including restaurant-style descriptions that I had fun writing. That took the place of the food tags as well as described things like cheese or meat for the non-dairy & vegetarians so they wouldn't have to ask before eating, however, it also made it obvious what food did NOT get done! The veggies were vicious since I had asked Kael to try to make a face which worked using mini red pepper teeth, but the fruit was less than ferocious, since only kiwi and black seedless grapes got put out, no spiky rambutan eyes & bosc pear teeth as I had hoped. I asked Angie to check my food against the Maniacal Menu in case there was anything quick I forgot that I could do, so we quickly got the apple slices & caramel sauce out (thank goodness for precut apple slices from Costo! They also didn't turn brown all night!), plus the Sinister Skull of cream cheese & chili sauce, then I insisted on arranging the party spirals into my Violent Vertebrae, flanking my antique real human spine on my large silver platter, so the only menu item completely missing was the Freshly Flayed Flesh. Considering this month & especially Friday's extra stress plus several new recipes this year, that is pretty darn good! I was able to take good recipe photos, even the spiderweb brie, this year with puff pastry spider sitting on the web too. The Mojitoes never got painted, so was hard to see the detail, plus I didn't get the idea I could have added coloring to the rum ones to distinguish from the virgin ones until halfway through making them, so my plan was the toenails would be different colors. Since that didn't happen, the party guest vote was to only put out the rum ones, and about a dozen got eaten. The interesting thing is that even though it was only 1/4 cup rum for 6 toes, so much less than a half shot each toe, the consensus was that the alcohol was very strong. Probably the lack of liquid and time that you usually have while sipping a normal mojito.

As for the other new recipes, the Savory Spiders with Gooey guts (buttermilk biscuits with nacho cheese filling) were a hit, only a couple left out of 4 dozen. Of course since there were only about 4-5 dozen Batato Chips, they were scarfed since they were only chips, not as filling, so hopefully i can make more & earlier next year. I think only a few tried the Slug & Snail Salad but I did forget that was the only dish I provided that needed cutlery so that could be why, since the mandarin orange & pineapple guava make a pretty tasty fruit salad. The brain pate somehow didn't get a spreader nor crackers or bread until very late in the party, so that explains why it wasn't eaten very much. Sadly people started leaving after the music quiz & costume voting, and we never served the bleeding heart or the hands so they're still intact! Since they were painted for extra accent, they still looked quite good in the mad scientist lab at least.
I didn't use all my gravestones since I put some in front this year, then I only put a few in the back since Pirate Corner was where the graveyard started last year, so I only put a few up out of the way since the graveyard chapel is back, so I thought thematically it would be odd to have the chapel in back without any gravestones there. Plus after people enter, they won't look out there again but in back it's where the main party is so people can see them throughout the party. Even though I already have 2 fog machines, this year I saw a new one at Costco from Straight From the Grave (SFTG) that advertised "low lying fog" which intrigued me. Could it have a built-in chiller? For those of you who don't know fog machine technology, the fog juice is heated to become fog, which means it wafts up into the air instead of hugging the ground. For years there have been fog chiller instructions online, and I tried making a cheap little one with my first fog machine, but it didn't make much difference so I gave up, and my foggy graveyard worked fine at the duplex and it was okay last year at this house. I'd been wondering why no one made a combo unit that would have a chiller inside. Costco's price was $40 which included 1 gallon of fog juice plus a timer, which is a decent deal but I wanted to be sure it was an upgrade to my current equipment first. I saw the same unit at Spirit without the timer or fog juice for $60, then again during our Halloween shopping weekend at Party America for $25 but they were all out. I asked the Party America cashier if they've tried out that machine if the fog really hugs the ground, and she said "Yes! You put your own ice cubes in and it looks really cool!" So then I decided I would get it from Costco, test it & return it if I wasn't satisfied….but I was planning on doing my test in advance which didn't happen. Since I didn't want to fog up the whole street and my coolest gravestones were at the entrance, I had set it too low so Noelle futzed with that after candle-lighting duty and got it working, saying it looked good along the ground. I never saw it since when we took the Grim Reaper's photo out there, the fog was going but wafting upwards, which was great for the photos, and I checked & the ice in the chiller section was all gone of course. I will be using it Halloween night for trick or treaters so I'll be able to take tripod photos then. My other fog machine was in the backyard just for ambiance, but with the firepit smoke around already, people didn't notice it so I shut it down. With the enhanced pirate display I'll try fog around that instead & hopefully I'll be able to do test runs next year.
Onto lessons learned. Smoke from the firepit is as bad for costume photos as the fog machine location was 3 years ago…*sigh*…several pix I thought were fine are actually not crisp at full resolution because it focused on the haze in front instead, which is a shame. Perhaps figuring a way to safely move the firepit off the brick patio so I could still use the chapel doors for photos will be something next year. We kept trying to use the patio door with the new columns for photos which was well away from firepit or fog machine, but for quite awhile that area was really clogged with people & I couldn't convince them to move away enough, so I started using the shed, but the chilly evening air had people starting the firepit and pulling chairs around it as soon as they arrived. I also needed to point out my new spooky lace tablecloths to many people, but the reason I loved it so much was because it was that subtle, so that's okay. The menu sign was large & prominent so I think most people read it. Some saw it but didn't actually read the details, so I pointed that out to them. Since the pirate corner was under the tree in the back corner and not as many people were entering through the gate, some people didn't even see it. I was hoping to make a treasure hunt with a fun map to draw, which would have clues that make people look at decoration details and send them around the whole party so they see everything, but this month it didn't happen so it's definitely on the list for next year, plus enhancing like actual contents with the treasure chest open. It was just closed this year since I knew no one would venture that far for drinks if it was being used as an ice chest. There is a black wax mess on my white Halloween towels so hopefully with a little bleach after a session with the iron I can clean those up. The wall candleholder looks cool, but I've had issues before with wax running out of the saucers so I wasn't planning on lighting them, but this is what happens when others are on candle duty, so it's my own fault. I had already tested the flesh blood dripping candles earlier in the week and messed up my speaker & photo frame, so I had moved them out of the way, since the tabletop itself is just contact paper. Boy did that burn into an intricate wax sculpture! I am very glad the housecleaners will be coming this Friday so I can clean up otherwise but they'll tackle the messy tile floors and carpet in their normal cleaning, since it's party messy but not too bad. No candy corn stuck on the tile this year thank goodness!
Another problem was the wifi webcam somehow stopped capturing images after about 1pm so missed all of Kael;s & my hard work running around, and I didn't get to check anything until 9pm when I saw from my email that a friend and a couple complete strangers were able to see outside cam but not the inside one. Someone had turned off the lightswitch that runs the same outlet as the webcam so oh well! At least it was back on for the rest of the party, since Tash even complimented the Spartans via email! Good thing I checked at that time too, since the outside cam had stopped about 8:30 so I got both up & running again with a powercycle and they stayed working through 2am…the first 2am at a Halloween party that did not fall back from Daylight Savings time! Tracia, Doug & Ashlyn stayed the night, but pregnant Nathania in her comfy jammies costume had fallen asleep on pillows on the floor so Kevin was chatting with Tracia until they left around 2am.
I grabbed Tracia's photos off her camera before the left, so those & my photos are now up, and someone or two have been peeking already before mine were finished uploading! Hopefully others will send their photos to me too so we'll have the grand collection again.
Have a Happy Halloween everyone!
Sara, a former Choral Project singer now living in Italy, let me know yesterday that my Halloween Recipes page appeared on one of the Italian blogs she reads daily, including my photo of witches fingers. Yes, they link to me so it's all good. Very cool! Thanks Sara!
I'm Britta, Webmistress of the Dark today, refreshed from the older version by keeping the web cape with collar and spiderweb fishnets, but using my long satin choir dress, spiky spider eyelashes above & below the eyes, spider velvet choker & spider earrings. I was even able to give myself a quick black sparkly manicure last night too, and I'm wearing my black sparkly beaded shoes instead of my plain black pumps. Hopefully I'll get a good photo today and it might be my updated Halloween icon since the other one is way back from 1999. I didn't realize until a co-worker spotted the kitty fur, but since the cape was hanging by the scratching post for so long, Kylie is with me in costume today.

So far today is good. Before I left for work I got the call to pick up the Briata tonight since it is now running "cherry" including freeway driving, and after our earnings call yesterday our stock has shot up $16 in one day to $116…crazy! I hope this good news continues to break my unlucky streak. I am ready for good things to start happening!
Hope everyone is having a Happy Halloween!
Halloween 2013 will be the 20th anniversary of The Nightmare Before Christmas, so I will do my entire Halloween party ENTIRELY in the theme, including skeletal reindeer with coffin sleigh on my roof, Jack's experiments, Sally's potions, monster wreath, etc, etc…I will resurrect & improve my Sally costume for the occasion as well. I will warn partygoers in advance so hopefully they can all come in NBC costumes, with prizes for the most original and most obscure. I need an occasion to do this rather than just any old Halloween, otherwise I might do it earlier. I've been tempted many times over the years, but I feel I'd need to do the entire party in the theme otherwise it won't work, since it'd be too Christmasy vs. Halloweeny.
Can you tell I just got back from seeing The Nightmare Before Christmas in 3D? If you have the chance, go see it, since the 3D is awesome, and seeing it again on a big screen there were details I noticed in the background that even _I_ had never noticed before!