Thank you VERY much to who told me about "Emeril's Halloween Recipe Challenge" on Thursday night! We'll see if Emeril's team likes my Eerie Eyeballs recipe with my "anecdotes and other Halloween traditions," but I have a feeling he wouldn't make them on the show because the decorating takes too much work..but we'll see! Wish me luck!

My Food Network "Emeril's Halloween Recipe Challenge" Entry:
My Eerie Eyeballs are my annual Halloween party pride and joy ever since I had the idea around 1996. I wanted to make realistic but tasty eyeballs, so I thought of making eyeballs somehow out of gelatin. My mother had a layered gelatin dessert recipe that included a layer with cream cheese, marshmallow and pineapple juice, so that was adapted for my eyeballs. Some party guests are braver than others, since the texture is so realistic, when they try to pick up an eyeball off the platter and it squishes, they often are too disgusted to continue eating! However, if they do, they agree they love the pineapple cheesecake flavor. This recipe has been posted on my Halloween Recipes page on my personal website Britta Blvd since 1997. My Halloween parties have become more and more elaborate over the past decade, and are documented with photos on my website. Not only do I host a costume contest in "spooky elegant" decor complete with fake stone walls, but I have a delicious Spooky Spread every year, including a bleeding Haunted Human Heart, savory brain spread, edible spiders, merangue bones, witch finger cookies, Decayed Corpse Chips with Entrail Salsa, and of course the Eerie Eyeballs. If you search for "Halloween party food" on Google, my Halloween Recipes page is the top link!
http://www.britta.com/HW/HWr.html#eyeballs
Eerie Eyeballs
3 oz lemon gelatin (can be sugar-free)
1 cup hot water
1/2 cup miniature marshmallows
1 cup pineapple juice
8 oz cream cheese (can be lowfat/Neufchatel)
1 cup mayonnaise (can be fat-free)
Dissolve lemon gelatin in 1 cup water in double boiler, add marshmallows and stir to melt. Remove from heat. Add pineapple juice and cream cheese. Beat until well blended. Cool slightly. Fold in mayo. If you have a truffle candy mold or round ice cube trays, pour the mixture in the molds and leave to set in the fridge. Otherwise pour into a deep ceramic dish and chill until thickened or firm enough for scooping into eyeballs. Using a melonballer, scoop full balls of the mixture and set aside for decoration. To decorate, use liquid food coloring and an old detail paintbrush and get creative. You will need black food coloring for the pupils. Also, if you are in a hurry, instead of painting the colored irises, you can carefully dip the ball in a small pool of food coloring to approximate the iris, but still paint on the pupils.
For 1999, I found rubber ice cube trays that worked beautifully with much less waste than the melonballer technique. I sprayed the rubber trays with non-stick cooking spray beforehand like you would any gelatin mold, let the gelatin mixture sit in the refrigerator to set, then I was able to carefully pop the eyeballs out to paint them. Some of the eyeballs did break, and they do have one flat side, but that actually works, since then they don't roll around while you are trying to paint them. Since 2001 I have found that Wilton truffle candy molds are even better, since the swirl design on the top is the right size for the cornea shape on the eyeball. When using the truffle molds, one recipe makes about 9 dozen eyeballs – plenty for a party crowd!
Thanks and Happy Haunting from Britta, Webmistress of the Dark
By not only my own preparations having started, but also by the email requests for help I'm already getting, Halloween season has officially begun! Last year I posted with the 2003 traffic graphs for www.britta.com, which showed the ramp up to Halloween. 2004 was much the same as you can see here, but with even more traffic.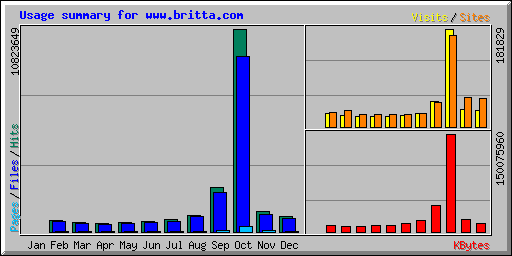 Aww, how the World Wide Web has grown over the years!

What will be quite interesting to see is 2005, since from May through mid-July I had a large ramp for Potter Party stuff, both 5000 unique visitors via PotterParties.com, plus a ton more who just found my site via Google. Since that has subsided but not really dropped off as clifflike as November 2004 or 2003, I think 2005 will show that August just kept going head on into Halloween season. I'm getting suggestions that I could make some decent money by using Google AdSense on www.britta.com. I understand at least Google ads are topical and at least not completely garish, since they could even go at the very bottom of the page, underneath my design layout, but I'm not sure about it. Anyone have any comments whether I should start that or not? It would be nice to make money off my hard work on the parties & projects I describe, let alone the webwork I've done to display it, but somehow that smacks of the "dark side"…yes, this coming from someone in the Marketing department of her employer, I know!


Anyway, back to Halloween…Like last year, I started many weeks ago, actually. Of course I would probably have started even earlier if it wasn't for the Year Six at Hogwarts party being in mid-July, but that HAD to be done!

At the end of July I acquired a full set of antique specimen-style bottles from a neighbor of my parents, which seemed perfect for the enhanced mad scientist display I have wanted to do for several years now. I won't actually get my hands on these bottles until the weekend of Oct 1st, but I've already seen detailed photos, so I have been thriftstore shopping for more mad scientist accessories!
There is a big twist, however. Halloween will be even more interesting this year than in 2002 when I was both moving out of my apartment and away for a full week in October for our choir performance in Washington DC. I will be at the NANOG conference in Los Angeles the entire week before my party – ack! Yes, all the way from early on Sat, Oct 22nd, coming back Friday morning the 28th with my party on Saturday as usual. This will be a challenge, but I think it will be doable, even with being out of the country on vacation for half of September too! All cookies will be made well before leaving for LA, either frozen or in airtight containers (I usually make the cookies at least one week ahead anyway), then it'll be the eyeballs , heart & brain Friday when I get back, along with the other perishables. Those are all usually done starting Thursday night anyway, so it'll be a matter of my costume being done, as well as as much decorating as possible well in advance, so it's only food left when I get back, plus the graveyard setup on Saturday before the party. The stone walls and black ceiling have been left up from the Hogwarts party, so that's already a huge head start on decorating.
As for my costume, I was lacking inspiration or themes this year. I was hoping for something to go with the mad scientist theme, but Bride of Frankenstein is just a white dress & a crazy huge streaky wig, and I can't be Inga from Young Frankenstein (Teri Garr's character) without having the entire YF crew with me to make sense, so that was out. So, I went totally the opposite & decided to pull out a "one of these days" costume idea to be an elaborate pirate. I've used the frock coat from the men's obviously-inspired-by-Johnny-Depp Simplicity costume pattern #4923 size men's medium, which I bought on one of the 99-cent pattern sales last year since I thought they looked fun to make someday. By starting Thursday evening, the coat is almost done, since it is all constructed, the cuffs are decorated and attached properly, I added functional pockets to this coat, the decorative pocket flaps are on, but the interfacing is still to come, plus the collar I have added that isn't on the original pattern but I think it looks cooler. The frock coat is brown, cream & tan "brocade," actually patterned woven denim, with black leather collar, cuffs & accents. The black "leather" is the leftovers from the $15/yd fake leather I used for the Emma Peel Avengers outfit for Halloween 1998! I have also already altered a size 20 pair of $5 thriftstore pants to fit by drastically taking in the inseam, since they were black knit with a leather strip and silver stud detail down the outside side of each leg. I haven't decided on the tight pants tucked into the black boots or maybe a long skirt that I could hike up to reveal black fishnet stockings, but I do know I will wear a large-brimmed hat with huge white ostrich plumes, black leather boots, frilly blouse, and tan renfaire bodice. Oh, yes, there will be copious cleavage, whether or not there will be anyone at the party who will appreciate it!

My enhanced mad scientist display will be the most obvious New Thing this year. Last year the improved pipe organ was in the dining area space (that is used as the entry for Halloween to force traffic through the graveyard in the side yard vs. the front door), but this year I will leave my glass dining table in place, pushed against the wall for best traffic flow, then set up the beakers & flasks I already bought in 2001, add in the "new" antique glassware, add some of the more mundane-looking Hogwarts Potions bottles, on the wall behind probably have a black paper faux chalkboard like for Hogwarts Tranfisguration class, add in some thriftsore candleholders I thought looked enough like bunsen burner stands, and some test tubes with a brand-new $6 microscope – those just found at Fry's the electronics superstore…isn't it odd that Fry's is the easiest place to find test tubes in Silicon Valley?

My hopes are to have the eyeballs, brain & heart set up in the mad scientist display, with the brain in a dish probably labeled AB NORMAL ala Young Frankenstein, and it would also be very cool to have mix-your-own drinks there…but since the glowing liquids I have used for the display in previous years are non-toxic poster paints lighted from below by a black light, either I have to move those to the very back and mark them biohazard or something, then have other drinkables accessible in the front, or find glowing ingestibles. I have heard that tonic water glows blue in black light, so I might do some more black light experimentation, then I could post a "Reanimate a Zombie" drink recipe and maybe some other "experiment" recipes on the chalkboard…this idea is still being refined of course! Gotta figure out if I'm just going to hang the white lab coat I have on a hook like the doctor is away for the moment, easiest of course, or perhaps use my dress form or something to make an actual mad scientist standing there…hmm…
What I am doing to reinforce the faux stone archway is using a 1/2″ thick very heavy piece of 4′x8′ plywood my landlord left in my side yard since before I moved in 3 years ago, so it has been really waterlogged so much that it has warped & started cracking in places, but I think it will be ok enough to use as a more stable backing piece for the foam stone archway since it is so heavy. With some crosspiece feet at the bottom, it can hopefully be freestanding vs. attempting to anchor it to the stucco wall that didn't work very well last year. I might even be able to use the arch piece I cut out as the new door, since the paneling kept coming unglued from the foam door last year anyway, but we'll see. I got better construction adhesive, so I will glue the plywood to the back of the foam piece, then also use screws to help it stay, since last year I did glue inset pieces of wood to stabilize the opening. By screwing the plywood through the foam into those inset pieces, I should have enough stability around the foam to get the door hinges to really work with the doorway this time vs. just leaving the door propped open for show.
The food arrangement is always challenging, so I will try a whole new plan this year. See, to force entry traffic through the graveyard to the back patio then into the house via the sliding door into the dining area, I have the front door blocked off. Since the first view of inside is the dining area that becomes a bad place for the main food table. My foyer is the next logical place since the front door is not being used, which is what I have done the past 2 years, but that is a bit too cramped really. So, this year I will gamble on the weather being okay and have the larger food table outside on the patio, with some goodies scattered around the inside, and the coffeetable in the living room – excuse me, the "undead" room! – will now be free for food since the mad scientist display will be in the dining area instead. Gelatin body parts like the brain , eyeballs and bleeding heart will fit perfectly on the mad scientist table anyway – bwahaha! I want to hang the medium cauldron on my wrought-iron garden tripod (since the witches brew has only been half-consumed the past couple years, I can probably limit that to the medium cauldron), so the witch who stirs the brew will also be hanging outside, too. Now watch this be the first time since 2000 that it rains the day of my party? The plan is for everything important to be under the patio overhang just in case, so we can still access everything if the weather doesn't cooperate.
So, after all that, you can see that the newness of this year's party will be more rearranging what I already have vs. really being new, which is a relief seeing I'll be gone so much. It will still seem "new" since it will be all in different places, so I think some details people have missed in previous years will get noticed this time. I just need to get my costume done, get the decorations I have up on the walls & everywhere, then get the mad scientist display set, plus the food, then voila – Halloween party in one day after being out of town for a week! Yes, I am probably insane, but I absolutely cannot NOT have a Halloween party. It WILL happen somehow!

Well, I was afraid this might happen, but I really didn't expect it…*sigh*
I saw Corpse Bride yesterday, which was fantastic of course, and now I absolutely MUST make the costume for THIS Halloween – I just have to! I think waiting a whole year is much too long, plus I think I can actually pull it off, since I have many pieces of it all ready to go, and I spent the latter 3/4ths of the movie paying close attention to details, along with fully enjoying the story, visuals and music! Of course the pirate costume that I had planned well ahead to save myself time this year is indeed almost completely finished, but that can be easily saved for Mardi Gras instead, since it's not as Halloweeny.

When I saw The Nightmare Before Christmas in October 1993, I knew there was no way I could do the Sally costume for that Halloween, so I was Sally for 1994 after I had the VHS so I could pause for details. Unfortunately only a few people recognized me then, since NBC had not yet become a cult favorite as it has in recent years. Emily the Corpse Bride is slightly bluer than Sally, but I can use the tights and makeup I bought back then for Sally, plus I will carefully cut off the skirt of my ghost dress from Halloween 2003 so the ghost dress can be put back together again, then add a new bodice. I found a pair of white opera-length gloves for $3 so easily trashed, I already have loose-weave muslin for the veil, and I'll just scavenge through the JoAnn and Michaels bridal sections for headbands, flowers and such that I can thrash. Since her hair texture is yarnlike anyway, I will get dark steel blue yarn to make a new wig, using a wig cap this time so it can be a full head of hair. I will not make fake extra-large eyes this time as I did for Sally, but just deeply shade around my eyes and draw on the distinct eyelashes.
The question is the exposed bones for her left arm and right leg…can I do them well enough or will they just look stupid? That is still to be determined, since I think with all blue shoulders, arms & legs, with the facial makeup and blue yarn hair, the effect will be good enough without exposed bones…but we'll see what I have time to do.

Jigsaws are fun, as long as you're not tackling a project not intended for a jigsaw!
My jigsaw saga has been a pain this year. My parents got me a recharegable battery cordless tool set when I moved in here, with drill/driver, jigsaw, sander & flashlight. It was very handy, and I've used it several times the past couple years. So, before I left on vacation, I got everything set up to cut out the faux stone archway reinforcement plywood, but all my batteries were drained and my charger wouldn't work! Argh! After a phonecall to the manufacturer the next morning, she admitted "well, that's a set with a 2-yr life span anyway, so I woudn't bother with the replacement charger either"…so the backup plan was to borrow my dad's tools after I got back from vacation, and I'll probably be getting more replacement power tools for Christmas now.
Last weekend the jigsaw showed up when my parents came to my Choral Project concert, so Sunday afternoon I started sawing. My dad had seen how thick the plywood was so warned me to go slowly and asked if I had extra blades. Well I had the blades from my jigsaw, so hopefully that would work. I went slowly and the one whole side from straight through the curve to the top point of the arch went just fine, but of course I couldn't turn the corner so had to start at the bottom of the other side to meet at the top. I don't know what was so different about the wood on that side, since I even cut fine through knots on the other side, but I broke all three blades I had, and the two I had from my jigsaw would only fit my dad's saw after I ground them down with my dremel – fun sparks grinding metal though!

*sigh* I had to stop for the evening, then went to Orchard Hardware at lunch on Monday, continuing sawing Tuesday evening, not breaking any blades this time since I bought heavy-duty wood blades…but it was DONE! I was able to get the construction adhesive on and the whole thing braced with bricks before it was too dark, so here's a photo.
Next will be painting the wood black so it doesn't show through the sliding glass door from the inside, then seeing how the hinges will work with the door. I have a feeling we still won't be able to open & close the door, since I still can't brace the arch to the wall, but we'll see how it works wedged in with the concrete steps and leaning under its own weight against the wall. I can barely lift this myself, so it's plenty heavy now. Definitely can't store it in the garage rafters anymore!
While I still had custody of the jigsaw, since it's going back to my parents this evening as I leave momentarily to drive to Sacramento for the weekend, I decided I wanted to embellish the door with some cool wrought-iron-look hinges like we saw last summer in England. The leftover paneling that was used for the arch door last year has been sitting outside, being trashed by the elements all year, but after cutting & painting I thought it would be the perfect thickness. I grabbed a few tour photos for inspiration, but I knew I couldn't make them that elaborate, so I sketched in chalk on the leftover paneling, cut that one out with the jigsaw, then traced around that one to cut out the matching hinge. These will also be painted black, then glued and screwed to the door underneath the functional hinges. I think they'll look cool!

I have also made progress on my Corpse Bride costume. I got what I think is the perfect color yarn, so I started on the wig already. Here is the first row around the bottom of the wig cap already stitched on. I'm using a curved tapestry needle which is nice & easy to catch enough wig cap without poking into the foam head. Since the photo, I've done another row around, plus both edges of the part. I'm leaving the strands as large loops vs. cutting at the bottom, since not only does it prevent me needing to tie any knots, but I think it will help with the messy curls effect. To fill in properly, I'll need at least 2-3 more rows around, but I think it'll look very authentic when it's done.
I have made other progress, and my costume will not only look much better, but still be much less cost to me than the $200 for the official deluxe licensed costume I was pointed to in my comments, but mostly because I had stuff already I could use vs. buying from scratch right now. My natural-cream loose-weave muslin I already had has been bleached, ready for swirls to be painted and the edge cut into swirls for the veil, I have bought some paper roses for the veil decoration, bought a silk bridal bouquet that I will spray paint blue, and I already have the blue tights and white shoes. I had bought some white opera gloves for $3, but Emily's gloves are more sheer, plus fingerless, so I'll use some of the veil fabric for ragged gloves instead. Don't worry – the gloves will go to good use…
My plan so far for the bones are to use a white opera glove with sewn extension up to my shoulder, then paint the bones on the glove as shading. For the right leg I'm not sure yet if I'll cut up an old white pair of cotton stretch pants or find an opaque white pair of tights, but the painting plan is the same for the leg bones. I think that will work, be easy enough to assemble for my party, then I just have to concentrate on the blue & then facial makeup, which will take plenty of time already. I like wigs for costumes, since then I just have to french braid my hair wet the night before, then throw on the wig vs. spending time on my own hair!

I looked around for a strapless bra thing to use as a corset base, but I'm giving up and just making another corset from scratch using fabric I already have. I've made two corsets and a couple other boned bodices before, so it shouldn't be too daunting, and custom-fit to me will look the best and be able to cinch in my waist as much as possible (as long as I have someone else there to lace me up properly!).
Off I go for the weekend now…Halloween shopping with Natasha…hooray!

Yes, I know, another horribly long & embarrassing delay, but Halloween 2004 is now finally online at Britta Blvd…just in time before Halloween 2005!
The Halloween index has been updated as well, including details for this year's party and webcast. Back to getting this year's party ready now! After some sleep, I should be able to finish a party prep progress post since I've gotten a lot done this past week…

Sorry! I thought I was going to get a Halloween update posted last week, but things got busy, including some unexpected Potter stuff I hope will be public soon…

So, aside from satisfying my corset fascination lately (heh!), here's what's been done since I last checked in!
finished frock coat for pirate costume except for buttons – can't leave that unfinished before putting it away or it'll never get done!

epoxy-glued Victorian lamppost that was broken during the Hogwarts party
painted new fancy hinges black
painted back of archway reinforcement black
put up archway & extra wall in place in front of sliding glass door
new cauldron setup using iron garden tripod and new hanging cauldron (had to widen the holes with my dremel, but used leftover black chain from the original Hogwarts Celebration!)
replied to at least 40 emails requesting Halloween assistance! (gotta be a way to make that income-generating???) still behind about 50 more to reply!
7 dozen pumpkin pasties unbaked in freezer
found periodic table, radioactive & bihoazard images for mad scientist display
ruffle sewn & attached plus hood hemmed for 's costume
4.5 dozen gravestone cookies baked (THANK YOU !!!) ready for me to decorate
7 dozen witches finger cookies baked
door hung on arch now on hinges & glued door paneling yet again (sigh)
rearranged patio with food table & witch with cauldron, including washing tables & moving the kitchen shelf outside
think I have most of my reagents list settled for the "mix your own experiment" contestCorpse Bride costume work:
reversible tan cotton & white satin corset complete, using Home Depot heavy-duty plastic cable ties as boning!

spray painted roses for costume, headband & bouquet
lace overlay complete & attached to corset, including velcro closure in front & blue lace trim – just needs the exposed ribs
hooks & eyes on skirt & corset to attach together
lace gloves sewn & painted
veil is cut & painted, still need headband decorated
paint skirt edges painted
bony arm painted first coat (needs daker shading)
blue yarn wig STILL in process – it's 2 rows away from being finished at least
veil headband can't be finished until I can put the finished wig on to get the headband the proper size to fitHere are some photos if you like: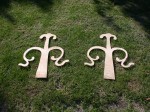 new fancy hinges for archway door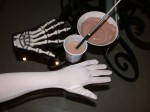 starting to paint the bony arm
Now I'm rearranging the plan for the rest of this week, since the Oakland Tribune will be coming over Thursday evening for recipe "action photos"…so not only will I wait to do the merangue bones until then, but I'll be frantically cleaning up all the mess & decor to be presentable before then – ack!

Until next time!
Yet another catching up post that should have been last week…I was in a local newspaper article last week for my Halloween Recipes!

A reporter from the Oakland Tribune found my website while researching her spooky food article, so she emailed me the week before I left for LA. I did a phone interview with her, and she asked if a staff photographer could come to my house for "action shots" for some recipes. We settled on Thursday, 2 days before I left for my business trip, then since my house still looked like Halloween had exploded since decorating was still in process, I frantically had to make everything presentable! The photographer took a lot of really cool & artsy photos (I'm going to ask him if he can send me the rest!) but they only used two of them in the print article, and none of the photos of me are in the online version. I like the article though. My mom's favorite part was that the article is all me, then a couple Martha Stewart recipes are provided along with mine, but the end tagline is "For more Halloween recipes, visit www.britta.com" …not pointing to Martha's site! haha… My favorite part is that they calculated the nutritional information for my Eerie Eyeballs! LOL!
The article came out on Wednesday, Oct 26th, so a co-worker grabbed various print copies for me since I was still in LA. Since InsideBayArea.com runs a network of local area papers, the story with my photos actually ran in the Oakland Tribune, the Tri-Valley Herald & the Daily Review!

http://insidebayarea.com/bayarealiving/ci_3152617
Enjoy!
(instead of backdating I'm just pretending…

In the week between my last Halloween party progress post and leaving for my LA business trip, this is what I got done…
configured & tested upload for inside webcam
answered more newspaper interview questions via email
re-recorded PotterParties podcast (previous attempt was foiled by recording technology!)
put all Halloween boxes back in garage
put lamps out in garage
put paper back in garage (decided not to do window silhouettes)
got extra skulls out from garage for decorating
(had Wednesday rehearsal plus getting my friend her car back)
mixed & prepped black royal icing for spiders
iced all gravestone cookies
more decorating & cleaning
Thurs 7-8pm photo shoot for the Oakland Tribune
7 dozen merangue bones mixed, piped & baked
lettering on gravestone cookies
some icing spiders piped
laundry & packing for trip
selected songs for quiz "Name That Tune – Esoteric Pop Tunes"
caught up on about 20-25 more Halloween emails from strangers asking for help or advice
configured & tested upload for outside webcam
printed out final reagents sheet to hand-letter tags while waiting for the plane!
painted Corpse Bride exposed bone leg
painted darker shading on bony arm
painted exposed ribs
sent out party reminder email on the way to the airport!I got back from LA Thursday afternoon, said a quick hi to my kitty, threw my unpacked bag up into my bedroom, went out for groceries, then kept going on all the rest of the final party prep!
Since I'm posting this after-the-fact anyway, I might as well post my final Halloween party to-do list. This was rearranged a bit from what was originally planned because chaos always happens at the last minute switching things around or postponing to the next day, but this way you brave souls who actually care to read can have a peek into the inner sanctum of Britta's party planning – heh! Also, remember that some of the list items take longer than others to actually complete so a short list doesn't necessarily mean less work was done!

Thursday Oct 27th
3pm fly back from LA
buy last perishable groceries & more drinks
jello jar for gummy body parts – needs to soft set
make human heart jello mold
make eyeballs
make bleeding hands
make brain pate
finished piping icing spiders!!!
finished blue yarn wig
decorated veil & headband
handstitched ribs to bodice overlay
got to sleep at 5am – ugh!
Friday Oct 28th
run outside webcam cable from upstairs window, tape down
run outside webcam power cord
aim & test outside webcam
hang witch from ceiling on patio
clean up all floors enough to VACUUM!
put all clutter away – stash in garage
get out luminaria jars from garage
set up graveyard
test iPod connection to receiver
sync quiz playlist on iPod
sync HW party mix on iPod
print quiz sheet
print Spooky Scramble sheet
(Melanie cut up the quiz sheets for me – thanks!!!)
arrange tables (get out all serving dishes, etc)
candy corn only in skull bowl – set up candy (Melanie)
set out dried cranberry scabs (Melanie)
put Party Swirls in fridge to thaw in case they're needed
decorate human heart
decorate brain pate
decorate bleeding hands
decorate eyeballs
prep mad scientist display in dining area
make mad scientist chalkboard & hang on wall
hang periodic table charts on walls
hang lab coat on wall
shower & french braid hair wet w/ gel for under wig
got to sleep at 5am again – ugh!
Saturday Oct 29th
10am-ish
set up webcam broadcast to live (cp indexHW05h.html – index.html
test ftp upload from webcams
get dry ice & regular ice
bake & set up pumpkin pasties (Melanie)
make lemonade (1 gallon jug) – refrigerate (Melanie)
use small cookie cutters this year to cut up & set up cheese slices (Melanie)
clean bedroom!!! (sorta but was still a mess)
clean downstairs bathroom (Melanie)
clean mirrors (Melanie)
put all clutter away – stash in garage
bring in luminaria jars from garage
put up kitchen wall & tie back
pour potions into mad scientist display (Melanie)
hang ghosts in trees in backyard
hang skeletons in front & backyards
put up face in front tree
lumiaria jars in cat luminaria bags & in open (Melanie)
large web on graveyard fence (with Melanie)
use ivy to hide gas meters on path (with Melanie)
set out icing spiders on main food table outside
set up brie in pastry
set up crackers on main food table outside (Melanie)
set up cheese tray on main food table outside (Melanie)
set up blue chips & salsa in coffin on coffeetable inside (Melanie)
set up witches fingers on main food table outside
set up gravestone cookies on main food table outside
set up crab puffs on baking tray in freezer for later
cut & set up apple slices with caramel dip (Melanie)
set out cream cheese skulls & chili sauce on main food table outside
set out brain pate on mad scientist display table
set out heart mold on mad scientist display table
set out bleeding hands on mad scientist display table
set out jello body parts jar on mad scientist display table
set up merangue bones very last on main food table outside
set up Webmistress on front porch before putting on my costume (Melanie)
6:00 put on costume (hair already done) including body makeup (with Melanie)
put away bathroom clutter
start BBQ coals (Ben)
start cider in pot on BBQ on patio
start fog machines on timers
turn on all outside lighting
light candles outside & inside (with Melanie)
bake brie in puff pastry
6:45 mix up punch in hanging cauldron (Ben)
mix up butterbeer in spigot jar inside (Lori)
take out eyeballs from fridge
have fun!

5pm start BBQ coals
6pm start fog machines, start cider in kettle (soap kettle first!)
7pm check fog machines
8pm check fog machines & cider
9pm check fog machines & cider
10pm check fog machines & cider – turned off fog machines around 10pm
Lots of work to be able to have lots of fun, as you can see, but all that actually got done in the end! Huge kudos to Melanie who did help a lot from Friday night through the party – thank you VERY much! You also might notice that cleaning my bedroom & the upstairs bathroom didn't really make it on the list…oh well! At least the downstairs & guest room were clean enough for the party!

Another successful party! 43 attended including 2 babes in arms, a new Halloween record! Mostly a Choral Project crowd again, but it was back to the Jeff J. winning streak for Most Creative Costume since he came as iSilhouette, also known as jPod/iTunes man/iPod man…basically the silhouettes with white earbuds & iPods you see in all the ads, including his face painted black! Hilarious! Everyone said they had a fabulous time "as usual" even one said "a BLAST" so I think everyone really did enjoy it. Nothing ever turns out perfectly of course, which just gives me something to strive for next time around…like my disaster of a bedroom that includes my carryon luggage still unpacked from the LA trip this week! Ah well…at least the downstairs looked fine…


As Melanie was helping me with my makeup still, which required me having no shirt on (!) Ben showed up a little early but was restricted to downstairs only, where he stayed getting his munchies ready, and I heard Kylie the Kitty roaming around downstairs even! She lasted through Keith arriving just a little early to help take photos, so Kylie even got a quick party photo in her easy costume! Of course since Bud the dog, in "Yo-Dog" costume, was there all evening, Kylie meowed loudly a lot, but never ventured downstairs until well after Bud left.
My Corpse Bride outfit worked out very well – hooray! Melanie helped put light blue makeup on my back & arms where I couldn't reach properly, but I did my face & all my shading, then we sprayed the fixer spray I had been recommended to use. We must have been too close in a couple spots with the spray, since it made my makeup run in a couple places, but I don't seem to have rubbed off on anyone, which was great. My bony arm especially photographed very well, impressing many – always nice to get a good reaction! We had a huge photo shoot out in the graveyard with the fog, including trying to do traditional bride poses just to show off my dress & even my veil, since I had worked so hard on the whole outfit. Since my bodice was so low with me so near to revealing myself, I got made fun of plenty. Hey, when you've got it, flaunt it, right?

The only real issue was that people kept stepping on my dress, which was to be expected with a train, and wasn't a problem for appearance, since a few more tatters & shreds were completely appropriate, but it yanked the hooks off my skirt that was attached to the corset, so a couple times people had to point out to me I was showing off a lot more hip & thigh than I ever intended! Good thing I had both the blue tights & my handpainted bone tights on underneath!

I had made no new gravestones for this year, but the arrangement was different, since I spread out everything to use the entire side yard, since my garden had been more spread out already, so I used the butternut squash, tomatoes & corn as accent foliage. It was interesting that I had some comments that there were more gravestones this year, even though they were only the same number. Since last year the fog right by the patio made it difficult for costume gallery photos, I switched the "constant fogger" to the gate and I moved the other fog machine at the other end of the graveyard farther down the side yard, covering it with the stone coffin, which worked nicely. Both fog machines worked fine all evening, even with running dangerously low a couple times as I ran out to refill, since thankfully the strong breezes that were making me nervous earlier in the day had calmed down by the evening. It was still quite chilly, cool enough for no food spoilage worries at all since the main food tables were outside. The witches brew was also outside, and there was hot cider on my BBQ which also gave out some heat for ambient warmth until the coals cooled off. Since there were still less than 50 of us, it was easy enough for people to roam inside & out as they pleased.
People loved the glow sticks as stirrers and they had lots of clever fun at the mad scientist drink station – hooray!

We voted on Most Laudable Laboratory Libation, with Tracia as the winner with a "Volcano on the Rocks" using Pop Rocks in a layered drink. Last year I finally ran out of the same box of cheap thin plastic sandwich bags I had always used for the bleeding heart, so I bought the thinnest, non-zip bags I could, which seemed to feel thin enough, but I suspect they have improved the plastic technology, since I had difficulty with not only getting the heart to bleed, but also the new bleeding hands – argh! I wasn't ever able to get a good dripping flow going, but I should have great video footage of me using the huge butcher knife hacking away very violently at both sets of organs! bwahahaha!

My mom reported a webcam issue around 6:30pm that the inside webcam wasn't working, but when I checked at around 7pm it was ok. We even had word from a friend living in Italy that she had pulled up the webcam around 7:45am her time, asking my friend to get herself in front of the webcam so she could see her! haha…I took down the broadcast & checked for image captures at 3:25am (2:25am falling back for Daylight Savings Time actually), which were still going, so the webcams seemed to have been successful again, thank goodness! As of the night of the party I had already seen both Keith's & Tracia's photos, since they so kindly remembered their cables so we could load them into my computer, with instant gratification of the three of us seeing all about 350 photos from the same night! AND other people were also taking photos! I am so thankful to Keith, since even though I can reset decorations to photograph them the next day, the food is never able to be reproduced exactly the same, so I often miss good chances at photos, especially of the food, when getting other food ready or busy with costume photos of my guests!

Scariest Costume = Official tie between the Fighting Bridesmaids (Cyd & Robin) and Ben the Wolf with 6 votes each = Ben got the prize
Most Creative Costume = Jeff J as the jPod/iSilhouette with 11 votes!
Ultimate Costume = Corpse Bride Britta with 6 votes but ineligible for prizes, with the Fighting Bridesmaids as 5, so they received the prize, which let Ben win Scariest
Spooky Scramble = Jeff J. with 13/13 = he claims he anagrammed the available letters & came up with Gaston Leroux without knowing the name! Suspicious you say? hmmm…


Name That Tune – Esoteric Pop Songs = Amy with 12.5/13 (missed the song name but got the artist on one)
Laudable Laboratory Libation = Volcano on the Rocks by Tracia
I'll try to add some photos to this post later, but otherwise you'll just have to wait a bit until I sort through the 500 or so pix and can post a gallery link…
Hope you all had a Happy Halloween!
This isn't the official Britta Blvd webpage yet, but my gallery has the complete set of full-res photos from my party this weekend. 235 photos total, so I recommend viewing by slideshow!

http://gallery.britta.com/Halloween2005
Enjoy!