Thank you VERY much to who told me about "Emeril's Halloween Recipe Challenge" on Thursday night! We'll see if Emeril's team likes my Eerie Eyeballs recipe with my "anecdotes and other Halloween traditions," but I have a feeling he wouldn't make them on the show because the decorating takes too much work..but we'll see! Wish me luck! 🙂
By not only my own preparations having started, but also by the email requests for help I'm already getting, Halloween season has officially begun! Last year I posted with the 2003 traffic graphs for www.britta.com, which showed the ramp up to Halloween. 2004 was much the same as you can see here, but with even more traffic.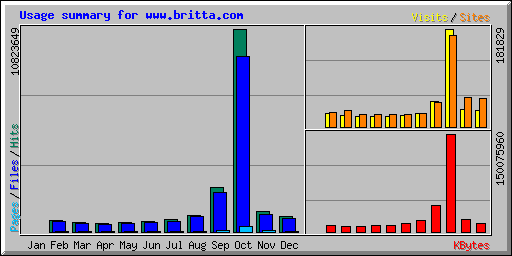 Aww, how the World Wide Web has grown over the years! 😉 What will be quite interesting to see is 2005, since from May through mid-July I had a large ramp for Potter Party stuff, both 5000 unique visitors via PotterParties.com, plus a ton more who just found my site via Google. Since that has subsided but not really dropped off as clifflike as November 2004 or 2003, I think 2005 will show that August just kept going head on into Halloween season. I'm getting suggestions that I could make some decent money by using Google AdSense on www.britta.com. I understand at least Google ads are topical and at least not completely garish, since they could even go at the very bottom of the page, underneath my design layout, but I'm not sure about it. Anyone have any comments whether I should start that or not? It would be nice to make money off my hard work on the parties & projects I describe, let alone the webwork I've done to display it, but somehow that smacks of the "dark side"…yes, this coming from someone in the Marketing department of her employer, I know! 😛
Anyway, for those with enough time to keep reading, back to Halloween plans for this year…
Well, I was afraid this might happen, but I really didn't expect it…*sigh*
I saw Corpse Bride yesterday, which was fantastic of course, and now I absolutely MUST make the costume for THIS Halloween – I just have to! I think waiting a whole year is much too long, plus I think I can actually pull it off, since I have many pieces of it all ready to go, and I spent the latter 3/4ths of the movie paying close attention to details, along with fully enjoying the story, visuals and music! Of course the pirate costume that I had planned well ahead to save myself time this year is indeed almost completely finished, but that can be easily saved for Mardi Gras instead, since it's not as Halloweeny.
Yes, I know, another horribly long & embarrassing delay, but Halloween 2004 is now finally online at Britta Blvd…just in time before Halloween 2005!
The Halloween index has been updated as well, including details for this year's party and webcast. Back to getting this year's party ready now! After some sleep, I should be able to finish a party prep progress post since I've gotten a lot done this past week… 🙂
Sorry! I thought I was going to get a Halloween update posted last week, but things got busy, including some unexpected Potter stuff I hope will be public soon… 🙂 So, aside from satisfying my corset fascination lately (heh!), here's what's been done since I last checked in!
Yet another catching up post that should have been last week…I was in a local newspaper article last week for my Halloween Recipes! 😀
A reporter from the Oakland Tribune found my website while researching her spooky food article, so she emailed me the week before I left for LA. I did a phone interview with her, and she asked if a staff photographer could come to my house for "action shots" for some recipes. We settled on Thursday, 2 days before I left for my business trip, then since my house still looked like Halloween had exploded since decorating was still in process, I frantically had to make everything presentable! The photographer took a lot of really cool & artsy photos (I'm going to ask him if he can send me the rest!) but they only used two of them in the print article, and none of the photos of me are in the online version. I like the article though. My mom's favorite part was that the article is all me, then a couple Martha Stewart recipes are provided along with mine, but the end tagline is "For more Halloween recipes, visit www.britta.com" …not pointing to Martha's site! haha… My favorite part is that they calculated the nutritional information for my Eerie Eyeballs! LOL!
The article came out on Wednesday, Oct 26th, so a co-worker grabbed various print copies for me since I was still in LA. Since InsideBayArea.com runs a network of local area papers, the story with my photos actually ran in the Oakland Tribune, the Tri-Valley Herald & the Daily Review! 😀
http://insidebayarea.com/bayarealiving/ci_3152617
Enjoy!
Since I'm posting this after-the-fact anyway, I might as well post my final Halloween party to-do list. This was rearranged a bit from what was originally planned because chaos always happens at the last minute switching things around or postponing to the next day, but this way you brave souls who actually care to read can have a peek into the inner sanctum of Britta's party planning – heh! Also, remember that some of the list items take longer than others to actually complete so a short list doesn't necessarily mean less work was done! 😉
Another successful party! 43 attended including 2 babes in arms, a new Halloween record! Mostly a Choral Project crowd again, but it was back to the Jeff J. winning streak for Most Creative Costume since he came as iSilhouette, also known as jPod/iTunes man/iPod man…basically the silhouettes with white earbuds & iPods you see in all the ads, including his face painted black! Hilarious! Everyone said they had a fabulous time "as usual" even one said "a BLAST" so I think everyone really did enjoy it. Nothing ever turns out perfectly of course, which just gives me something to strive for next time around…like my disaster of a bedroom that includes my carryon luggage still unpacked from the LA trip this week! Ah well…at least the downstairs looked fine… 😉
This isn't the official Britta Blvd webpage yet, but my gallery has the complete set of full-res photos from my party this weekend. 235 photos total, so I recommend viewing by slideshow! 😉
http://gallery.britta.com/Halloween2005
Enjoy!