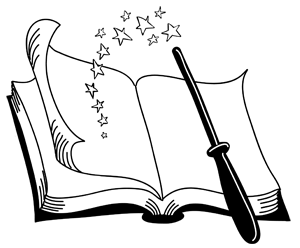 Hogwarts Celebrations
Ever since I read Harry Potter and the Sorcerer's Stone, I immediately thought of hosting a Harry Potter party, so I have been collecting ideas, supplies & props since the fall of 2000! Since I did not want to conflict with Halloween or other holidays, and I had some long-distance guests who required long-term planning in advance, I chose the Saturday prior to Harry's actual birthday of July 31st for a reason to celebrate – July 27th, 2002.  That party was a LOT of creative work, research and planning over almost two whole years, so I have given it more attention with its own section as The Hogwarts Celebration.
The second party, Year Five at Hogwarts, was June 21st, 2003, with 50 people in attendance – most of them playing Nerf Quidditch! The party prep is still forthcoming, but for now you can read the Year Five at Hogwarts FAQ.
The third party, Year Six at Hogwarts, was July 16th, 2005, with 83 people in attendance – including about 20 kids! You can read the Year Six at Hogwarts FAQ, read my blog entries of party preparations, and see the Marauder's Map I made for the invitations.
The fourth party, Year Seven at Hogwarts, was July 21st, 2007, with 81 people including 16 kids! Read about the panic of party prep here, and watch my 1-minute segment on NBC11 News.
In 2012, I made an elaborate & gigantic Gryffindor student cake that fed 100 people for Piper's bat mitzvah. It was 10 schoolbooks high, and included a Sorting Hat, Gryffindor scarf, Golden Snitch, unfolding Marauders Map, wand, Bertie Botts and Chocolate Frogs candy boxes, wizard coins and even a quill, all completely edible!
My Chocolate Frog Box & Card set, Bertie Botts Boxes, Marauder's Maps, Owl Holding Scroll image, Hogwarts wax seal stickers, potion labels, and other items are for sale at my Etsy shop, selections shown to your right.