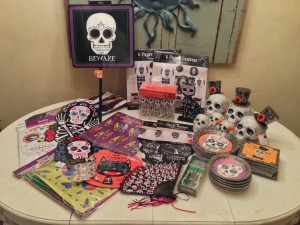 I had decided my Halloween 2015 theme last summer, as soon as I saw the first trailer for the movie The Book of Life about the Mexican traditional celebrations of Dia de los Muertos. I really wanted to make the costume for La Muerte with her candle-filled giant sombrero, so I decided to finally use one of the many theme ideas that had been on my Halloween list for years to go with my costume! As you can see in the photo, last year's Halloween shopping weekend was mostly purchases for this year!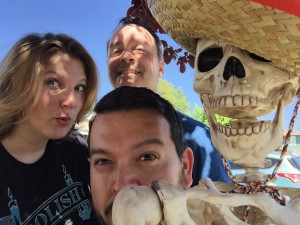 I had brainstorms for a big front show like Halloween 2013, and we had several discussions, but April was our first all-day marathon, sorting through the old projects to recycle wood for new uses, checking sombrero sizes compared to my skeletons, and brainstorming story ideas along with decor walkthrough ideas.
Some of the many Dia de los Muertos traditions are decorating your ancestors' graves and celebrating in the graveyard to remember them, sometimes even with music, so my idea was for our graveyard celebration to be hosted by a skeleton mariachi band! I found perfect toy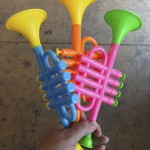 trumpets at the dollar store that I could easily spray paint gold…hooray! I earn Amazon points with my credit card, so I look there next for anything I need in case I can get for free. I found a toy plastic violin with now that was more realistic than I would be able to make, so that was "purchased" with free points. However, all the toy guitars were too expensive compared to making one from papier-mâché, plus making one would be lighter-weight and easier to hack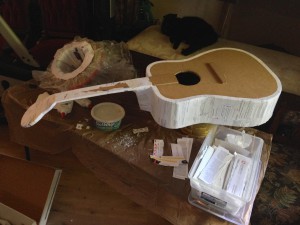 for animatronics where necessary, so I used my own steel-string guitar as a model. Bonus of making one completely custom is that the tuning head can be a fancy decorated skull with the tuning anchors incorporated into the skull design. 🙂 I thought of making the body as another skull, but since real skeletons are playing, I'd rather have it be recognizable as a guitar.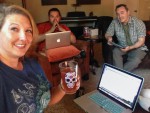 I don't want to spoil any surprises, but we had planned new characters and needed to film them with enough time for HD video editing, which takes a lot longer to render. However, we needed enough story and characters settled before we could film! It was already getting hot, so thankfully Scary Jerry hosted our Scream Team writing session in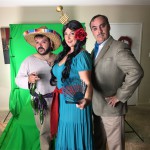 his nice cool air-conditioned house! In 5 hours we got enough written to film the following week, when we set up the greenscreen studio, again thankfully in Scary Jerry's very comfortable air conditioning, and filmed until midnight! I knew the greenscreen bodysuit I bought for $5 on Halloween clearance two years ago would come in handy someday!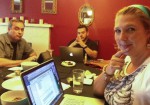 We were finally 75% finished with the script after another 10 straight hours on a Saturday. Thanks to Scary Jerry for hosting again so we could enjoy his cool air, and we even celebrated Ghoulish Glen's birthday early with a striped candle in a slice of carrot cake and a new tackle-style storage box for his animatronics & electronics components. It took another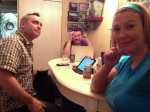 several hours on another workday Saturday in September, but the Halloween 2015 show script was finally finished with an assist by Onyx! The following Saturday, we completed recording the entire show script my makeshift sound studio at the dining table. 3 hours
using 3 mics to 3 laptops to record 3 separate vocal tracks while able to react to each other for better performances, all in record-breaking heat with no AC and fans off for noise reduction…whew! Now to build all of this into a working graveyard show!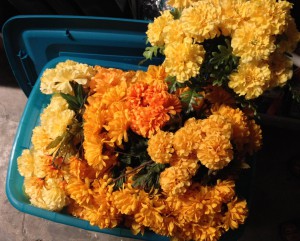 Another iconic image of Dia de los Muertos is decorating everything with marigold flowers. Fresh flowers wouldn't last the entire month I planned for my graveyard display, so I was on the hunt for the cheapest but decent-looking golden flowers for abundant decor. My local Michaels didn't put out their fall and Halloween stock in early August, but I scored all summer at my local dollar stores and using Amazon points, so now my boxes are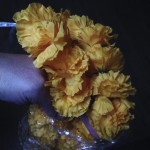 officially overflowing with assorted stems of marigold approximations, but it seems like this still won't be enough flowers for my vision for Day of the Dead! I'm not finished with my costume yet, which will require a lot of flowers but might end up with extras, but I have dedicated around 1600 blooms and 12 garlands to party decor for $360 so I have stopped buying. I've pretty much cleared out stock from both Michaels and both Dollar Tree stores in my wider neighborhood anyway. 😉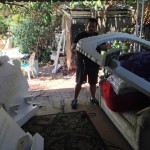 In August, as Scary Jerry & I worked on cutting and carving new giant gravestones (more details to come in another post!), Ghoulish Glen worked on the animatronic skull kits, realizing he would indeed have to buy more servos after all. I had learned my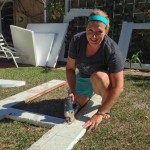 lesson from previous foam cutting and purchased an extra-long jigsaw blade so I could cut all the way through the 2″ thick foam insulation sheets. I couldn't find a smooth blade though, so the fine teeth spit fine foam dust everywhere! Sure glad I could use my back lawn for all this mess! As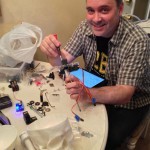 I got the pieces cut, Scary Jerry was using a woodburning tool as our foam stone texture carver extraordinaire. I had to pack up for the last summer movie night then leave 9 hours later for a work trip to Brazil, so I crammed all the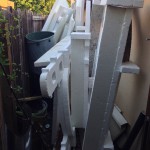 giant gravestones into my side yard to hide them and keep them safe, but it looked really silly! 😉
Labor Day weekend is a major build day for many home haunters, and my Scream Team had a marathon! On Saturday we went from plain white gravestones to painted and aged, thankfully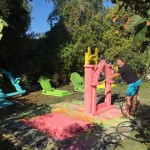 using my handy sprayer with custom-mixed colorful Mexican-inspired basecoats from cheap acrylic craft paints. It was hot enough that the basecoats were dry quickly enough for Scary Jerry to try his hand at my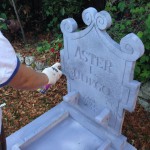 water and spray paint aging technique. We also built some screen frames, and even wrote more of the show script after dinner. Sunday we finished the frames and started the skeleton support mounts, then enjoyed a fun evening together with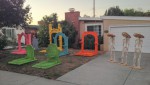 a few more friends at the San Francisco Dungeon. By Monday evening all the gravestones AND skeletons were standing in place so we used some test sombreros to see how the full display might look!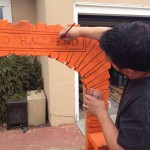 The next weekend we were all working hard again. Scary Jerry was learning to accent paint gravestones Eerie Elegance-style, which means not so dark that it looks like cartoony like you drew with black marker, but dark enough to read all the carvings at night. My previous gravestones have been table size at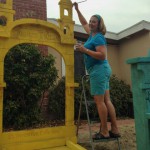 most, so I would accent paint them while I was sitting at my work table. I never thought I would need a stepladder to paint a gravestone! As
you can tell by Ghoulish Glen's face, we were still working on skeleton engineering…and to think just a few years ago I hadn't even started decorating before October 1st!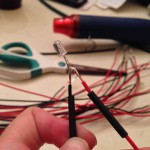 After our script recording was complete, we turned the fans back on and had a soldering party assembly line to configure 80 flicker LEDs with pigtails long enough to run through the foam gravestones for custom-controllable candles. The soldering party assembly line continued until 2am, but we got all 80 flicker LEDs wired, soldered, heat-shrunk,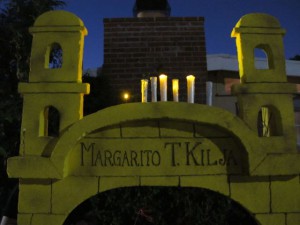 tested & sanded! After our dinner break, our initial graveyard candle testing of the newly-wired flicker LEDs showed that the PVC glue drip candles work best without paint so the translucent glue drips refract the light better. Duly noted for the rest of the candles I'm still making!
Another iconic Dia de los Muertos sight is lots of loaves of special Pan de Muertos bread,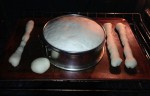 especially as offerings on the gravestones, so I needed a lot of them! When I thought of making them all of papier-mâché I was discouraged, and I thought even one mold then using spray insulation foam would get very expensive, plus I would have to paint them all to look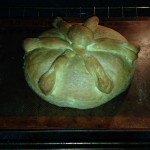 realistic. So instead I bought a 50-pound bag of all-purpose flour for $12 and I have used almost all of it baking 27 loaves of decorative Pan de Muerto for the gravestones! These were just my normal sourdough bread recipe, so I didn't have to buy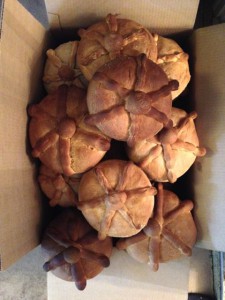 yeast, just kept feeding my sourdough starter before I left for work, started the bread machine when I got home, formed the shapes to rise a couple hours, then baked by bedtime to dry out completely in the still-hot oven overnight. Now these will be sealed with marine varnish like the papier-mâché so hopefully no critters will eat them while they're on display in the graveyard! 😉
After a break for my Annual Halloween Shopping weekend, Ghoulish Glen and I were back at work all weekend, struggling with getting more skeletons moving, and most importantly, salvaging the giant moon screen from Halloween 2013 so it could hang above the graveyard.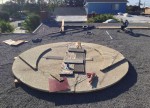 When we built it the first time, Glen insisted the moon should have a single support so it would really look like it was hanging in the sky. That worked for two weeks thankfully through the party, but the following day, I heard a crash on the roof…the support fell sideways in the wind so the moon snapped in half! We got it repaired for Halloween night, then when we dismantled it, I stored it flat on my roof since no one could see it anyway. I should have covered it since the foam in direct sunshine for 2 years degraded a bit, but it was still usable with a little reinforcement of lots of Liquid Nails, thin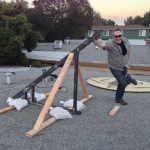 scrap wood, and nail gun action…but I insisted on more stability for the support frame. After a couple redesigns, we came up with angled side braces and two full 2x4s as long feet, plus weighted with 60 pounds of sand in 4 flood control sandbags (bonus that I can use the sand for refreshing my brick pathways that I do every spring), and you can see it is so stable, neither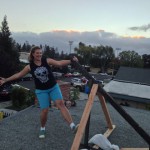 of us could budge it! It was dusk by then, and really windy all day anyway, so the moon itself waited until the next day, after I painted the supports black to blend into the night. I really wish I had a photo of the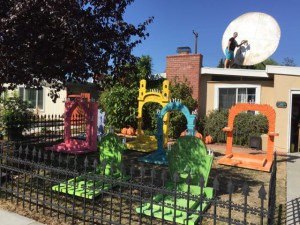 splits I had to do to move the center anchor brace of the 8-foot moon screen flat on the roof before we could hang it! hahahaha! Since this year's video has the real moon image instead of just a yellow disk, it was a bonus that the weather had discolored the foam to look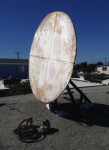 like real craters! I did give it a coat of primer to fade the darkest spots, but I kind of like the effect. 🙂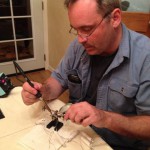 I've been working on my costume in spurts for several months, but I needed Ghoulish Glen's help for the candles for my hat and skirt, so I got a proper soldering lesson, and we reconfigured the strings so I only have one battery pack for the hat with the candles in the correct position, and a separate battery pack for the ones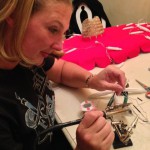 around the skirt. This also meant that I was able to reconfigure all TWENTY candle strings for the graveyard all by myself on Tuesday evening, stripped, tested, soldered, heat shrunk & tested again!
There are even more photos in the gallery below if you'd like to keep reading. Stay tuned for more updates since we still have LOTS more to finish before we are ready for my party on Saturday October 24th! Hope all your Halloween plans are going well so far! 🙂