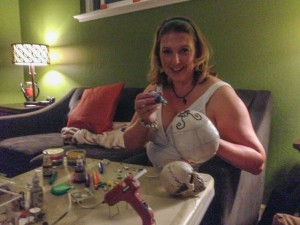 Brightly-decorated sugar skulls, or calaveras, are icons of Dia de los Muertos, so of course I needed a lot for my decor! I'm sure it doesn't surprise anyone that one of my Halloween storage boxes has been full of cheap plastic skulls for many years now, and that's not anywhere near my entire skull collection. Several of my skulls are painted foam, latex or ceramic, and I didn't want to alter any of them permanently, but the smooth plastic skulls should be perfect to decorate like sugar skulls using the plastic 3D craft paint bottles and hot glue so I could peel all the decorations off again after Halloween 2015.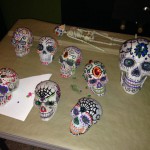 I had hoped this would be a fun summer TV watching activity with fellow Halloween crafter Scary Jerry, so I got out all my plastic jewels and bright beads from my stash with assorted paint colors, packed them into the skull box for easy transport, and took them to his house to watch the premiere of Penny Dreadful, and we made good progress, but it wasn't
as fun for him, so I have finished all the rest by myself.
My glass spigot jar is curved enough that I thought I could paint it as another skull. Since it's glass all the paints and hot glue should
peel off the same way without staining…let's hope so! I also painted my front door wreath skull and my Frightful Skull Fountain so they could also be festive in theme this year. The fountain is smooth plastic so I'm sure that's fine, but the wreath is resin, so the wreath might end up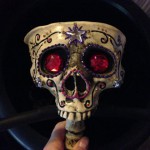 being Day of the Dead style for future years…we'll see!
Ever since Ashlyn's pirate birthday party, I have had these dozen skull sipper cups for Halloween, but each year they sit on the shelf with the other drinkware and never get used.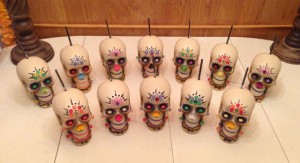 They are also smooth plastic so should be as easy to unpeel the decorations later as the other skulls. Now they are all decorated in theme with bright colors and sparkles, plus they are on the top shelf, so maybe people will use them this year? I can always hope!
Even with the skull stash I've had for years plus clearance purchases from last Halloween, I didn't have enough life-size skulls for two for each gravestone, so I bought more during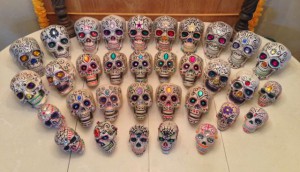 Halloween shopping weekend. The plastic skulls at Target are really high-quality with moving jaws for only $5 each, but I really scored at Dollar Tree for less realism but only $1 each! Can you spot the ten super-cheap skulls in the middle of this photo now that they've been decorated? 😉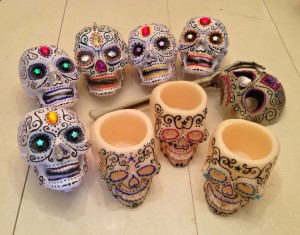 I finally finished decorating the last few old plastic skulls, a cool bone arm handheld mask, and three wax skull candleholders! Too bad the only jewels that could fit into the wax eye sockets were clear since it's hard to see them. The paint and hot glue are even more slippery sticking to the wax, but that means it will come off easier too. Who knows, since I've never used those candles yet, maybe they will stay decorated from now on?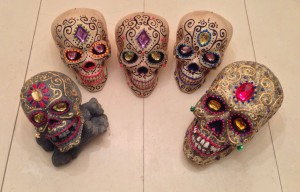 After we got the animatronic skulls on the skeletons, I had 3 more skulls I could decorate, plus I found a couple others in other Halloween boxes that I thought wouldn't be permanently damaged by the 3D paint, so here is the last group of fancy skulls. I sure hope this is enough skulls for this year, since I have plenty of other projects to do, including decorating edible examples for the Calavera Cookie Contest!