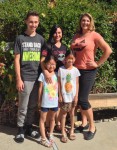 It's already October, and my Scream Team has been working on Halloween 2015 for months now, but with international travel for vacation and for work, plus the traditional summer Cinema Brittahytta party schedule, it's been hard to catch up! First I'd like to show you some Halloween fun, starting with our Annual Halloween Shopping Weekend. I can't believe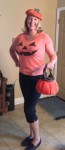 that the little boy who used to go shopping with us is now almost taller than I am! I modeled the adorable pumpkin hat my mom knitted for me, but sadly it's always too hot to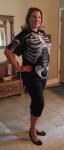 actually wear it shopping. I do always take the pumpkin purse she knitted and felted for me on our shopping trip, and it never fails that at least one clerk tries to ring it up for sale! 😉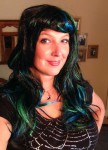 There are always some fun things to buy just because, like this cool peacock wig and the awesome 3D skeleton shirt! I did find a few Dia de los Muertos things to add to this year's party, but these days with such elaborate Halloween events that we are planning years in advance, I am usually shopping for the following year or even farther in the future. Halloween 2016 should be the Webmistress hosting Halloween at Castle Brittahytta, so the theme is spiders…can you tell by what I bought? 😉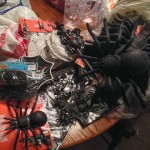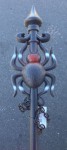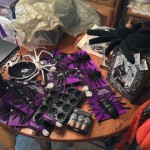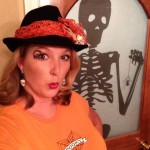 This elaborate cat makeup as been making the rounds on the internet lately, so my aunt sent it to me and challenged me to try it myself. For the first Margarita Friday dinner of October, I did a quickie 15-minute version, discovering that I don't have any fine enough brushes for eyes, let alone whiskers, but it turned out pretty cute for a first try. I didn't want my entire eyebrow to be a black tail since my other eyebrow was still blonde, so I designed it so when I blinked, my kitty pawed my eyeball as a toy. 😉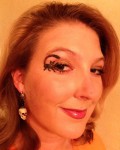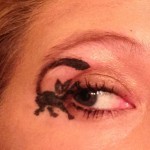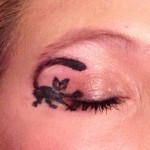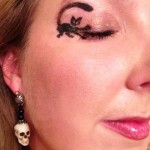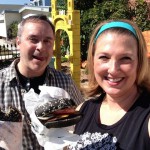 October also means seasonal snacks, and some are hard to resist! Ghoulish Glen and I needed lunch before our Saturday Halloween project marathon this weekend, so we tried the limited-time-only black HA1loween Burger. It's supposed to have A1 sauce in the bun, but it tasted like a normal Whopper with Cheese to me, even though I don't think I've eaten at Burger King in over a decade. 😉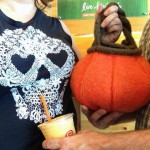 Due to design changes and equipment hiccups, we had to make two trips to Home Depot that day in the heat, so on our way back from the second trip, we stopped to split the seasonal Pumpkin Smash Jamba Juice, with real pumpkin puree. However, real pumpkin puree isn't really that appetizing to drink, even as a milkshake. I finished it frozen after dinner, but neither of us will get it again.
In other news, in August I rushed a Skull Fountain Kit to Hollywood to be in the background set dressing for the Halloween episode of Castle! Keep your eyes peeled in case you spot it on TV in October!
I also just found out that my Eerie Eyeballs are featured as #10 on this fun list of Halloween projects & recipes on BuzzFeed! Woohoo! Hope you're enjoying your Halloween season! Stay tuned for our Halloween project updates next!