Continuing my comparisons of my wizard party papercraft to my recent Wizarding World of Harry Potter theme park purchases, here we have Bertie Botts Every Flavor Beans!
Jelly Belly had started selling Bertie Botts flavors by the time of my first party in 2002, however the boxes were not like the movies at all, so I drove to Fairfield to the Jelly Belly factory since that was the only place you could buy them in bulk. The beans were also very expensive, so I mixed them with normal-flavored Jelly Bellies to stretch out my supply. My movie prop replica box design wasn't quite ready by that first party, but by the Year Five party in 2003, I had Bertie Botts boxes along with my first Chocolate Frog boxes!
Not only did Scabbers enjoy scarfing inside the box on the train in the first movie, but there was a nice still image in the DVD extras that helped me immensely. It only showed two sides so I duplicated them for the other two sides. Once I figured out the paper folding design so I could have a box floor above the level of the pointy feet, I drew everything by hand on paper, then scanned & cleaned up the graphics on my computer. The vertical red stripes were added in Photoshop along with the other colors and the text inside the banners. This version has appeared at all my Potter parties since 2003, and it is the same one currently for sale on Etsy.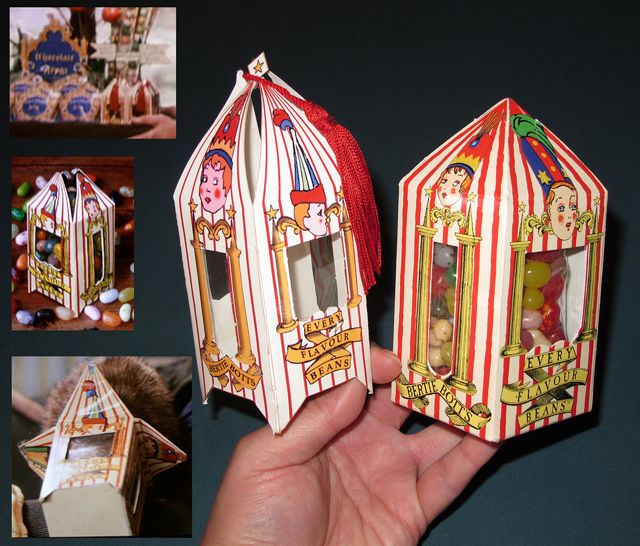 Along the left side you can see the actual movie props, my papercraft in the middle, then the theme park version on the right. Since we never saw the top, I took the liberty of designing a star flag petal closure that also allowed the tassel to hang properly. You can tell that there is a clear window on the movie box itself when Scabbers is inside it, so I had taped scraps of clear plastic inside the windows of my boxes to hold the beans inside. The theme park version on the right has a cellophane bag of beans inside instead of clear windows attached to the box. Clever solution but not movie-accurate. 😉 I like the thinner red stripes like the movie, and I understand they would be much more difficult to mass-produce and transport, but I wish they could have included the pointy feet and the red tassel on the theme park version.
Of course I had to try an edible rice paper version too! Sorry I didn't have extra beans around to put inside my boxes, but I doubt the rice paper would hold them since it is very fragile. Gum paste with frosting sheets would work for sure, but gum paste doesn't taste very good. However, I'll bet I could easily make sugar cookie boxes assembled with royal icing that could hold beans just fine! 🙂