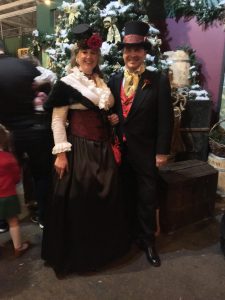 Glen & I enjoyed our first visit to the Great Dickens Christmas Fair so much last year that we decided to make it an annual tradition! I had made his red vest for his Halloween vampire costume with the plan of using it for Christmas as well, and I sewed a quick matching handbag for myself.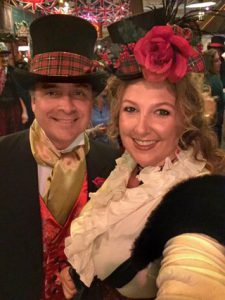 I had a red underbust waist-cincher already so we wouldn't be too matchy, and I decorated both our hats with holly, berries and red & green tartan plaid ribbon. We received many compliments during the day, especially after Glen bought his perfectly-fitting cutaway coat and wore it the rest of the day!
We made it to the Great Dickens Christmas Fair in new outfits but we are starving so food first!
More fun at the Great Dickens Fair today! Among other things, we saw Queen Victoria, strolling carolers, bought handmade wooden mugs, enjoyed holiday beverages & sweet nuts, and saw Edgar Allen Poe, Oscar Wilde, Lewis Carroll, Rudyard Kipling, and Mary Shelley recite poetry in the Adventurers Club…
Glen enjoyed shopping at the Dickens Fair and found a great-fitting cutaway coat plus three vests and a booklet how to tie cravats…we went to the car to drop off shopping so he did a costume change! 😉 The inventor's shop had an interesting tree topper, and there was a very cool potions cabinet!
We enjoyed all the performances we saw today, some on stages and some in bars! I knew I was taking a risk wearing only plastic boning instead of steel…ouch! Farewell to the Dickens Fair…see you next season!