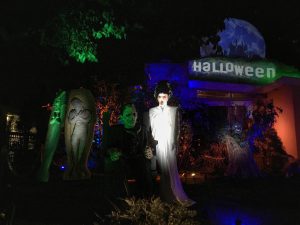 Here we go…our Haunted Hollywood front show will be ready by the Friday deadline for the citywide decorating contest, perhaps Thursday if the programming goes well, our costumes are ready, and there are 25 unique menu items still to prepare for my big party on Saturday night!
Ghoulish Glen got me a whole kit from Hot Wire Foam Factory for my birthday, and the hot knife cutting tools have been fantastic for all the foam carving I've been doing this year. The kit also came with several of their coating products meant to protect foam sculptures.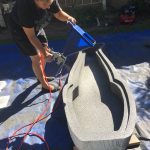 Our first major foam coat attempt was the garage proscenium arch, where we painted it with brushes that quickly got ruined, but we must not be applying enough coats for any real protection, since corners still crumble off easily, but adding more coats risks filling in the engraving I've
done. Glen was so impressed the sarcophagus I built for the Mummy that he wanted to protect it. He rushed to buy more foam coat, concrete pigment, and a texture sprayer since he saw a video that the texture sprayer set to fine stream coated the foam with a thin coat. Everything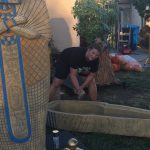 arrived for Saturday spraying spread out on a tarp in the backyard, but the nice smooth foam carving I did with the heat cutting tools ended up looking more like a popcorn ceiling, plus barely catching the corners still chip off, so that was a big fail. The foam coat allowed cans of spray paint to work for the large areas of gold (normal latex paint with my sprayer would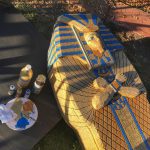 have done the same), and at least the delicately-carved hieroglyphics didn't fill in too much, but all the detail painting of straight lines and face detail took much longer due to the bumpy texture,
and none of the gold is smooth enough anymore to shine. Ah well…it still looks impressive at least!
We had rain forecasted last Thursday night, so Glen taped all the electrical junctions while I bagged the monsters, just after I had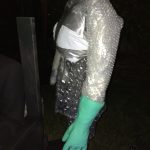 finished dressing Nosferatu, including hotgluing all his tiny buttons in place, and wrapping the Bride in bubble wrap, packing materials, dishwashing gloves stuffed with polyester batting, and a big roll of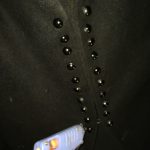 silver duct tape. The wind was worse than expected, and it poured so hard I couldn't hear myself think, so I ran back outside to tie the bags better around the monsters. Those made it through fine,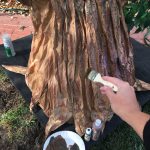 as well as the brown paper tree that had no glue but three coats of spray marine varnish…whew! I painted the tree with three dry-brushed layers
of different brown which looks a lot more realistic now, then after painting I could finally pad and dress the werewolf in his red flannel lumberjack shirt.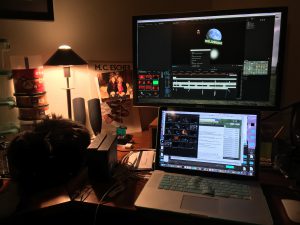 The front show videos are ready (Ebony keeps trying to sit on the monitor shelf right where I need to see!), with last placement adjustments completed Monday night now that all the front monsters are in final position, fully dressed and lighted. The show is two separate videos synced together to show on the garage screen and the front projector on the monsters in the yard and the moon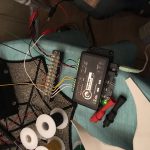 above the Hollywood hills on the roof. Now Glen gets to program them in VSA so they stay synced (see last year's frustrating attempts to sync 2 videos via QuickTime where it never loops exactly in sync!), plus add a new fancy programmable LED strobe light with the show for some last surprises!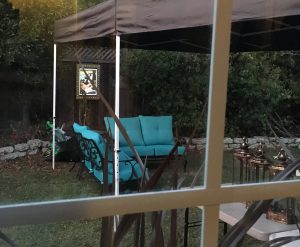 We did get the canopies up this weekend with the backyard furniture arranged a bit, and one of the movie poster slideshows is already set up on the lighted movie marquee on the back fence! Starting tomorrow I'm taking three days "vacation" from work to decorate inside my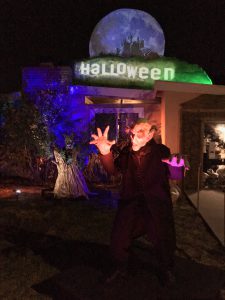 house and backyard, and plow through all the food prep for my big annual party on Saturday night! We have two interactive displays featuring famous monsters that are still in progress and depend a lot on Glen's time, so I think I will leave those as surprises for now! Thankfully my dear friend Natasha is coming early on Saturday with her daughter so they can be house-elves, and Glen has already offered to help with food in the evenings too, so I have high hopes we can get most everything done in time!
Hope everyone has a happy Halloween weekend!