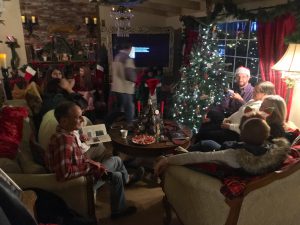 It's an especially busy holiday season for us this year with wedding planning at the same time as party & singing season, but we still managed to decorate and have our annual Holiday Happy Hour party! 35 of us enjoyed lots of friends, fun festive food, and even Santa flying across the moon with snow falling outside!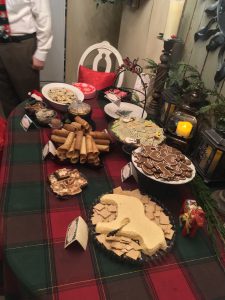 Glen made his family cheese ball recipe without any nuts as the Delicious Dairy Dalahäst this year, and I cut back some cookie varieties in hopes of a more sane party prep schedule, but most of the menu was the same since I always love it so much…Swedish meatballs with lingonberries, pickled salmon vs. pickled herring in a Santa dragon bowl, holly wreath Brie en croute with homegrown spiced loquat preserves, build-a-sandwich, manchego with homegrown quince "carne de membrillo", krumkake, pepperkakor, Caroling Cookies, and a cookie decorating table enjoyed by kids & adults including frosting as well as special Christmas Coloring Cookies! Glen added some extra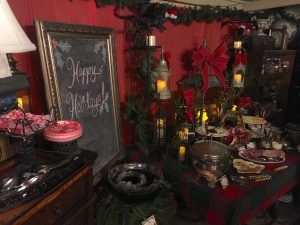 spicy cheeses this year so we arranged those on the pointy tree plate as a warning for weaker tongues like mine! 😉
There are several gargoyles and dragons that stay out year-round, so they got Santa hats and some even sported tartan bows that looked quite cute! We had the 8-foot moon up for Halloween 2017, and this might be its last year ever if we remodel my house like we hope, so I left it in place on the roof weighted with all its sandbags so I could project the same Santa flying across the moon with snow falling video I created for 2015. 🙂
Happy Holidays from Brittahytta! Jingling bells approach as Santa and his reindeer fly across the cold winter full moon with falling snow, dripping icicles, big ornaments in the front tree, giant wreath on the garage door, red ornaments and garlands decking the fence and windows, a peek into the living room with lots of lights and the main live Christmas tree, another tree on the front porch with a homemade door wreath, a Santa dragon bell, and my new haunted eyeball doorbell is even in the holiday spirit!
Please enjoy the full photo gallery below, and we hope everyone has a happy holiday season!