Sorry! I thought I was going to get a Halloween update posted last week, but things got busy, including some unexpected Potter stuff I hope will be public soon… 🙂 So, aside from satisfying my corset fascination lately (heh!), here's what's been done since I last checked in!
finished frock coat for pirate costume except for buttons – can't leave that unfinished before putting it away or it'll never get done! 😉
epoxy-glued Victorian lamppost that was broken during the Hogwarts party
painted new fancy hinges black
painted back of archway reinforcement black
put up archway & extra wall in place in front of sliding glass door
new cauldron setup using iron garden tripod and new hanging cauldron (had to widen the holes with my dremel, but used leftover black chain from the original Hogwarts Celebration!)
replied to at least 40 emails requesting Halloween assistance! (gotta be a way to make that income-generating???) still behind about 50 more to reply!
7 dozen pumpkin pasties unbaked in freezer
found periodic table, radioactive & bihoazard images for mad scientist display
ruffle sewn & attached plus hood hemmed for 's costume
4.5 dozen gravestone cookies baked (THANK YOU !!!) ready for me to decorate
7 dozen witches finger cookies baked
door hung on arch now on hinges & glued door paneling yet again (sigh)
rearranged patio with food table & witch with cauldron, including washing tables & moving the kitchen shelf outside
think I have most of my reagents list settled for the "mix your own experiment" contestCorpse Bride costume work:
reversible tan cotton & white satin corset complete, using Home Depot heavy-duty plastic cable ties as boning! 😉
spray painted roses for costume, headband & bouquet
lace overlay complete & attached to corset, including velcro closure in front & blue lace trim – just needs the exposed ribs
hooks & eyes on skirt & corset to attach together
lace gloves sewn & painted
veil is cut & painted, still need headband decorated
paint skirt edges painted
bony arm painted first coat (needs daker shading)
blue yarn wig STILL in process – it's 2 rows away from being finished at least
veil headband can't be finished until I can put the finished wig on to get the headband the proper size to fitHere are some photos if you like: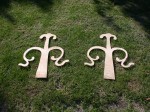 new fancy hinges for archway door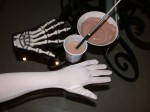 starting to paint the bony arm
Now I'm rearranging the plan for the rest of this week, since the Oakland Tribune will be coming over Thursday evening for recipe "action photos"…so not only will I wait to do the merangue bones until then, but I'll be frantically cleaning up all the mess & decor to be presentable before then – ack! 😀
Until next time!