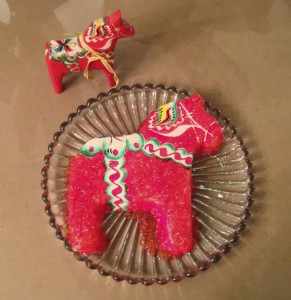 God Jul! Many of my Christmas traditions are Scandinavian due to my family heritage, especially the food, but they don't lend themselves to much original edible art…but this year for my Holiday Happy Hour I made Delicious Dairy Dalahäst with Jalapeño Jelly, handpainting cream cheese to look like traditional wooden dala horses!
IKEA had a pair of dala horse shaped baking pans a couple years ago, so I bought them for my edible art stash. Since I already have more than enough baked Scandinavian sweets for Christmas, I thought I could mold cream cheese in the pans, paint the traditional dala horse designs using food coloring, then cover with red jalapeño pepper jelly, a classic cracker topping flavor combination. The painting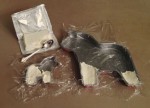 took longer than expected, but I was very pleased with the result!
I know from my Sinister Skulls for Halloween that cream cheese needs plastic wrap or it will never release from the mold. I wish there was a medium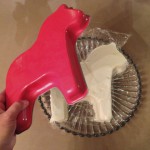 size pan in this set, since the small one was too tiny for a large party, and the large one required 8 bricks of cream cheese to fill it completely!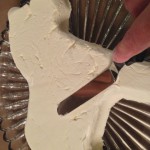 After it chilled overnight in the fridge nice and solid, I unmolded it onto my largest glass serving tray, carefully peeled off the plastic wrap, then smoothed the cream cheese with an offset spreader. You need a very smooth surface or the painting will be even more difficult!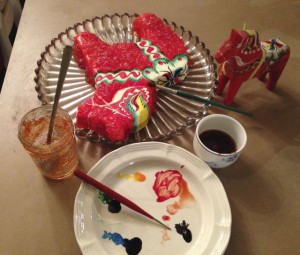 The dala horses are painted using traditional rosemaling techniques, especially loading a wide brush with two colors of paint to get the fade strokes like all the scallops. Food coloring is too translucent for that technique, so I used my small watercolor brush reserved for food use, and I faded the colors myself with tiny strokes. I used my gel food colors with barely any water at all or the color would pool and run on the cheese surface. Using my mini wooden dala horse as a model, I started with the midrange color, faded into the white as the color faded from the brush, then I went back with straight gel for the darkest edges. This worked pretty well, but painting on plain cream cheese is even trickier than painting on cream cheese gelatin Eerie Eyeballs since it is too easy for your brush to dig into the cream cheese surface. Definitely use an extremely light touch with a nice soft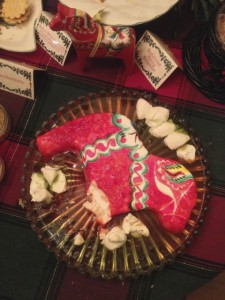 paintbrush. After the details were added, I painted red around them with the fine brush, then filled the large red areas with a larger brush. Just covering with the red pepper jelly wasn't opaque enough to look like the proper design, and I needed to use one of my food brushes to ease the jelly into smaller areas of the red design. What we also learned was not to paint your cream cheese too many days in advance of serving because the color starts soaking into the cheese and the sharp edges start to blur.
One problem was covering the large horse before serving, since tight plastic wrap touched the painted surface and it would peel off the color, so I tented foil over it, but that wasn't airtight enough to prevent the cream cheese from developing a few cracks overnight. I was also on the very last of my red pepper jelly, so even after thinning it with water, I only had barely enough to cover the red areas of the horse, and that wasn't enough jelly compared to the amount of cream cheese. I opened some green pepper jelly for around the edges of the horse, and since I have often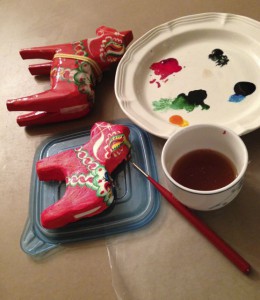 had people refuse to eat my edible art because they say it's too pretty, I added some free blobs of extra cream cheese for the green pepper jelly. It took a couple hours into the party, but finally a leg and the ear were gone! 😉
My mom loved my photos so much that she asked me to make one for her party the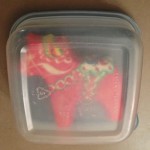 following week. I still had the small horse in its mold, but that took much longer to paint since the scale was so much smaller. Luckily it fit inside a plastic container, so I unmolded directly onto the container lid so that after painting I could just snap the base over the horse without touching any of the cream cheese surface. That worked great for transport and against cracking, even though people didn't eat that one and ate the plain cream cheese to the side. 😉
I hope this inspires you to make your own Delicious Dairy Dalahäst with Jalapeño Jelly! God Jul and Happy Holidays!