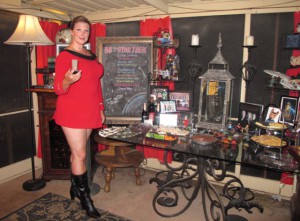 This weekend 18 of us celebrated 50 Years of Star Trek as the Cinema Brittahytta Season Premiere…as Jen said in her RSVP, "Yay, it's officially summer!" Since it was so hot, I wore my Classic Trek lieutenant's uniform I made 15 years ago, complete with vintage boots, and we enjoyed Redshirt cocktails and grilling Starfleetza Pizzas, but no one melted any of my homemade marshmallows of the 50 S'more Trek special s'mores I made, one for each year…darn!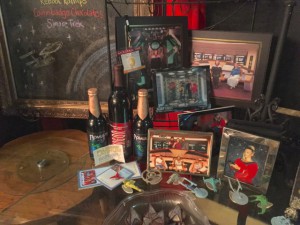 There is so much great Trek to watch that it is hard to choose only one to watch to celebrate all 50 years, but for the sake of the next movie "Star Trek Beyond" opening in July, I chose to watch the 2009 reboot with Spock Prime and the new cast. Many of us had forgotten what an entertaining movie it is, and we were thankful we could still enjoy Leonard Nimoy and Anton Yelchin on screen even though they are no longer with us.
This was rushed decorating, since I only had 4 days after returning from a 2-week vacation in Spain seeing 26 castles in 10 days, so I only put up a few posters, got out all my Trek uniforms, and arranged all the Trek toys, collectibles, and photos I could easily find. I didn't get the table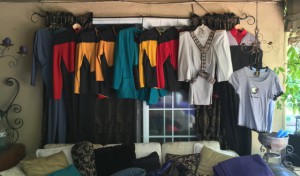 arranged until after the first guests arrived, but then it looked great! I especially love how so many eras of my life have fun Trek photos to make me smile!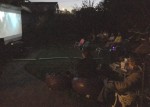 I was able to throw together a quick slideshow of all the movie posters, some blooper shots from several TV shows & movies, plus my personal Trek fun since 1991 that included several friends who were in attendance. Little Julianna found me to tell me excitedly that she saw me on TV, and it was pretty funny to tell her to watch for her dad Jeff and Uncle Louie on TV too!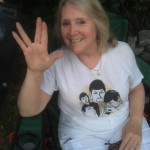 I have even more Trek tshirts in storage, but I got out the shirts I could easily find to be available for anyone to wear if they wanted, so Sheila got into the Trek spirit by wearing the Spock shirt I painted in highschool! Classic Trek style soft-focus courtesy of my smeary lens…we'll call it an intentional effect!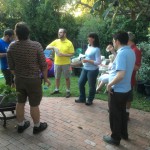 Thankfully the sun was behind the trees by the time people started arriving, so even with fans running on the screened patio, outside was much cooler. I was running around so much that my face never cooled down until after dark!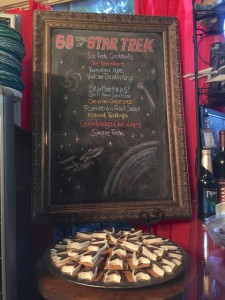 Here's the menu for the evening, with some of the quickest chalkboard art I've ever done right before guests arrived…it turned out much better than I expected.

50 Years of Star Trek Menu: Ice Trek Cocktails with custom ice cubes from Classic Trek and The Next Generation! More details about Romulan Ale, The Redshirt, and the Vulcan Death Grip below. Starfleetzas – Grill Your Own Pizza, Chevron Cheeses, Federation Fruit Salad, Commbadge Chocolates, using NextGen commbadge molds I made in 2002, then hand-gilded with gold and silver luster dust, and finally S'more Trek, a full tray of 50 special s'mores, one for each year!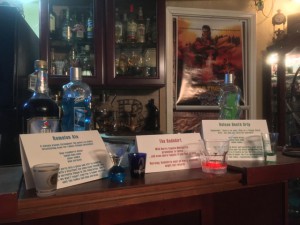 I knew I wanted to make a cocktail called The Redshirt, but it wouldn't be Trek without some vivid blue Romulan Ale, then I added something green to be the Vulcan Death Grip. Yes, those are Trek shot glasses from my collection! The complete cocktail recipes are at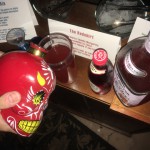 the bottom of this post if you can't read the cards in the photo. Only Glen was brave enough to add even more tequila to the already-mixed berry margaritas, but thankfully he survived the traditional redshirt fate!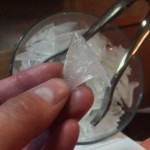 Before I left on vacation, I made several rounds of ice cubes using the custom silicone molds I had made years before, the Classic Trek chevron I made to fit custom s'mores several summers ago, and the Next Generation commbadge mold I made for the first Trek Mystery party in 2002. After I had enough ice cubes, I started molding chocolates, just melting my trusty 60% Ghirardelli baking chips and chilling in the fridge until set. I also made 30 Trek chevron Starfleetza pizza crusts before the trip, safely stashing them in the freezer, then I was on my way to Spain…
When I got home, there was still all the luster dust to paint on the chocolates, plus decorating and making other food! It was only a couple hours to add the gold to the Classic Trek chevrons, but it took a couple evenings to finish all the gold and silver on the Commbadge Chocolates. Too bad I didn't see anyone eating them, but at least they looked great…ready for Captain Picard to tap and say "Picard to Enterprise!"
I had a new idea this year to make my Violent Vertebrae rollups into Trek chevron shape as Reboot Rollups. The lavash bread doesn't bend into points very well so the shape is only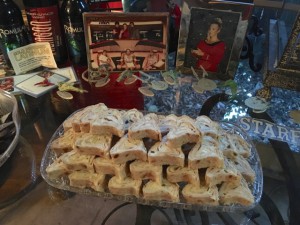 approximate, but they worked pretty well. Spread the jalapeno artichoke dip on the lavash bread, taking out any large chunks, roll up inside foil, but instead of leaving as a round roll, squash lengthwise into a point on one side, with the two legs of the off-center chevron on the other side. Freeze overnight in this roll shape so they are nice and solid. Remove from the freezer and use a serrated knife to gently saw slices away from the roll while keeping the chevron shape. Arrange on a tray while they are still frozen for easier handling, then cover and let thaw completely in the fridge before serving.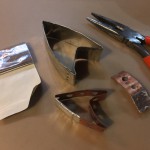 The whole reason I finally bought a stand mixer was to make my own marshmallows several summers ago….but the cookie cutter I had custom-bent into the chevron shape back then had disappeared since it had been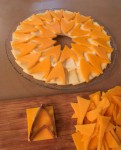 borrowed! To cut marshmallows you need a solid tall metal edge, not my copper tape I use for other custom cookie cutters, so thankfully I had another simple oval in my stash to bend a new Trek chevron. While I was at it, I made a smaller chevron a better size for custom Chevron Cheeses, which worked great!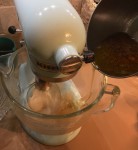 Finally, with the new cutter ready, and the pans prepped with wax paper, non-stick spray and lots of powdered sugar, I was ready to make the marshmallows! This time I used Alton Brown's marshmallow recipe (full recipe at the bottom of this post), but I added some honey since I was at the tail end of my corn syrup. This added a nice extra flavor without affecting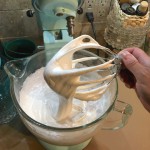 the sugar crystallization. After the thin ribbon of boiling sugar syrup was finally mixed into the gelatin and completely fluffed up stiff, it was ready to spread into the pans to set. I wanted to make 50 special s'mores, one for each year, so I filled one sheet plus almost half of the other, only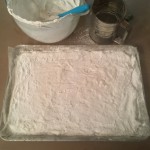 about 1″ tall. I sprinkled more powdered sugar over the top then patted the surface with another sheet of wax paper to smooth the top flatter, then let them set overnight. The next evening I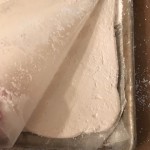 flipped over the entire slab of marshmallow onto a freshly dusted sheet of wax paper, then using a dish of water to keep the cutter from getting too sticky, I was barely able to get 50 chevrons cut, but there are cutting scraps of course. Maybe I can save them for winter to cut up for hot chocolate, but it's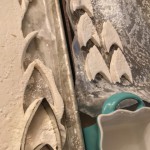 too hot right now to enjoy them that way! As each was cut I dusted the reverse side with more powdered sugar and set them on another wax paper lined tray. I kept the cut marshmallows covered one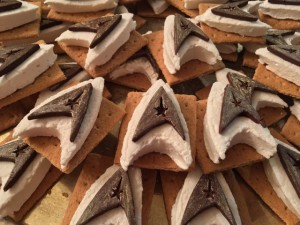 more day until I assembled with my gilded Trek chevron chocolates and the purchased graham crackers into a full platter of S'more Trek!
I blew it and only took before photos of the Starfleetza pizzas in action, not any of the ones everyone made for dinner! Big thanks to Sheila for bringing a cheddar jack cheese mix to add to my mozzarella, plus setting out all the pizza toppings in my custom-melted space-age dishes I saved from the 2002 Trek Mystery party.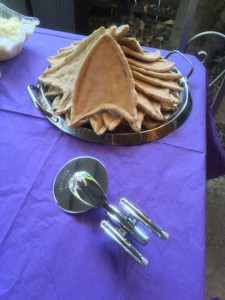 Of course even though I made the crusts small enough they didn't really need cutting, I had to get out the USS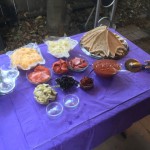 Enterprise pizza cutter I got as a Christmas gift a few years ago! Heehee… It did make for an awesome photo in front of the perfectly positioned pile of pizza crusts!
As is usually the case with my movie nights, I am finally assembling my own dinner as the trailers are running, then I get to sit down in the cool night air and enjoy my dinner on my lap in front of the big screen. When I realized I didn't have any finished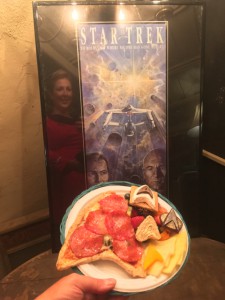 Starfleetza pizza photos, I decided to take a photo of my dinner plate in front of my 25th anniversary Trek print with Kirk and Picard…then saw my own reflection too!
Keep reading for the full photo gallery plus complete recipes for the Ice Trek cocktails and the homemade marshmallows…and stay tuned for two more movies this summer!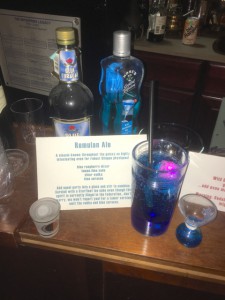 Romulan Ale
A classic known throughout the galaxy as highly intoxicating even for robust Klingon physiques!
blue raspberry mixer
lemon-lime soda
clear vodka
blue curacao
Add equal parts into a glass and stir to combine. Garnish with a Starfleet ice cube even though this spirit is currently illegal in the Federation…don't worry, we won't report you! For a tamer version, omit the vodka and blue curacao.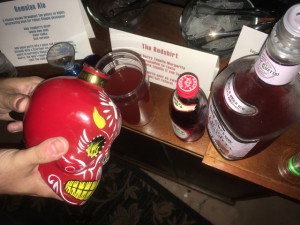 The Redshirt
Wild Berry Tequila Margarita
grenadine to taste
…add even more tequila if you feel brave!
Warning: Redshirts sent on away missions might not return!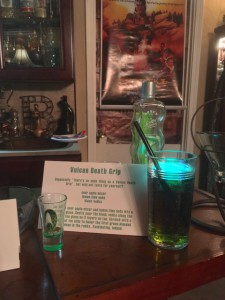 Vulcan Death Grip
Supposedly "there's no such thing as a Vulcan Death Grip"…but why not taste for yourself?
sour apple mixer
lemon-lime soda
black vodka
Pour the sour apple mixer and lemon-lime soda into a martini glass. Gently pour the black vodka along the side of the glass so it layers on top. Garnish with a Starfleet ice cube to honor the first green-blooded Vulcan in the ranks…Fascinating, indeed.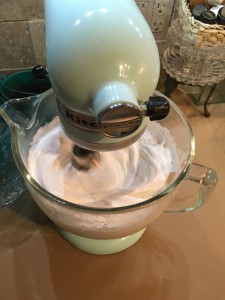 Alton Brown's Homemade Marshmallows
SOFTWARE
3 packages unflavored gelatin
1 cup ice cold water, divided
12 ounces granulated sugar (2/3 cup)
1 cup light corn syrup (2/3 cup corn syrup + 1/3 cup honey)
1/4 teaspoon kosher salt
1 teaspoon vanilla extract
1/4 cup confectioners' sugar
1/4 cup cornstarch
Nonstick spray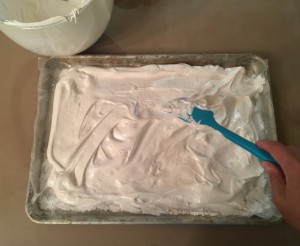 PROCEDURE
Combine the gelatin with 1/2 cup of the cold water in the bowl of a stand mixer. Have the whisk attachment standing by.
Combine the remaining 1/2 cup water, the granulated sugar, corn syrup and salt in a 2-quart saucepan. Place over medium high heat, cover and allow to cook for 3 to 4 minutes. Uncover, clip a candy thermometer onto the side of the pan and continue to cook until the mixture reaches 240 degrees F, approximately 7 to 8 minutes. When the mixture reaches this temperature, immediately remove from the heat.
Turn the mixer fitted with the whisk attachment to low speed and, while running, slowly pour the sugar syrup down the side of the bowl into the gelatin mixture. Once you have added all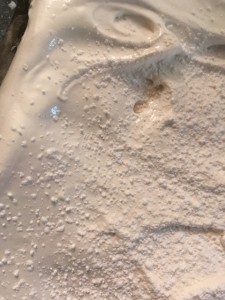 of the syrup, increase the speed to high. Continue to whip until the mixture becomes very thick and is lukewarm, approximately 12 to 15 minutes. Add the vanilla during the last minute of whipping. While the mixture is whipping prepare the pans as follows.
REGULAR MARSHMALLOWS
Combine the confectioners' sugar and cornstarch in a small bowl. Lightly spray a 13 by 9-inch metal baking pan with nonstick cooking spray. Add the sugar and cornstarch mixture and move around to completely coat the bottom and sides of the pan. Return the remaining mixture to the bowl for later use.
When ready, pour the mixture into the prepared pan, using a lightly oiled spatula for spreading evenly into the pan. Dust the top with enough of the remaining sugar and cornstarch mixture to lightly cover. Reserve the rest for later. Allow the marshmallows to sit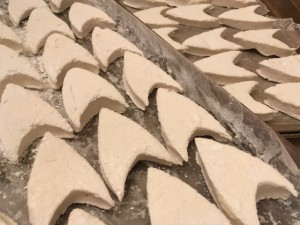 uncovered for at least 4 hours and up to overnight.
Turn the marshmallows out onto a cutting board and cut into 1-inch squares using a pizza wheel or knife dusted with the confectioners' sugar mixture. Once cut, lightly dust all sides of each marshmallow with the remaining mixture, using additional if necessary. Store in an airtight container for up to 3 weeks.