Halloween has been in full swing for me for a whole month already, with too many things to say so I don't know where to start! First I'll show you what I just sent with the party invitation. Listen with headphones or some good speakers for the full effect…
Does that pique your interest? Plenty of surprises are still in store since there are more secret plans in the works of course, but I will show you what I can safely reveal along the way… 🙂
I also have a new Eerie Elegance product for sale as of September 1st! I have already shipped a handful of orders of my Frightful Skull Fountain kit, and I'm ready for more orders! I didn't see the plastic potbelly cauldrons at my Spirit Halloween store, but Party City did have both 12″ and 16″ potbelly cauldron sizes for very cheap. Go buy a cauldron, buy my kit on the Eerie Elegance order page or in my Etsy shop, and watch this instruction video, then you'll be all set with a spooky decorative fountain or ready to serve party punch with your own Frightful Skull Fountain!
Back to party progress… As soon as my summer party season was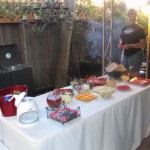 over, of course it was full steam towards Halloween! I literally transformed my patio from hosting the final Cinema Brittahytta with 33 people watching The LEGO Movie, to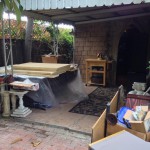 Halloween workspace in less than 24 hours! Since then I've been so busy getting enough built and ready to film, writing the final trailer script, memorizing my lines, filming my performance, writing music, and editing the teaser trailer above, that I haven't had time to post Halloween updates yet…so here we go…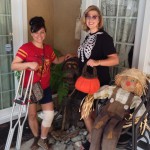 I just got back from my Annual Halloween Shopping Weekend with my friend Tash. I was mostly shopping for next Halloween since I have chosen Day of the Dead as my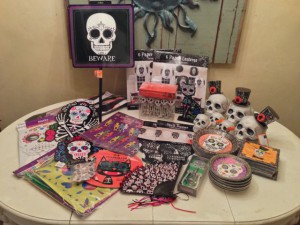 theme for 2015, but there were a few things I found that will be useful this year. We tried a week earlier since the the past few years by the end of September Target didn't seem have much Halloween stock left, but I can't say there was that much more available this year. The lone gargoyle was a large griffin but it was cracked with crooked beak so not worth $25 even though Griffin is Tash's last name. 😉 The same pumpkins were there but the same styles as the past couple years, and I already have duplicates of those in my collection. We were lucky that we hit JoAnn Fabrics Coupon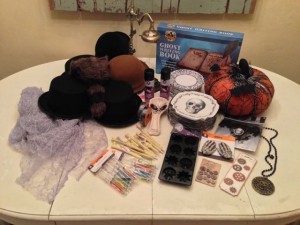 Commotion weekend again, so Tash spent $66 but saved over $100, and I spent $120 but saved over $100 myself! Hooray for coupons!
I was cracking up at all the Frozen stuff for this year. Target has no less than 3 styles each of Elsa & Anna dresses, ranging in ages and degrees of fancy, but the Elsa wigs were already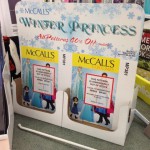 gone. I took photos at JoAnn since the pattern displays were stripped clean of all sizes except the doll patterns. I asked the cutting table employee assisting me how quickly the Frozen patterns sold out, and she said she made sure to buy hers on the Thursday they were set out to get one to make her granddaughter's costume! They had an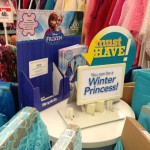 empty pattern box on top of a display wheel with a sign "You Can Be A Winter Princess!" but no snowflake printed sheer fabric that I saw, and I forgot to look for the iridescent crinkly shimmer fabric I used for my snowflake cape that has been sold out since the early spring. I am very glad I made my Elsa dresses when I did!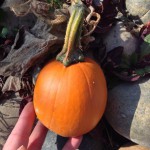 California got almost no rain this past winter so we are in the worst drought season in years, and pumpkins need a lot of water to grow well, so I decided against planting the special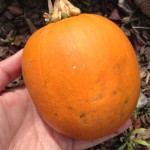 pumpkin seeds I had bought online, and just planted the last rotting pumpkins I had leftover from last Halloween. Only one spot grew well, and it's now traveling over 10ft long up the walkway, but there are about five vines in the same drip irrigation point down by the sidewalk. I already harvested two small pumpkins, and there are 5 female blooms along the main vine that I hope will keep growing. I planted some saved sugar pie seeds in another spot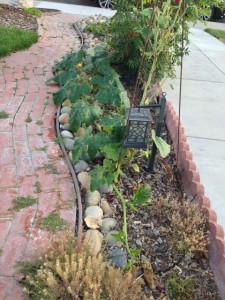 almost two months after the first planting, so those are doing ok and starting to bloom, but no vines extending yet. Since I still have all the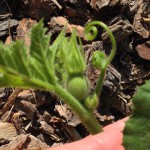 plethora of pumpkins I used last year for The Nightmare Before Christmas, I'm just hoping I can put my fake pumpkins in some real vines with leaves.
I already mentioned when we took our castle field trip to Napa that this year is back to the Castle Brittahytta story. The castle itself will have some minor architectural changes to the towers, an improved main entrance with "drawbridge", and it will acquire last year's graveyard fence around the front. All six ghosts and seven moving portraits from Halloween 2012 are back with some enhancements, and you will finally find out the full story of how and why Miss Hermione G. Wells is involved!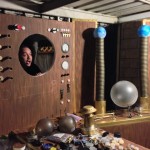 You can see from the trailer that lots of the steampunk junk I've been collecting for over 2 years now is being used for a giant scientific device created by Miss Hermione G. Wells. The "wood" is 7 layers of paint techniques on foam panels, the "brass"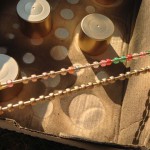 straps are gold duct tape, and since the gold plastic pony beads were too shiny and twice as expensive, I have been spray-painting cheap large pony beads and hot-gluing them as rivets over the gold duct tape. I think I'm on roll 5 already of the gold duct tape, but it's only $5 per roll and I've been using coupons.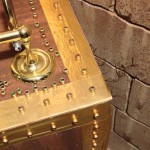 I absolutely LOVE how this looks!
Thankfully my Halloween Scream Team has completed several weekends of planning and filming during the summer, and we're making good progress. Since a lot of these preparations were already underway back in 2012, it's a matter of finishing them now, but there is still a LOT to do! I wanted to be farther along by now, but my other major project this year has been my grandmother's video biography project with accompanying book that I have been working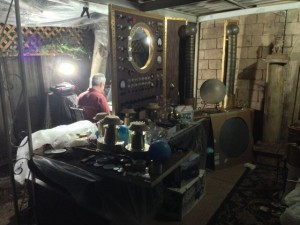 on for several years now, and of course her 100th birthday is immediately after Halloween, so there is no way I can be doing both in October! I was disciplined enough to get major progress completed on her biography before I was allowed any Halloween video editing, but now that has made me behind schedule for Halloween. I do think we will still make it, and it will truly be epic! 🙂
Hope your Halloween plans are going well!