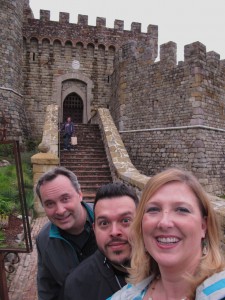 Our Halloween 2014 preparations are in full swing! We are still mostly in the secret planning stages right now, but since there are some slight design changes for Castle Brittahytta, I decided our Eerie Elegance Scream Team should take a field trip to the castle winery in Napa for research. 🙂
I have walked through many authentic castles in Europe, but my cohorts haven't had as many chances, and photos can only tell you so much. Looking up at a stone vaulted ceiling, seeing painted wall frescos, giant wooden doors with iron fittings, and even murder holes from down below, are all different experiences when up close and personal.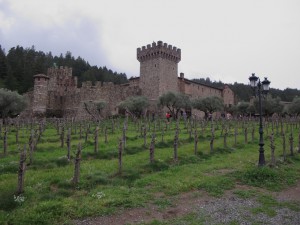 I had heard about Castello di Amorosa when it opened in 2007, new construction with historic techniques and more Tuscan style than my castle preferences, but I'd never had the chance to visit. We don't have many real castles in California, and this one was only a 3-hour drive away. Much of the stone is reclaimed from old stone buildings in Italy and Austria, and all the new stone was still imported from quarries in similar locations to blend. This castle has a mixture of tan-reddish stone and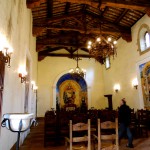 red brick, which proved to my cohorts that my brick chimney is not out of place for my tan stone Castle Brittahytta. There is even a well in this castle courtyard…sound familiar?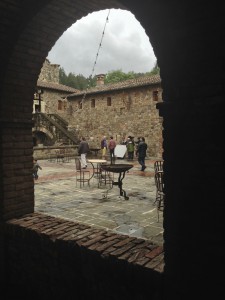 We splurged on the full hour-long guided tour with private group wine tasting at the end, which was worth the time and money, but you should get a reservation in advance since this place was busy even on a rainy blustery weekend. Our tour started in the chapel and continued through the courtyard, where the History Channel was there interviewing the owner for their new show Castle Secrets & Legends, so maybe we'll be in the far background of the show when it airs? If you spot someone in a long bright teal raincoat, that's me!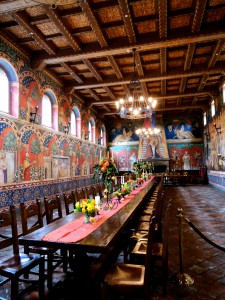 Next was the Great Hall, with a long grand dining table and gorgeous custom painted wall frescoes, including the owner painted in the main design above the reclaimed carved stone fireplace. The wood beam ceiling was painted and gilded like many authentic castles I have seen…see what I mean about looking up? This was the only room with diamond-pane leaded glass windows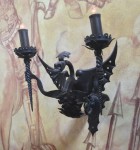 since glass was reserved for royalty. The dragon sconces were newly-crafted by blacksmiths and I really liked those. I have to say I was a bit disappointed they weren't using flicker bulbs though. 😉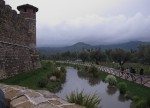 We had a nice view of the vines below and the hills across northern Napa Valley shrouded in rainy mist from the upstairs patio between the main building and the outer "defense" wall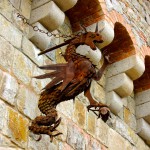 complete with notched crenellations. The cool metal dragon hanging above the door to the patio was reclaimed from somewhere in France…I want one!
Since they wanted to be authentic without glass windows in most of the castle, the majority of the tour was inside, through dark arched hallways, with gated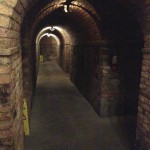 alcoves storing bottles of wine and small frescoes at the back. They host an expensive Halloween party every year, sending guests through the arched hallways lit only by candles with costumed employees hiding in the alcoves scaring guests, but Ghoulish Glen whispered to us, "But just imagine what WE could do with a place like this!" Most of the mood was great, until it was spoiled by the plastic yellow wet floor signs at the edge of the hallway, or we walked past the modern giant metal fermentation tanks. 😉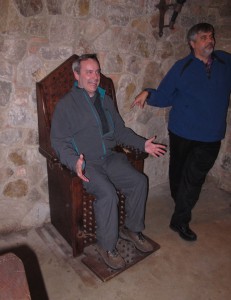 The armory held 4 authentic suits of armor and various weapons, then it was down the stairs into the torture chamber! The owner had collected a real iron maiden that was actually used centuries ago, a rack, a hanging cage, and other implements of torture. Our tour guide made Ghoulish Glen sit on the spiked chair…ack!
Finally we ended up in one of the private tasting rooms, with low arched ceiling, plenty of bottles of all the varieties ready for purchase, then our super-fast tasting began. Maybe since we were the last tour of the day our guide wanted to get home? Since there were 3 of us, we split one glass between us to taste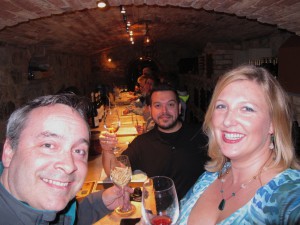 all 16 wines. The Pinot Grigio was nice enough, the Pinot Bianco was more unique, and the Gerwurztraminer we all liked, but the others and the reds I wasn't very impressed. However there were four sweet wines at the end, so I bought Simpatico, a blend of Riesling and Muscat…yum! I got three bottles since then there was a 10% discount, no Pinot Grigio this time. 😉
Unfortunately the front gate was already closed to roam inside the castle on our own after our tour, so we were only able to wander the grounds and take photos. I would recommend a tour earlier in the day so you can explore the castle on your own afterwards, but there is often traffic getting to Napa from the Bay Area, so plan ahead. The emu was hoping for handouts despite the "no feeding or petting" signs, and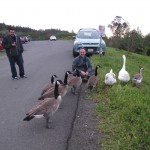 the turkey and the peacock were both strutting their stuff for us. I'm not sure who they were trying to impress, since the peahens were ignoring them completely. 😉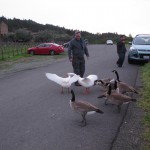 I walked farther down the hill for a better photo of the entire castle, then looked back up towards my car and saw Glen and his flock! The geese were hanging out, perfectly pleased to be near him…until he stood up, then the white geese started pecking at his legs! Fickle feathered friends!
Of course Scary Jerry and I took a bunch of photos of the castle, which you can see in the gallery below, including our visit to my college friend Andy's family winery, Schweiger Vineyards & Winery. Very tasty creations so I bought wine & port there too! 🙂
All three of us enjoyed our day, and now we are inspired even more for our Halloween plans for this year. Have you started your Halloween plans yet?