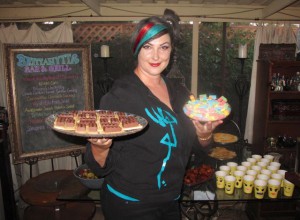 The Cinema Brittahytta summer season finale this year was The LEGO Movie, so of course Everything was AWESOME! I always love celebrating creativity, so this was the perfect chance! I think we set a new Cinema Brittahytta summer record with 33 of us for LEGO Movie last night, including 2 babies & 6 kids! A few of us played LEGO Rock Band and grilled our personally-constructed Master Builder Pizzas until it was dark enough to watch the Simpsons LEGO episode, then laughter was everywhere during The LEGO Movie in 3D with old-school red/blue 3D glasses!
Except for one tiny Harry Potter collector set, I actually don't own any LEGOs anymore, and my mom recently donated our family stash without asking me first (waah!), so I had none for decorations. I did find stackable interlocking candy blocks online so I bought those and built the LEGO letters for display, but they were pastel chalky colors like Sweet Tarts. I even searched in case there were cute LEGO plates and napkins I could buy. Alas, I didn't find any that I liked enough, but I did see a ton of adorable party plate and napkin ideas, so I used those as inspiration to construct my own.
A white paint pen, and red and black permanent markers were enough to draw 24 different LEGO faces on cheap yellow paper cups. I used the LEGO Movie trailer I had downloaded last summer, pausing at different faces I liked and sketching them freehand.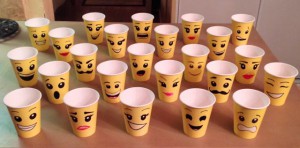 Can you find Emmett and Wyldstyle? 😉 I also saw square yellow plates turned into the faces online, but I liked the round cups idea better because they looked more like the round LEGO minifig heads, plus food would cover up the faces on plates. On cups we can not only keep appreciating the faces, but they also function as cup identification!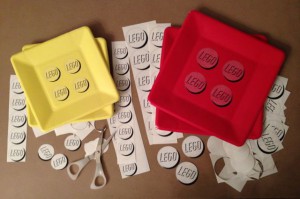 At my local dollar store, I found square paper plates in bright primary colors, so I made those into 2×2 LEGO bricks by printing the LEGO logo circles with my food coloring printer onto transparent label paper. I knew from the Ghostbusters plates that the food coloring ink could still run if too much moisture got on the labels, but since it was only food coloring, no harm done to our food. You could also use a black food coloring pen and draw them all freehand, but that takes a while, plus you wouldn't be able to run an embossing filter to make them look 3D.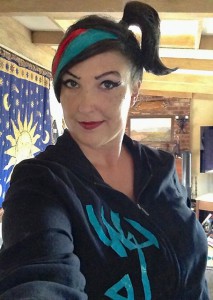 I already had vivid red and bright teal clip-in hair extensions, and since I also have a black hoodie, I decided I could be Wyldstyle for the evening! I know it wasn't the exact shades of turquoise & hot pink, but pretty close for stuff I already had on hand. I used some teal duct tape that matched my hair extensions to make the WS line artwork on the hoodie, curled and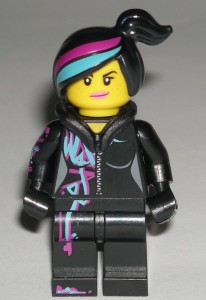 poofed up my ponytail with volumizing powder, used 2 cans of black hairspray, added the red & teal streaks in front of my hair, and added heavy black eyeliner and bright red lipstick, with a couple freckles drawn on each cheek too. Everyone assumed I was wearing a wig! haha…There was so much hairspray, it felt like a wig, or that I had curlers in my hair! I was very glad it all washed out before bed, but it did take two full shampoos, and gray splatters all over my shower that needed rinsing. 😉
Since LEGO is all about building your own creations, of course we built our own food! There were supposed to be at least a few kids coming, and I still had plenty of frozen pucks for the snow cone machine, so I was prepared to build our own Princess Unikitty Cloud Cuckoo Land Snow Cones with lots of rainbow colors from all the flavored syrups.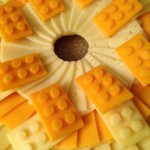 This is great to entertain the kids since they have to turn the crank to grind their own snow! But the first kid to arrive was already when pizzas were being built, and the next kid wasn't feeling well, so no snow cones this time…darn!
I always provide cheese slices with crackers, but this time I added pips to a few slices by cutting them out with with a drinking straw to look like LEGO bricks and called them Construction Cheese & Crackers! My standard summer party food was also renamed in theme as Kragle Corn (sticky kettle corn), Wyldstyle Fruit Salad (for her colorful stripes), Awesome Sweet Potato Salad (because everyone always loves it), and Bricksburg Bean Salad.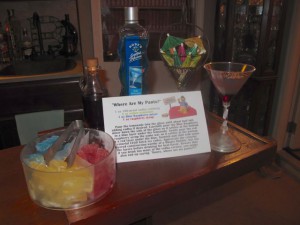 I laughed when I thought of the custom cocktail for this party…"Where Are My Pants?!?" Hahaha! That is the name of the goofy TV sitcom advertised all over Bricksburg, so I thought if you drank too many of these, you might also be saying the show's tagline, "Honey, where are my pants?!?" heehee! It is still pretty layered LEGO colors by omitting the vodka, so safe for kids to enjoy as well. We discovered on the 4th of July that the sugar-free Torani red raspberry syrup blends into the Rose's brand sugar Blue Raspberry mixer, but if you have the full sugar red raspberry syrup, it sinks under the Blue Raspberry mixer.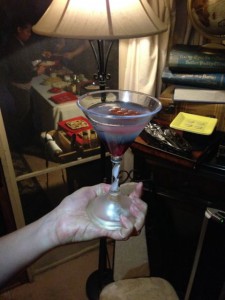 "Where Are My Pants?"
1 oz Blue Raspberry mixer (Rose's brand)
1 oz raspberry syrup (Torani brand)
2 oz yellow lemonade
1 oz 100-proof vodka (chilled)
Pour the lemonade into the glass until about half full, adding vodka if desired. Carefully pour the Blue Raspberry mixer down the side of the glass so it settles at the bottom in a blue layer under the lemonade. Gently pour the red raspberry syrup the same way so it settles at the bottom in a red layer under the blue. Garnish and chill with some colorful LEGO brick ice cubes. Appreciate the colorful layered construction worthy of a Master Builder, but stir the layers before drinking for best flavor. Beware that if you drink too many of the vodka version, you might also end up saying, "Honey, where are my pants?!?"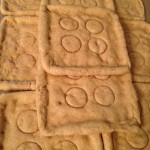 Master Builder Pizzas was a no-brainer, and I made the sourdough whole wheat pizza crusts into squares this time, gently using a round cutter to make the 2×2 pip imprint in the dough before baking just long enough to set the shape, even though it would be covered by pizza toppings before eating. They were cute sitting in the blue bowl on the pizza table and everyone noticed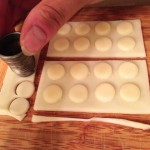 what they were! I did the same with rectangular cheese slices, using a metal piping coupler that was the perfect size to cut pips. I made the mozzarella as 2×4 but the cheddar was pre-sliced in squares, which gave some nice variety. I left the other toppings normal…it's hard to change pepperoni, sun-dried tomatoes, olives, mushrooms & artichoke hearts into rectangular shapes! 😉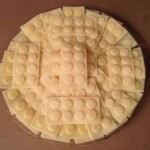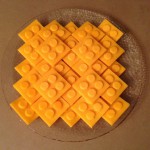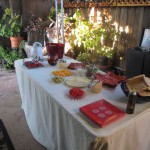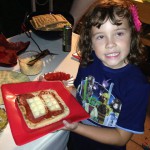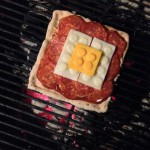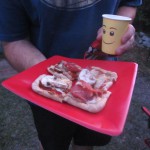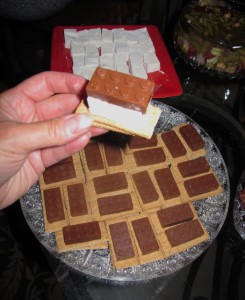 Since this was the last celebration of the summer, of course we had to have more s'mores! I had borrowed a brick silicone mold from a friend, so I used that to make ice cubes, using food coloring to make bright colors without affecting drink flavors, as well as the milk chocolate bricks for the s'mores. Each individual chocolate brick fit perfectly on the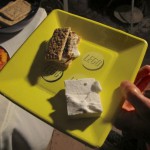 smallest section of a regular graham cracker as a mini s'more, and Galt & Lyle offered to bring homemade marshmallow rectangles, so we were all set to build our S'mores of the Special!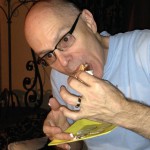 Cyd the self-proclaimed pyromaniac enjoyed getting the grill started, and she & Mike helped me set out all the toppings, so pizzas were already underway before the majority of people arrived. Lyle started the firepit for me to get the marshmallows roasting, and I caught Galt scarfing a S'more of the Special!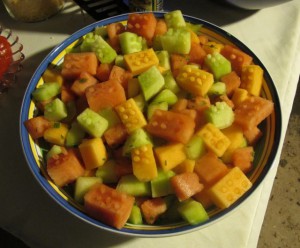 Sean & Laura earned huge geek points by bringing their LEGO Brick Melon Salad! They cut various melons into matching rectangles, then they used a drinking straw to cut the pips, then stuck them back in only halfway. Excellent effect!
We can't see the screen properly until the sun goes down completely, but we can see well enough to play Rock Band about an hour earlier, so a few played LEGO Rock Band this time, and with the LEGO band on the screen, it was fun to watch for the rest of the crowd who wasn't playing. By the end of August it is dark enough for good projection by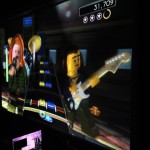 8:30, but everyone is used to the rest of the summer needing to wait another hour, so we never get started as early as we could. As long as that means everyone is enjoying themselves, it's all good…or should I say AWESOME? 😉
Instead of 15-20 minutes of movie trailers before the feature presentation, since The Simpsons had a special LEGO episode this spring, I thought the 20-minute episode would be perfect! It was a great episode with a good message, and not too far out like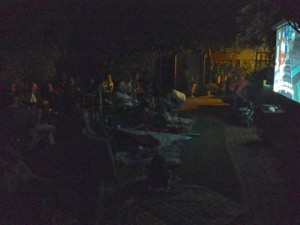 the Simpsons can often be, so I felt it was appropriate even for the littler kids in our group. This was finally my chance to make my own pizza and mix my own cocktail to be ready for the movie, so I wasn't out watching with everyone, but I heard lots of big laughs from the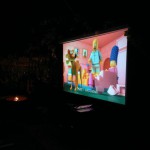 audience, so I'm glad they enjoyed the LEGO Simpsons!
Then it was time for the main feature…in 3D! You have to spend in the 5-digits or use two identical projectors and crazy DIY setups for passive 3D projection, or one of my projectors can do active 3D with special glasses that cost $100 each, so there's no way I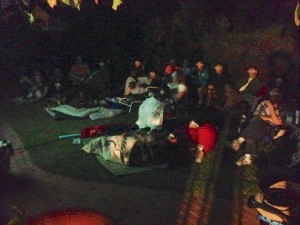 could afford to do that for a crowd. However the Bino freeware app can take a 3D version of the movie, display it split-screen right-left or top-bottom for passive-3D-capable TVs, convert it to red/blue or green/magenta 3D, or show it in normal 2D. I bought the old-school red/blue paper glasses in bulk online and figured we could try watching in 3D, then if there were too many complaints, I could quickly switch to 2D on the fly. There is a color shift even though the software is attempting to compensate for the red/blue split, so I don't think I would do this for more impressive effects in a live-action movie, but it worked fine for LEGO Movie, and I got a great photo with everyone wearing their 3D glasses! We had several people who hadn't seen the movie before, and I heard huge laughs coming from all of them…truly Everything is Awesome! 😀
You can enjoy even more photos in the gallery below. Thanks to everyone for another fantastically fun summer! Until next season! 🙂