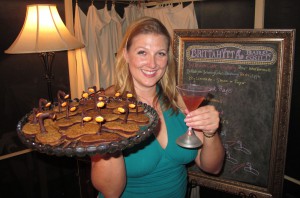 It was looking like a very small group for War of the Worlds movie night, but a surprise visit from my college buddy Dave & his family doubled the attendance! When it was just them & me before others arrived, little Jackson asked, "Is this a party?" and I replied, "Yes, now that you're here!" 🙂 All 8 of us had a blast with the War of the S'mores homemade graham cracker flying saucers with chocolate eyestalks, and the adults enjoyed the Martian Heat Ray cocktails I created!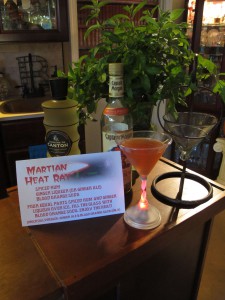 I had never seen War of the Worlds & wanted to wait to see it for the first time on my big screen, so it was a little trickier to come up with special recipes. I knew the specific flying saucer with "eyestalks" that shot heat rays, so I ran with those ideas. For the Martian Heat Ray cocktail, I had a couple bottles of blood orange soda, and even though cinnamon schnapps would be most obvious, I don't have any in my bar, so I decided spiced rum and ginger liqueur could be tasty "heat." First try in my tiny tasting glass was excellent! It's still spicy & tasty if you make it with ginger ale & blood orange soda without the rum for the no-alcohol crowd. Of course we had to drink these in glowing red martini glasses! 🙂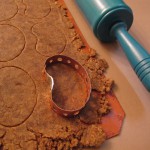 Summer grilling is s'more season and I think custom s'mores are fun to make. I have made custom chocolates and custom marshmallows before, like for Star Trek II: The Wrath of Khan, but I wanted the shapes to be specifically the classic War of the Worlds "eyestalk" flying saucers, so this time I also made my own graham crackers!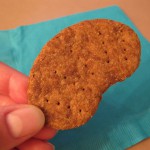 I had not seen this film before, so I was going by screenshots only for the design. I made my own kidney-shaped cookie cutter the size I thought was good for s'mores without being too pointy. I found a vegan recipe that looked good using only whole wheat flour & molasses, not special graham flour, so I tried it. I think I rolled these a little too thin, but they were nice and crispy and they held up perfectly for s'mores. (See the end of this post for the full recipe.)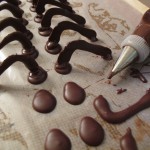 Since the cookie dough was crumbly & too fragile for thin stalks to hold together, I made the "eyestalks" by piping melted chocolate onto wax paper with the eyes separate from the stalks. Once they were firmly set, I gently pulled the stalks off the wax paper and glued them to the back of the eyes that were still on the wax paper, helping support the stalk with a little more piped chocolate at the other end, and very very carefully putting them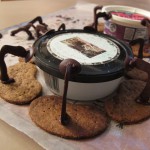 back in the fridge to set. Once those were all set, I piped more chocolate to glue the stalks onto the top of the top crackers, but they needed more support while chilling, so they were circling spare plasticware until they set.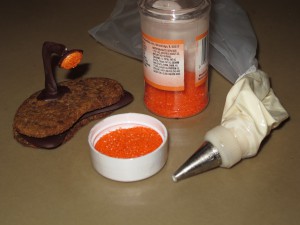 After the stalks were solidly in place, I quickly added an eye of melted white chocolate immediately dipped in orange sugar for the heat ray. Don't wait to pipe several eyes at once, since the white chocolate sets too quickly for the orange sugar to stick!
I left the bottom crackers plain, ready for freshly-roasted marshmallows to melt on chocolate, but of course I piped out chocolate wafers to match the saucer shapes too! I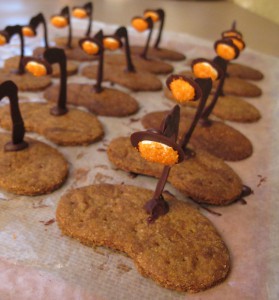 traced the cookie cutter onto the back of wax paper, then piped on the other side so I could aim properly. My fridge was full of cookie sheets with chocolate setting in various shapes! 😉
I admit that's a lot of rounds of chocolate work just for s'mores, but everyone loved the "cute" design. I joked that some production designer from the 50s must be rolling in his grave at his Martian War Machines being called "cute!"
As for the evening itself, Dave & family were early, which meant too light for any Rock Band to proceed outside, so there was a lot of both boys running & jumping into the bean bags on the grass while his parents & I caught up since I last saw them a whole year ago. I got out the drum set so the boys could bang on it, and I told Jackson we couldn't actually play the game until there was no sun on the screen anymore…so he was paying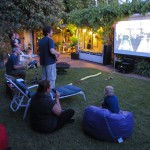 attention! He also kept stalking Onyx and was really trying to get a glimpse of the elusive Ebony. He finally got a good look at her when I fed the kitties when no one else was inside, then I brought Jackson back and stood whispering with him peering from the doorway. 🙂
Glen, Shelia & Ruth arrived, then when it was finally just dark enough, we started Rock Band, and after a couple random songs as I kept checking my salmon on the grill, I heard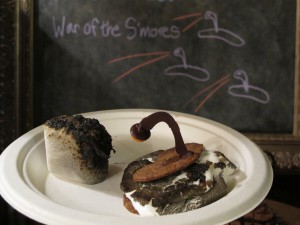 The Police start playing…aaah! Dave's college band played Message in a Bottle dedicated to me at one of their early gigs, and Dave & Wendy went with me to the Police reunion concert a couple years ago, so that was totally awesome to play Police Rock Band with Dave…woohoo!
The boys are too young for staying up for an after-dark movie plus the long ride home to Oakland, but I insisted we all must have the War of the S'mores before they left! We used my firepit for the first time in over a year so the boys could see their marshmallows roasting. The gargantuan marshmallows were a little too large for my flying saucer crackers, but the ooey gooey mess was loved by all! We even had a roasting stick duel with proper fencing technique between Glen & Ruth. Of course I made everyone pose with their s'mores, and I cracked up at the results…hahahaha!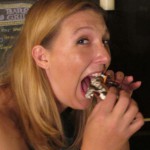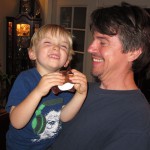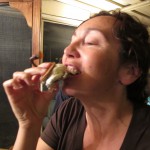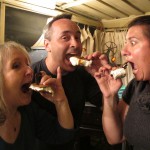 As always, you can click to see the entire photo gallery, plus read the full homemade graham cracker recipe…enjoy!
Gwam Crackers
Makes about 12 crackers
1 1/2 cups whole wheat flour
1/3 cup sugar
1/2 teaspoon baking soda
1/2 teaspoon cinnamon
scant 1/2 teaspoon salt
1/4 cup oil
2 tablespoons molasses
1 teaspoon pure vanilla extract
1/4 cup rice milk (plus maybe an extra tablespoon or so), soy milk or water will work, too
Preheat oven to 350F. Blend flour, sugar, soda, cinnamon & salt in a bowl, then create a hollow in the middle. Pour the oil, molasses & vanilla into the hollow, stir together, then work into the dry mixture with a fork until consistent but sandy. Drizzle the 1/4 cup water or milk until it combines into a dough, using your hands if necessary. The dough will be crumbly, but it will hold together when rolling out for cracker or cookie shapes. Roll onto parchment paper or a silicone baking mat, cut your desired shapes with enough baking room between them, then pull away the extra dough, including the crumbly spots at the edges. Keep rolling the scraps until the dough is gone. Dock with a fork in whatever pattern makes sense with your shape, then bake 12-14 minutes at 350F. Cool completely on the baking sheet, then store in an airtight container to keep them crispy.