To celebrate Friday the 13th, there is Eerie Elegance news today! The Tasty Tombstones I created for my Halloween party are now for sale as pre-printed frosting sheets,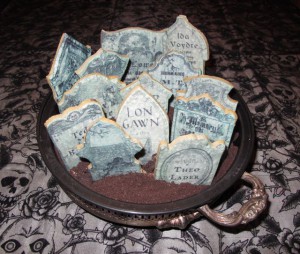 plenty early so you can plan ahead for your own party!
Tasty Tombstones now available on Etsy!
I have already been doing a TON of Halloween projects since April, but most I cannot show you since they are part of my epic grand secret plan that is bigger than anything I have ever done before…but I have been teasing with quick sneak peeks on the Facebook pages for Eerie Elegance and Britta Blvd if you'd like to follow there too!