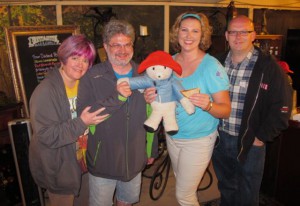 We had a fun crowd of 13 lucky viewers for Paddington, the season premiere of Cinema Brittahytta! Mike, Ren & Joe won the longest distance movie night attendance awards from the UK and Massachusetts, but Jeff & Louie won the oldest friends awards from 1990…ack!
The 2014 live-action movie Paddington got short shrift getting shoved out of the Christmas season here in the US, but it captures the goofy but sweet flavor of the classic books about Paddington Bear, who has always been a well-meaning klutz who often misunderstands his new world after moving from Darkest Peru to London. The movie includes a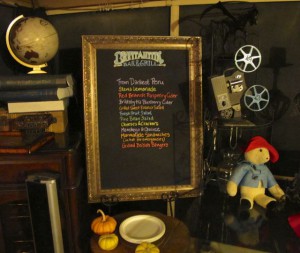 bunch of British self-deprecating humor that modern audiences will appreciate, and some just plain gorgeous cinematic storytelling moments, with fun references and a great message for kids of all ages.
My summer season premiere is often a little chaotic with getting the yard ready, reconnecting equipment, changing projector settings, so I don't usually kill myself with the menu. The main themed food was Marmalade Sandwiches "in hat for emergencies" of course! I luckily had been given some homemade three-citrus marmalade by Nathania, so I spread that on my homemade whole wheat sourdough bread, and displayed them in a glass bowl inside an oversized hat I made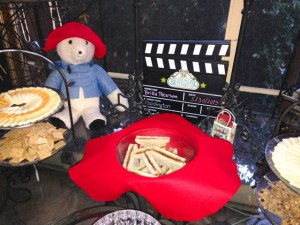 from scrap red felt.
While I was making the giant hat for the sandwiches, I made a smaller hat for the lemonade jar. I also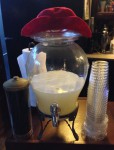 made a replacement red hat for the Paddington Bear my mom had made me when I was still in single-digit ages, since back in that era, Paddington had a yellow hat so that's what she made for me. Of course I also displayed the tiny Paddington Bear I bought on my first visit to Paddington Station back in 1996.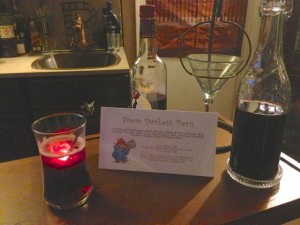 Even with a basic menu, I usually can figure out a creative custom cocktail that goes with the theme, so this time we tasted From Darkest Peru, using Black Seal dark rum, unsweetened 100% blueberry juice, and ginger ale. I designed a little card with Paddington holding a serving tray, saying "Our friend Paddington Bear doesn't often drink cocktails, but perhaps his dear Aunt Lucy would enjoy this creation inspired by their origins From Darkest Peru." It was super tasty and super dark, barely allowing the glowing ice cubes to shine through!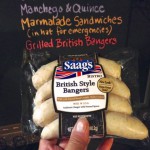 I had already purchased some fancy sausages for the grill, which is a summer standard, but when I saw these "British Style Bangers" for sale, I had to get them! I made sure to keep these in their original packaging for everyone to appreciate before putting them on the grill. Mike is British, and he got a big laugh seeing these, trying to figure out what made them so British compared to other sausages! They were tasty though.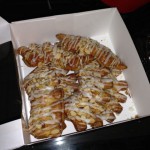 Jerry had the clever idea to bring Bear Claw pastries, and they were delicious as our dessert, after the grilled sweet potato salad, fruit salad, and five-bean salad that are also summer staples for me.
We finally got settled out in the yard after dark, so the movie began! Everyone enjoyed it, from kids to adults, and when Paddington finally acquired his traditional blue duffle coat, an icon was born again on the big screen.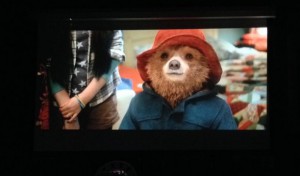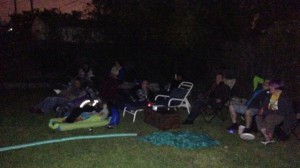 Stay tuned for next month's movie…the Academy-Award-winning Big Hero 6!