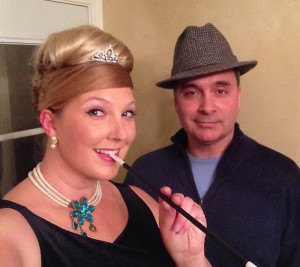 I was invited to a birthday house concert with a 1961 theme, so I threw together my best Holly Golightly outfit from the opening of Breakfast at Tiffany's for the occasion! Glen said he wasn't dressing 1961, but his zipper pullover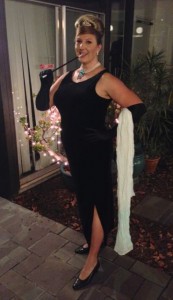 & slacks looked period enough when I added my grandfather's hat.

I gathered my possible supplies, since I was pretty sure I had enough already in my closets and costume drawer to pull together Holly's all-night elegance coming home at dawn via her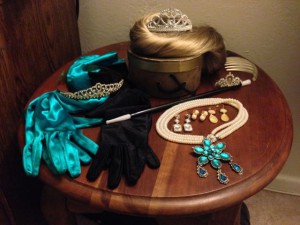 Breakfast at Tiffany's. I had three tiaras to choose from, my triple string of real pearls, a large sparkly brooch, several possible pairs of earrings, teal opera gloves as well as black, a cheap plastic Halloween clearance cigarette holder, and even vintage 1960s extra hair courtesy of my mother's college days!
Back when my hair was long, I often used handy French twist claw combs, so I dug one of those out of the closet, anchored the knot end of the ponytail inside my own hair twist, and anchored tightly with the comb, which held really well. I piled the ponytail around the puff pad,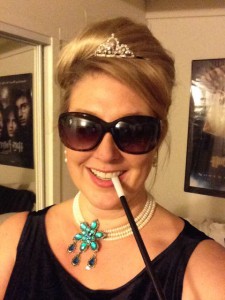 bobby-pinned the big bun in a couple spots, and tucked in my stray layers. I don't have bangs so I pulled my front layers to one side instead, then added some big cheap sunglasses. The smallest tiara won because it made the hair look larger, and since it was a full comb, that helped hold the front of the bun in place. My mom had suggested to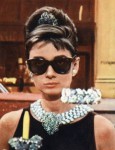 practice with the hairpiece in advance, so of course my test run the week before ended up better hair than what I wore to the party! Ah well…
In the opening of the movie, Holly has a long ivory wrap dangling from her arm not shown in the publicity photos. Since it was February I brought my long pale aqua wrap and did use it when I got chilly on the patio. The black gloves won over the teal ones as the more classic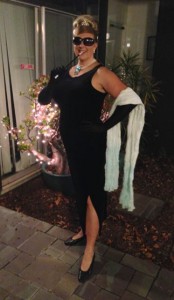 look, plus

the teal brooch was plenty of my signature color.

My choir shoes were a perfect heel without being too tall, and thankfully comfy enough to stand the whole evening. I had a sleeveless velvet minidress with the right neckline, but no dress long enough for an evening gown. I did have a long black velvet skirt, and wearing that over the minidress worked the best. I don't think anyone noticed the elastic waistband at all…but when I entered the party hands full of edible art with sunglasses on and cigarette holder hanging from my teeth, I was recognized immediately as "what's her name from Breakfast at Tiffany's!" Success!
It was a fun party with great live music, and of course we had to get a couple photos with our glamorous hosts, John and Hat Lady Sheila!