After busting out the Bright Butterflies birthday cake in record time, I ran home to get set up for Forbidden Planet movie night. I had planned for double food quantity vs RSVPs, but little did I know that wouldn't quite be enough for the largest audience yet this summer, 18 total including the butterfly birthday boy! Everyone enjoyed the Personal Planet Pizzas and the Flying Saucer S'mores, and Forbidden Planet is definitely classic sci-fi worth watching!
The Flying Saucer S'mores were the same vegan graham cracker recipe I used for War of the S'mores,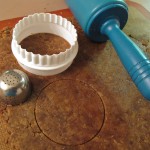 but I rolled them thicker this time, and cut simple circles for the main discs and the small bridge domes. I think they were too much cracker vs s'more but others liked them since they like thicker cookies. I think for the next special s'mores I'll try a thickness between them in hopes of a happy medium.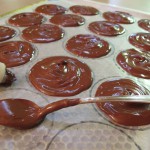 I had used 60% Ghirardelli chocolate before since I wanted the eyestalks to be as stable as possible. I love Ghirardelli and there are so many fantastic gourmet chocolates these days, however I think the classic s'more flavor is Hershey's milk chocolate. When bags of Hershey's milk chocolate chips were on sale, that sealed the deal! I traced the larger circle cutter onto the back of waxed paper, melted the chips in the microwave, then either a piping bag or just careful spooning and spreading gave decent chocolate circles.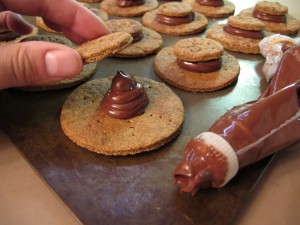 You need to melt the chocolate completely, but it will need to cool a little before it is stable enough to stay in one place. When it doesn't leave strings or drips everywhere, use a piping bag with coupler only or large round tip to pipe a tower of chocolate in the center of each large disc, then gently set the small circle on top. Hopefully this won't squish out all your chocolate and you end up with the flying saucer dome shape like these.
I tried cutting a big marshmallow to be a white disc between large disc layers but that made them look more like hats than flying saucers. So I left them stacked in saucer sets with the chocolate circle between and let the roasted marshmallows be added later. Yum!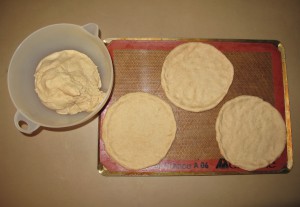 Earlier in the week I had made all the crusts for the Personal Planet Pizzas from whole wheat sourdough peasant bread (recipe included at the end of this post – hey it's vegan too!). I made two batches in my bread machine, one batch each evening so the sourdough could feed again overnight. Each batch made 9 rounds about 6.5″ in diameter, and 3 fit on my silicone baking mat. I only baked them 2 minutes each side at 350F just so they would set enough not to fall through the grill. When they were fully cooled I froze them with wax paper between them. They were thawed on party day in just a couple hours at room temperature and ready for toppings.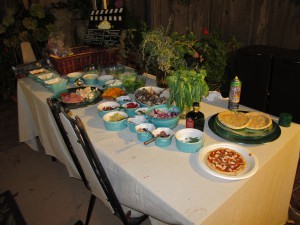 I bought a LOT of toppings to try and cater to the healthy and the hedonistic! For sauces we had pesto, Alfredo sauce and organic marinara, then grated mozzarella, a 3-cheese combo, crumbled fat-free feta, crumbled Gorgonzola, crumbled goat cheese, fresh basil, baby spinach, sliced red onions, sliced white and baby bella mushrooms, sliced olives, sun-dried tomatoes, artichoke hearts, fresh sweet peppers, roasted peppers, roasted garlic, sliced ham, pepperoni, grilled chicken, Italian sausage. Whew! I almost ran out of aqua dishes…almost! 😉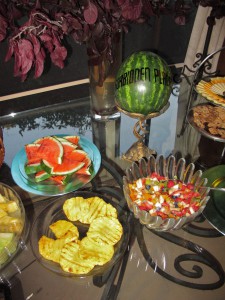 Lyle and Galt arrived first, so Lyle helped grill the watermelon and pineapple before pizzas went on. I knew grilled pineapple was tasty but OMG grilled watermelon is soooo good! I'm not a huge fan of plain watermelon, but after grilling it was smoky and carmelized, and even the juice leftover on the plate was to die for! Perfect that I already had a watermelon to cut so I could leave Lyle's special Forbidden Planet watermelon intact for everyone to see! 🙂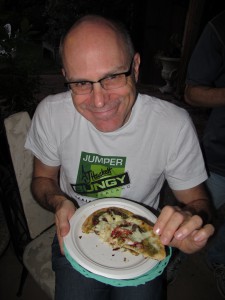 With a quick spray of olive oil, we put the plain pizza crusts top down on the grill for crunch, then people were allowed to load up their toppings and get back to the grill. I think about 6 pizzas fit at the same time which isn't bad. Everyone ate them so fast I only got a photo of one person caught in the act! I almost didn't get one myself since by the time I was ready to eat there were only 2 crusts left! They were very tasty. Everyone raved about the crusts and most assumed I bought them somewhere. I think these were popular enough to reprise for another movie, especially since I have toppings leftover that will last a while!
The light was already fading when we started the s'mores fire in the firepit, and I think my entire collection of telescoping roasting sticks got used…awesome! Again, the gargantuan marshmallows were a bit too much for the Flying Saucer S'mores I made, but it made for some fun photos…haha!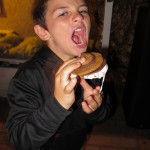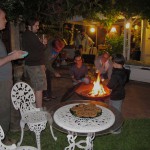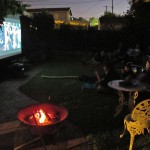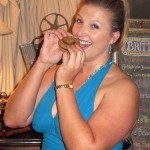 No Rock Band this week since everyone was busing making pizzas and s'mores…but a good time was had by all! As always, you can click to see the entire photo gallery, plus read the full whole wheat sourdough pizza crust recipe…enjoy!
Sourdough Pizza Crusts (or Peasant Bread)
1 1/2 cup already-fed sourdough starter
2/3 cup water
1 1/2 tsp sugar
1 tsp salt
3 cups white whole wheat flour (can be all-purpose or bread flour)
2 1/4 tsp (1 packet) active dry yeast
Feed sourdough starter with 1 cup warm water and 1 cup all-purpose flour. Use 1 1/2 cups for the recipe and reserve the rest as new starter. I used Trader Joe's White Whole Wheat flour in my bread machine on the dough-only cycle. Shape into 9 circle pizza crusts 6″ in diameter, or form into rolls or loaves and bake accordingly. To grill pizza crusts, bake circles only 2 minutes each side at 350F just to set shape, freeze when cooled if keeping 2 days or more, then thaw completely before grilling.