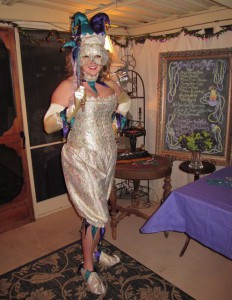 I had planned on 2012 as my last Mardi Gras party for a while, so I finally made the costume I had whirling around in my head for a decade: a Festive Fancy Jolly Jester, very elegant using gorgeous brocades, lots of gold jingle bells, and sparkle satin jewel tone purple and teal green points.
I had already made a brocade corset in 2009 for the Mardi Gras Fairy Princess that was gold, aqua and lavender, and the fabric was still in stock, so I bought more to make poofy pantaloons to match, and I added a triangular border trim to the corset to go along with all the triangle accents. The corset uses structural fabric on the inside, so I hadn't noticed how scratchy this brocade was! Itchy itchy pants all party, but only at the waist and knees since they were poofy everywhere else. I had enough brocade left to make pointy shoe covers with teal and purple points that flared out with jingle bells added at those points and the toe points. Since I made the slippers to go over my fleece clogs, they were the most comfy costume shoes I've ever worn.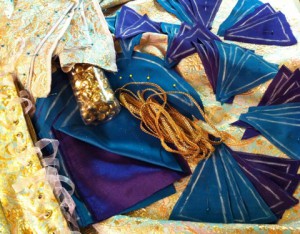 I bought gold opera length stretch satin gloves online (hooray for free Amazon points!), then I made alternating teal and purple triangles for a choker collar, elastic wristbands, and around the knee elastic on the bloomers. Scrounging through my elastic I found an antique card inherited from my grandmother, still usable so it was all my elastic for this project!

All the colored points were a lot of sewing, trimming the corners, turning inside out, and pressing, but I think they looked great. The collar was a velcro closure at the back so I could adjust if necessary. I handstitched a gold jingle bell to each point, but the sharp edges of the jingle bells cut through the thread during the party, so I was shedding jingle bells every time I turned around!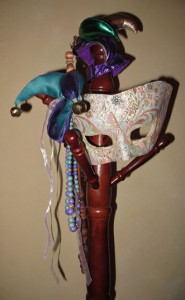 The hat was alternating teal and purple sparkle satin again for the four curved points with a brocade brim with matching triangles like along the corset edge. I stuffed it with batting so the curved points would stand up, but it ended up a little too poofy, so it doesn't stay on my head as well as I designed it. A couple bobby pins anchoring the hat to my curled hair worked enough during the party.
I had made the basic mask for the Mardi Gras Fairy Princess costume, so the wooden stick was attached and the mask was already covered in the matching brocade, with some sheer lavender ribbon the same as the corset lacing. To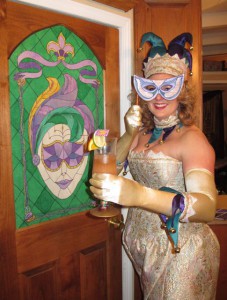 update it for the jester costume, I made 4 tiny curved points in teal and purple like the hat, sewed gold jingle bells to those points too, added , and a couple strands of aqua and lavender beads as Mardi Gras beads.
Of course since I had made fancy life size Mardi Gras Mask Cookies and we had traditional New Orleans Hurricanes to drink, I had to take a photo with them all!