Onward to pirates & pumpkins! Both Swashbuckler Sally and the Pumpkin Queen were rear projected onto screens, both using compact specialty-use UltraProjectors, what you might think would be a simple technique, but there were some execution surprises both good and bad…
The Pumpkin Queen
This Renaissance era Pumpkin Queen approaches while menacingly sharpening a large knife, raising it as though to attack as she moves even closer, then she stabs and smiles while carving a pumpkin into a jack o'lantern. This 30-second clip for sale on Eerie Elegance was specifically designed to interact life-size with a large physical pumpkin on the ground in front of the image projected from the rear onto a scrim, but you could also use a video screen or reflected Pepper's Ghost illusion.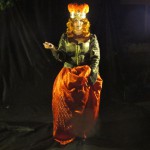 Since I had to get up sooo early to film her portrait with the live pumpkin blossoms before they closed up for the day, we filmed her ghost a different night. I used my dad's antique knife sharpener since it looked authentic and made an ominous spooky sound, walking carefully towards the camera over the black backdrop on the grass, gently letting the sharpener hand to my side as I walked, but when I raised the knife, we could not get it to catch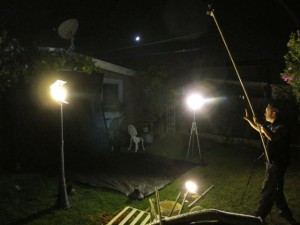 the side lights that were carefully positioned to light me without lighting the black backdrop. My director/cinematographer lashed an LED headlamp to the end of the long piece of scrap PVC, and aimed that while I was walking and twisting the knife to catch the light. It took several takes past a lot of giggling due to his positioning of the pole and my "pumpkin shimmy" that was rated not for kids, but we finally got a few good takes! No physical alterations to this costume to make it ghostly, just faded the contrast and colors in post-production in Final Cut Pro, including adding the stabbing pumpkin sounds I recorded by stabbing a real pumpkin with that same knife used in filming. 🙂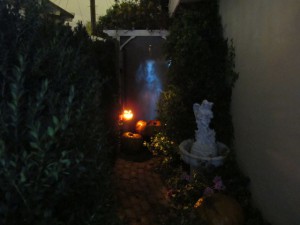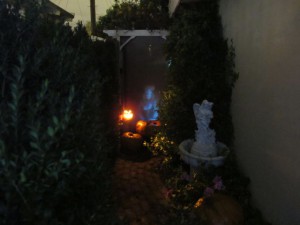 This was the same location as the
Gate Ghost in 2011
, which was a sheer black scrim with a full-quality HD projector, but we were reserving the big projector for another purpose, so we tried an UltraProjector behind a gray bedsheet. The
UltraProjector
is only 320×240 resolution with a super-bright LED as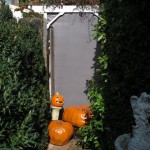 the bulb, so we had to place it over 10 feet away from the gate to get the Pumpkin Queen anywhere near life size. You could see her in person so we thought it would work okay, but she didn't gather as much attention as the
brighter Gate Ghost the year before
, and I couldn't get her to show up on video at all, only at the highest manual ISO setting on my good still camera. The lesson learned here is the
Ultra-Projector
is too small and too dim for life-size full-body people projections, but we knew we were pushing its limits.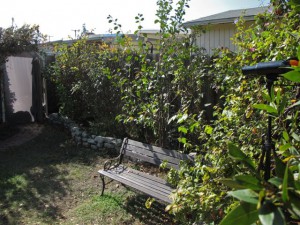 It was very nice that the UltraProjector was lightweight enough for a normal tripod, only needed a power cord (and speaker if using sound), and it was already black so it was easy to hide, but despite killing myself the last two weeks before my party with various video protocols and converter software, I could never get the audio to stay in the file after conversion through the proprietary UltaProjector software, so no one could hear the ominous knife-sharpening or the thuds as she started carving the pumpkin. Thankfully this summer I have been able to work with Richard of UltraProjector.com and figure out the right format and encoding using other video converters for files to work with sound on my two UltraProjectors, so I'm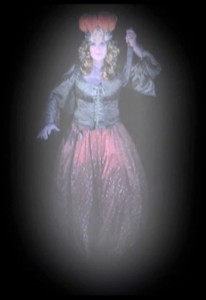 extremely glad that won't be a problem in the future. He has new models out this year that can accept many more video formats, so that will be even less hassle for new buyers. All of this means the gate location will not use an UltraProjector in the future, but we do have other locations where the UltraProjector should work fine.
Since the Pumpkin Queen was designed to "interact" with a physical pumpkin in front, you need to supply that yourself, but that could be as easy as setting a real pumpkin on a stand in front of your TV or a digital photo frame while it displays the ghost. She's definitely a Halloween spirit giving chills until the punchline, and you can own a copy from EerieElegance.com!
Swashbuckler Sally
This 18th-century pirate Swashbuckler Sally is brandishing her sword fighting an unseen foe from side to side. This 3-minute clip for sale on Eerie Elegance is perfect for projectors, video screens, or even reflected Pepper's Ghost illusions. At Castle Brittahytta, Sally fought bravely all night long back and forth between three windows in the center tower. (Apologies for the video glitch when zooming in.)
Before you can project a ghost, you have to film the video. Sarina's portrait and Sally's ghost were filmed the same very warm day, and boy that's a lot of hot plastic hair to wear! Since it was difficult to see her hair, hair, boots, lapels & cuffs against the black ghost filming backdrop, I used talcum powder to dust those to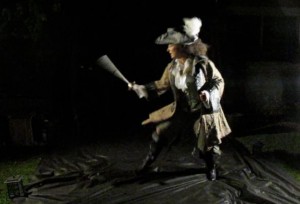 be a lighter gray. This worked pretty well as a non-destructive alteration technique, since I was able to wash the talcum powder off afterwards. To make her more ghostly, I altered the contrast and saturation in Final Cut Pro.
This one rivaled the Watery Wraith for filming hassle, since it was high summer almost 100F that day, barely cooling down to the high 70s after dark, I had to wear 4 layers of clothing, long hot wig, giant hat, socks and boots, AND jump around brandishing my weenie plastic sword, hopefully keeping proper fencing posture (golly that coat was heavy to hold up my arm for so long), all while trying not to scoot the black backdrop out of position on the grass…whew! I weighed myself the next day & had actually lost 2 lbs of sweat! After my director had been chiding me for my sagging posture and asked me to try an ill-fated spin,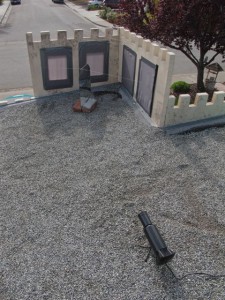 I challenged him to try it himself! His feet got stuck really quickly, and he was in much more comfortable clothing and no wig or hat. 😉 At least we got plenty of usable footage for all that effort!
We were already running out of project time so we decided not to bother with any sword sounds or a speaker. Just as well since this was another UltraProjector and I didn't get my audio issues worked out until this summer (see above). I have added sword swooshes and clangs for the version for sale, and she'll be back in the tower for 2014 with speakers this time around.
My original plan was to aim the projector so it would reach across all 4 windows, but my cohort thought the different focus ranges would be problematic, so he came up with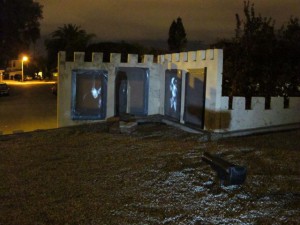 a clever solution. We placed a mirror held in position by bricks at an angle in the space between the front two windows such that the mirror reflected into a side window without blocking the image from the front two windows. When the ghost moved across the projected field and hit the mirror, she jumped to the side window. Since she was jumping around and disappearing a lot, this worked really well not knowing where she would appear next! This video (or click the photo) shows the rear view in action to be completely clear.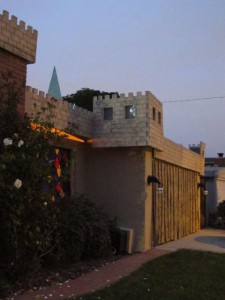 Knowing how the UltraProjectors are not very bright, we were worried the huge streetlight by my driveway would wash out the ghost, but I was very pleasantly surprised that not only was the streetlight not a problem, but the ghost was plenty visible even before full darkness! The windows were the same gray cotton sheet as the gate, taped & stapled in back to the foam. Gray was perfect since it was dark enough to look like empty windows in daylight but not so dark as to dull the projection. Since the UltraProjector was aimed perfectly at the mirror and up on my roof out of easy reach, I left it in place from the night before my party through Halloween night just fine. Howling wind and rain might be trouble but the weather-resistant construction is a great feature of the UltraProjector, and the mini-tripod included with purchase worked great for this setup. Now you have two real-world detailed examples in case you're in the market for an UltraProjector yourself. 😉
As I remind you that you can purchase Swashbuckler Sally complete with audio from the Eerie Elegance website to use as a projected or reflected ghost anywhere in your own haunt, I will also leave you with a video of Castle Brittahytta showing the Tower Ghost as well as Swashbuckler Sally in the center tower.
Now that you've learned how to display these ghosts, you will finally be ready for the Pepper's Ghosts coming soon! Stay tuned for the secrets of Merry Madam Mead & the Phantom of the Pipes!