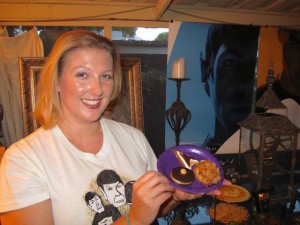 This past weekend was the summer season finale of Cinema Brittahytta! 29 of us enjoyed watching Star Trek Into Darkness, complete with Starfleetzas, S'more Trek Into Darkness, Saucer Sections, Tasty Tribbles, Beyond the Darkness Cocktails and even a Starship Sandwich! I think this might have been the most creative Cinema Brittahytta potluck ever! 🙂
Only showing 3 movies this year didn't leave much option for a theme, so I wasn't sure what the finale would be until I saw the notice that the newest Star Trek movie only released in May would already be on digital download three weeks before the disc release, AND the download date was barely before my last movie night…Awesome! Since I bought it on iTunes, I needed to use my laptop as the player instead of the PS3, which was fine for HDMI to the projector but my outside receiver can't accept HDMI for the audio. I had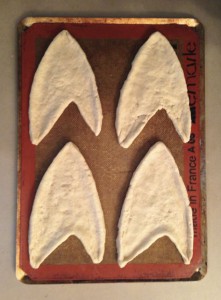 forgotten about this twist until Saturday afternoon & texted my AV expert if he had any ideas as I was rushing around doing party prep. He found that MacBook Pro stereo mini out just needed a little TOSLink adapter to function as digital audio out, which is as good as we've been getting with the PS3. He had the time to find it on his way over, and it worked perfectly for less than $3 from Fry's…whew! I did have to fuss around with the Displays preferences to get to 1080p, then it was absolutely gorgeous on my big screen with great sound too. Hooray!
As I was brainstorming Trek menu ideas that I had not done before (hey, I've already done Trek food and candies a LOT over the years!), I thought of the whole wheat sourdough pizza dough again…if you're handforming the dough anyway, why not make them a custom shape? I couldn't think of a clever enough name, so as I was forming the dough I posted a photo to my Facebook friends, and out of many great ideas, Starfleetzas were born! Thanks to Eileen for that gem!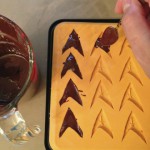 I had made Trek S'mores for Wrath of Khan before, so I already had the food grade silicone chocolate mold, but for Into Darkness I thought Ghirardelli dark chocolate was quite appropriate. Spooning the melted chocolate into the mold and scooting it into the sharp corners works best, then into the fridge to set. Don't bother attempting to unmold them in summer until well after dark unless you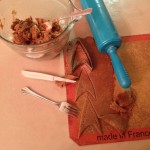 have air conditioning! 😉 I used my custom-bent chevron cookie cutter with the homemade graham crackers recipe I used all last year for a matching shape around the chocolate, but I was too busy this week to make homemade marshmallows since cutting them into shape is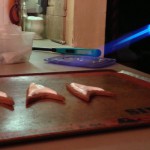 a giant pain since they're so sticky! I hoped that I could pipe marshmallow creme and use my full-size blow torch to keep it in place, which looked great. Sadly the plates were too angled and as soon as I plated everything for display, my s'mores slid all over the place. I should have made my own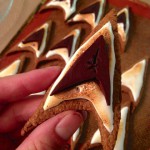 marshmallows then they would have remained pretty. Ah well, they were still tasty!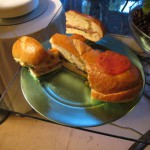 I love it when my friends are so creative! Tracia brought a long baguette sandwich, and when she arrived, she cut it & used toothpicks to arrange it into a starship shape complete with nacelles and skinny saucer section! Glad we got a lot of photos since it was so tasty that it pretty quickly didn't look like a Starship Sandwich anymore. 🙂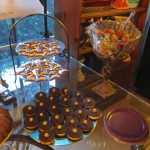 Lyle & Galt are always clever! This time they brought Saucer Sections, chocolate moonpies with peanut butter filling. Very rich but very tasty, and so cute! I think I had two of these…yum! You can also see my sliding S'more Trek Into Darkness behind the Saucer Sections.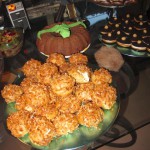 Jerry had alerted me of his plan in advance so I included Tasty Tribbles on the chalkboard menu. He made cream puffs & cream filling from scratch, and coated them in toasted coconut and cinnamon. They looked perfect and were absolutely delicious! I'm glad I got my chance at two of these too! Here you can see them next to my squeaky furry tribble that I bought over 20 years ago at a Star Trek convention. 😉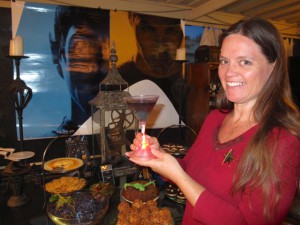 I had made a recipe card for Beyond the Darkness Cocktails, all including black vodka layered on top as the "darkness." Tracia & I were the only ones who tried the recipes, and since it was nicely layered, we both made the same one, the Nibiru, named after the planet with the red trees and deep blue waters and sky. It's basically my Razzle Dazzle-tini recipe from 4th of July but with black vodka. I made a Grande with a glowing ice cube since I wanted it to last longer through watching the movie. 😉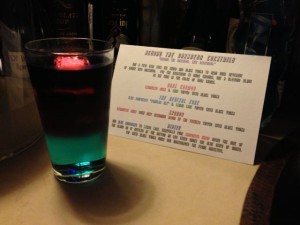 Beyond the Darkness Cocktails
"Beyond the darkness, lies greatness."
Use a few Star Trek ice cubes and black vodka to send your beverage of choice Into Darkness. For the greatness to shine through, use a glowing glass or ice cube in the color of your choice.
Nibiru
Add blue raspberry to lemon lime. Carefully pour raspberry syrup down the side of the glass so it settles at the bottom as red trees under the blue skies of Nibiru. Top with black vodka since you disregarded the Prime Directive.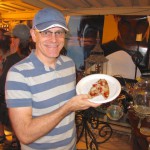 Thank goodness this time I didn't forget to take photos of pizzas! 🙂 Here is Galt showing off his lovely Starfleetza inside the patio bar with the Trek posters in the background. I only had basic ingredients, pepperoni, cheeses, red sauce, mushrooms, sun-dried tomatoes, artichoke hearts, and even fresh sliced tomatoes from my garden. Everyone loved making the pizzas, whether they were Trek fans or not, and Kian modeled his before baking as a commbadge…haha!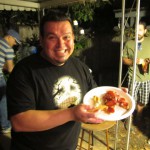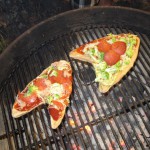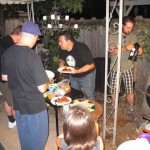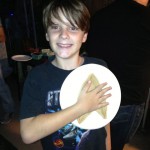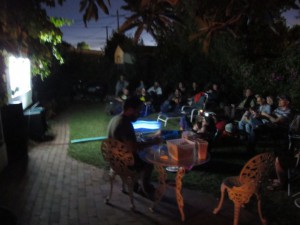 By August it's always dark enough by 8:30 that we could start the movie, but since people are more used to the high summer schedule when it's not dark until after 9, everyone was still chatting & eating. I had to call people over to the grass and start the trailers so they would sit down to watch! 😉 We had two people in the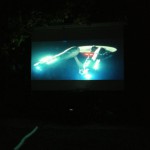 audience so we were careful not to spoil them, and thankfully after figuring out the 1080p mirror display setting on my laptop, it was worth the $19.99 iTunes purchase for the HD version!
Most of the crowd helped put the equipment away off the grass and left soon after, but since Tracia and family were staying overnight, Jeff, Audene, Julianna and baby Jenna stayed for awhile to chat…and make snow cones! Ellie had shown Kian how to make snow cones earlier, since she was already an expert from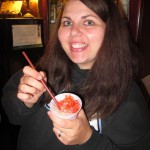 making them the past two movie nights, but I missed getting photos. Hooray for action shots of snow cones! 🙂 Audene made me one, and I used the chai tea syrup, peach and caramel…boy was that really tasty! I might have to make up a recipe using those flavors for something else… 😉

There are some more photos below if you'd like to keep reading…and huge thanks to everyone for another fun summer of Cinema Brittahytta! Until next year! 🙂