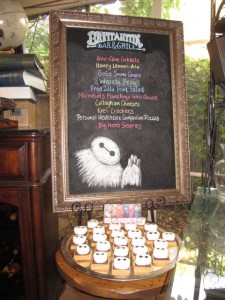 Families with kids understandably often have to change plans on a dime, so instead of the 16 expected, we just had a cozy crew of 8 this weekend for Big Hero 6 at Cinema Brittahytta, thoroughly enjoying our grilled pizzas, snow cones & special s'mores! An hour after everyone else left, 4 more special guests stopped by and made a little Ouye After-Party with more s'mores, kettle corn & fruit salad.

In the invitation I asked everyone to "bring your favorite San Fransokyo-inspired topping to recharge your batteries with grilled Personal Healthcare Companion Pizzas!" so obviously I had fun naming the menu, with representation of all major characters! I think my favorite name is Fred Zilla Fruit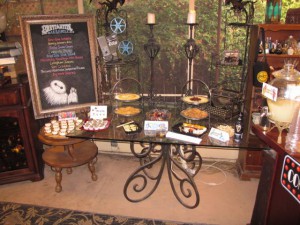 Salad…say it five times fast?

I grabbed images online & made menu cards to make sure everyone understood the names, and I wrote them all our for the menu chalkboard, including drawing Baymax waving at the bottom. I didn't make cards for Microbots Manchego with Quince, Callaghan Cheeses, or Krei Crackers, and the snow cones & pizzas were outside, but can you spot the signs for Hiro-Cane Cocktails, Honey Lemon-Ade, Wasabi Peas, Fred Zilla Fruit Salad, and Big Hero Smores?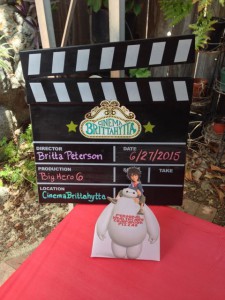 Since the pizza table is outside and often has more of a breeze, I wanted to make the Baymax card stand up vertically for the Personal Healthcare Companion pizzas. I printed it full page onto cardstock, folded the bottom back across the bottom of the image, cut in along the bottom to fold the sides backwards, cut along the shoulders for shape, then folded the top down to stabilize Hiro's head better. I used thin double-stick tape, then cut around Hiro's hair so all the edges matched. After the shoulders were trimmed, bending the sides backwards met behind Baymax's neck, so a little tape there held it perfectly. It looked better leaning back at a slight angle, so I kept trimming the folds where the sides met the bottom until I had the angle I wanted. This stood up pretty well on its own, but a breeze could knock it over, so I also used normal tape to stick the bottom flap to the vinyl tablecloth. Thankfully it stayed standing during the entire party!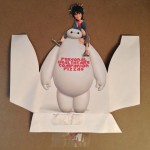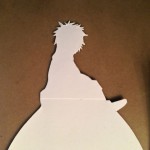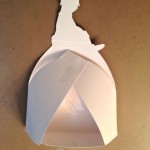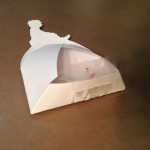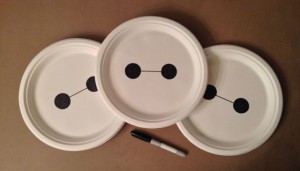 I only had 11 plates left of my heavy-duty paper plates, so I quickly made them into Baymax plates for the pizza table out by the grill, and red square plates leftover from Lego movie night last year for the inside food table.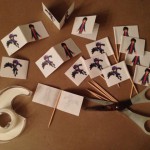 Since I decided on Hiro-Cane Cocktails that ideally should have an orange slice & cherry garnish, and I had images of Hiro in his normal clothes and his super-suit, I thought of making toothpick flags, one side for each Hiro. I printed these on a single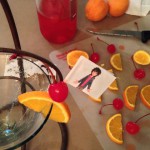 sheet of normal paper, cut them out, then used double-stick clear tape so it would stick to itself as well as around the toothpick. These came out perfectly and were so quick to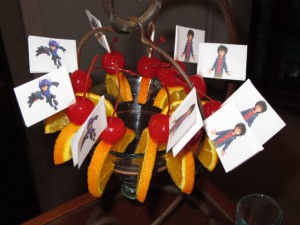 make! After I sliced a couple oranges and notched them into half-moons, I was able to stick the toothpick through the cherry and into the top of the orange rind, and they sat in my glass holder just right!
I had designed the cocktail so it would still look cool without any alcohol in case any of the kids wanted to try it. Here is what the card said for the Hiro Cane Cocktails: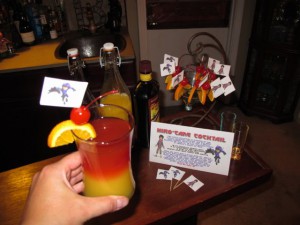 Hiro-Cane Cocktails
This tasty concoction is inspired by the classic Hurricane cocktail and our hero Hiro Hamada. Enjoy it as just a fruity mocktail or level-up to full knockout power by adding a boost of rum!
3 oz pineapple orange juice
1 oz sugar-free red raspberry syrup
1 1/2 oz dark rum
Pour the juice into a glass over ice. Gently pour the red raspberry syrup on the top edge to not mix into the juice. Carefully float the rum on top of the syrup and appreciate the layers as pretty as a sunset over San Fransokyo. Stir to mix well before sipping responsibly, since you might be called to action anytime as a member of Team Big Hero 6!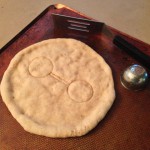 Grilled pizzas have been a big summer hit for several years now, so I thought round crusts with Baymax's face would be perfect as Personal Healthcare Companion Pizzas. I made the same homemade whole wheat sourdough pizza dough I've been making for years, formed into circles, then before baking I used a small rectangular spatula and a round tea infuser to press the eyes into the unbaked dough. I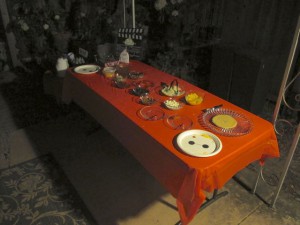 only bake these 3 minutes on a side so the shape is set but they don't overcook on the grill. I also make these a week or two ahead and freeze them in bags with wax paper between them. If you have leftovers, they last in the freezer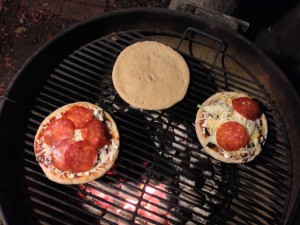 quite a while, which is great since I love these pizzas…perfect for a small dinner!
I set out pizza topping basics, red sauce, habanero sauce, mozzarella cheese, goat cheese, real pepperoni & turkey pepperoni, crumbled bacon, sliced olives, artichoke hearts, fresh sliced tomatoes and sun-dried tomatoes, so people could load their crust how they liked, then set them on the hot grill off to the side. Can you spot my Baymax face pizza with pepperoni eyes?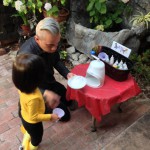 For sweets we had Go-Go Snow Cones and Big Hero S'mores! The snow cones were more popular as an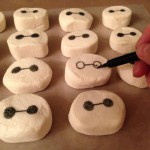 appetizer, with my hand-crank ice shaver and several different syrups and juices, cone cups and spoon straws. Little Harley even came dressed as Go-Go, which was adorable!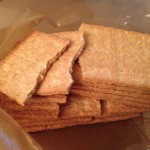 For the Big Hero S'mores, of course the obvious design was Baymax's face on the round marshmallow. I cut the gigantic marshmallows in half to make a shorter disc shape, setting the sticky side down on wax paper, then drew the faces with my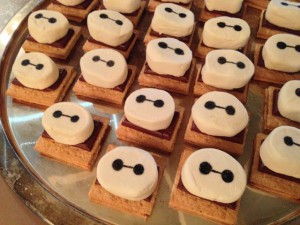 black food coloring pen. Except for my brand-new box of graham crackers having the entire MIDDLE package broken and mostly unusable for pretty rectangles, the s'mores were an easy assembly of Hershey bar squares on the graham crackers, then placing the marshamallow faces on top…voila Big Hero S'mores!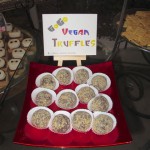 Eileen is always clever, so she brought Go-Go Vegan Truffles, complete with hand-lettered sign in the Big Hero 6 font, plus some really tasty sushi!
We ran out of time beforehand, and the firepit had gone out while we were watching the movie, so we used the still-hot grill coals for marshmallow roasting. Here are our resident roasting experts demonstrating the Baymax Fist Bump: Balalalala!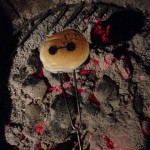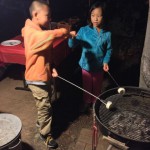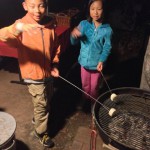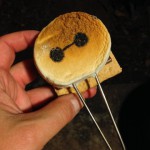 This was the first movie night ever to have sprinkles of rain! It made for an absolutely gorgeous pink sunset, with even a rainbow! I'd never seen a rainbow at sunset before, and it was pink! Since Dino & Harley were the first to arrive, they claimed the garden couch!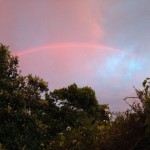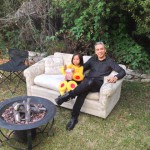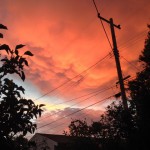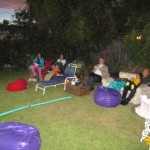 An hour after everyone else had left, Jeff texted me asking if they could still come by. They had two different votes what to do that Saturday, one for fishing and one for movie night, so Jeff thought they could do both with fishing first. Well, the fishing was several hours away, and poor Julianna was really sad they missed movie night, so we used the last glowing embers of the grill to roast more marshmallows, they enjoyed fruit salad, and even the rest of the kettle corn. Nice fun little after-party!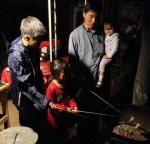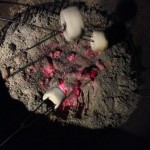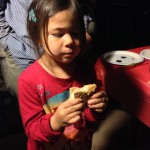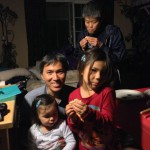 Two movies down, with two more to go before this summer is over!