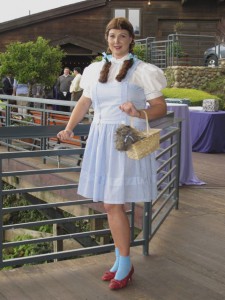 I had advance notice last fall that Ben & Marco's wedding would include a musical theatre costume reception, so I had to start thinking who I would be. I have lots of favorite musical characters, but many of the costumes wouldn't be too recognizable out of context anyway. However, my very first musical I remember was the Wizard of Oz movie. I've loved it since I was 3 years old, and I've always wanted to make the authentic movie Dorothy costume someday. Also remembering that Ben & I saw the real Ruby Slippers on display when we visited the Smithsonian together back in 2002, I thought this was the perfect occasion!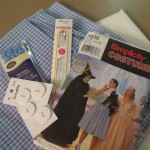 I had bought the officially licensed pattern ages ago on a $1.99 pattern sale and kept it safe in my pattern stash. Even over a decade later after moving twice, I knew exactly where it was even in my garage chaos! On my February visit to my parents, my mom & I went armed with as many JoAnn paper, text & app coupons as possible and my pattern in hand to the huge Rocklin superstore. We chose the best blue gingham, some poly-cotton white blouseweight stiff enough for the proper sleeve poof, perfect buttons, perfect rickrack & a zipper. Even after coupons it wasn't cheap, I think around $40 total since I needed so much gingham, but if I was going to do it, I was going to do it right! 🙂
Boy was this a fussier project than I expected. Even though I had bought a size 12-16 pattern and cut out the largest size, I had to make a LOT of adjustments to fit my tall & robust Scandinavian frame, and I still didn't get it completely perfect. I had to add 1″ vertically between bust & shoulder seam on both the white blouse and the gingham bodice, another 2″ vertically between bust & waist, and 4″ around the waist too. All that made all the darts in the wrong places, so I had to estimate the darts on myself, which is really tricky for back darts when you can't reach! Of course the darts on the white and the gingham were done separately but had to match exactly! Even trickier were all the straps that were cut separately, so I guessed at adding length to each strap and only barely made it. By the end of the first sewing night, it was starting to look recognizable at least, but I had already stayed up too late for one evening.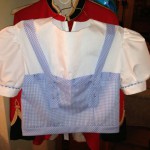 I have learned my lesson before about reading the pattern instructions all the way to the end before starting any cutting or sewing, and this had so many odd things like the straps sewn on the bias for the diagonal gingham design, the rickrack sandwiched in the cuff seams, proper easing around the collar & shoulders for just the right amount of gather & poof, that I was very glad I was consulting the instructions religiously! That's why I only got this far the next night…no bottom half at all!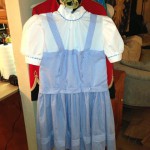 Finally the next night I got everything finished except the handstitching, and that was my goal since the housecleaners were coming and I could put my sewing machine away and let them clean up my fabric fuzz & thread mess. I had lengthened the skirt by several inches and only machine-sewed a thin hem, but it was still shorter than the past-knee authentic length. I decided it was good enough and still cute by hitting me right at the knee.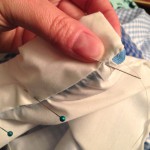 I've slacked before for single-use costumes, not finishing the inside collar, but it does get itchy at the neck, so I spent the time to do this properly, with fine even stitches only catching the back of the machine stitches so I wouldn't pull the collar or blouse out of shape with a stray stitch. At least I can handstitch while sitting on the couch watching TV, which is always more comfortable, especially when I had to keep elevating my still-healing left foot.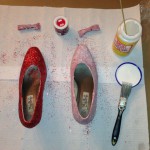 Now that the dress was all done, it was time for the shoes! I had whipped up a quasi-Dorothy outfit for my Oz birthday movie night in 2010, which included finding the blue ankle socks at Target, and taking a pair of thriftstore shoes the perfect shape with chunky low heel, painting them red, liberally sprinkling red craft glitter while the red paint was still wet, and adding some wire ribbon bows that were also glittered to match. Those were ok for a movie night, but they shedded so much glitter that I only wore them outside. Of course I saved the shoes, but this time I used matte Modge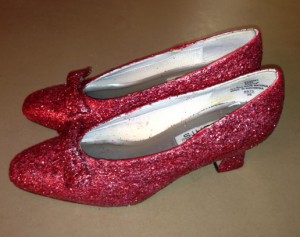 Podge sealer over the surface, added glitter where it had fallen off, then happily seeing that the sparkle still showed through the sealer, I finished with another coat of sealer to prevent shedding. I touched up the bows separately too and hot-glued them in final position after everything was dry. I drove to the event in other shoes to make sure nothing would rub off the heels, but I didn't notice much glitter shedding at the reception…whew!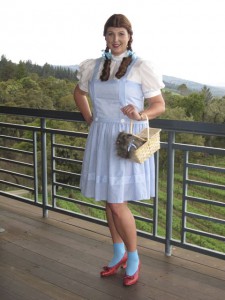 I found the darling tiny basket with Toto at Party City for $16, so I got it as my party purse, since my keys, phone & nice camera fit perfectly on the opposite side of Toto. Even if Toto looked a little squished in the face, it was officially licensed so I splurged, and I found it for the same price plus shipping on Amazon so I didn't feel ripped off. Since I had enough points from my Amazon Visa card, I was able to get the officially licensed wig on Amazon for only $1, so definitely worth it! It's one of the nicest & most comfortable wigs I own with adjustable straps inside, but unfortunately only single-use for Dorothy, since you can't unbraid the hair. It worked great though, and there was no way I could ever make my own hair look like that, especially for only $1 of effort. 🙂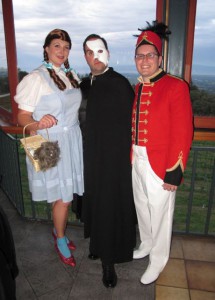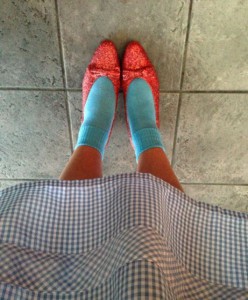 I also helped the happy couple with their reception outfits, the Phantom of the Opera and The Music Man, Professor Harold Hill, so of course I had to have a photo with them! You can read about their costumes in their own post if you haven't already. It was a lovely evening at a nice winery in the hills with a gorgeous view, but "there's no place like home!" 🙂