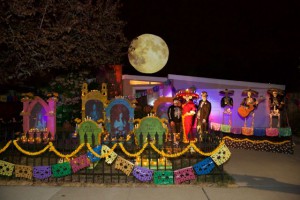 Whew! My Halloween 2015 party was thankfully another grand success! Since people brought friends I didn't know I'm not exactly sure, but I think it looks like our total this year was 67 people including 8 kids. Not an all-time record but not shabby at all! The weather cooperated this year, thankfully not raining until a couple days later, my new backyard canopies worked perfectly to spread out the crowd, I had international help for party prep this year, and I have one of my favorite Halloween Scream Team photos yet with my skeleton boys Scary Jerry and Ghoulish Glen standing with me as La Muerte in the ghostly graveyard next to the "live" skeleton mariachi band under the giant glowing harvest moon!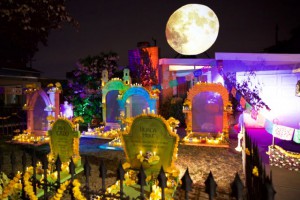 This year, we were inspired by the uniquely beautiful and creative Mexican traditions of Dia de los Muertos for our own Day of the Dead celebration! Our front show was the major effort this year, with a "live" skeleton mariachi band singing and playing for their ghostly ancestors in a joyous graveyard celebration lit by hundreds of flickering candles below a glowing harvest moon! Even though the show wasn't fully ready for prime time until the wee hours of Friday morning, everyone at the party loved it! Some comments we enjoyed hearing were "your skeleton banter toed the line of too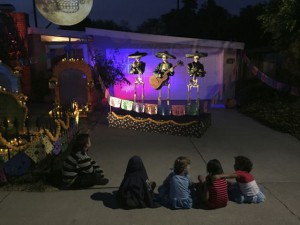 corny and succeeded" and "the graveyard looks just right and these stories are like the tall tales I heard at home in Oaxaca" plus "another amusement-park quality display!" Everyone said we outdid ourselves yet again, and even we aren't sure how we can top this one! At 6am Friday morning when the skeletons were finally dressed and the multi-colored papel picado-style banners were hanging in the graveyard, Ghoulish Glen said to me, "I know we always try to plus it, but I think this time we multiplied it!" haha…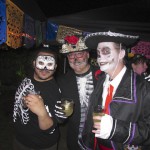 So many party guests took the Day of the Dead theme to heart, so we had so many painted skull faces and some fabulous outfits! I had my makeup on and was wearing a fun sugar skull tank top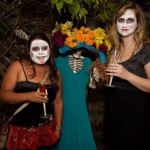 while I was still performing the last party prep tasks as guests began arriving, but at least I was in full La Muerte costume out in the graveyard by 8:30pm!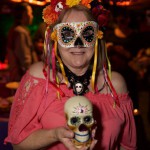 The Calavera Cookie Contest decorating table was in use all night, so much that by morning there were only a couple cookies left of SEVEN DOZEN when the party started! The only quiz this year was Spot the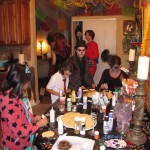 Skeletons to find all the skeletons at the party (skulls-only didn't count), but even though there were people sitting on the living room couch for quite a while, none of them ever looked up when they heard the knocking, so they missed the coolest skeleton of all, waving in the skylight to people below!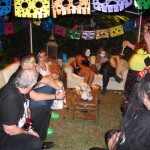 People had already started leaving before 10pm, so I quickly tried gathering everyone in the backyard to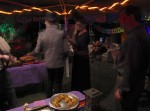 vote and award the prizes. You must be present to win, but I saved some edible medals for my favorite costumes and Creepy Cuisine!
Without further ado, here are the winners!

Creative Calavera Cookie: Ellie, Katie, Kian, Annalise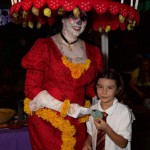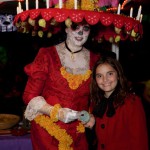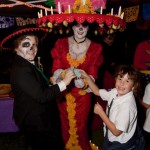 Spot the Skeleton: Supreme Skeleton Spotters Mari, Meghan, Nancy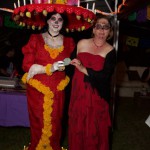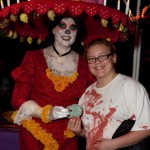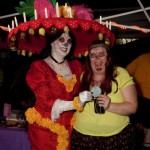 Scariest Costume: Brock as Herman Munster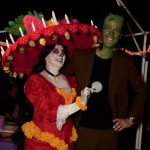 Most Creative Costume: Katie as Jackie Kennedy, Robin & Charles' outstanding paper masks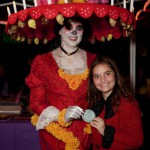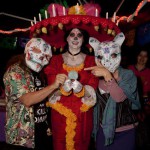 Ultimate Costume: Brock & Shannon as Herman & Lily Munster, Gnome Family Cyd, Mike & Elias, Barbieri Mariachis with Piñata Ashlyn. Honorable mention in absentia for Jen the Pumpkin Boxtroll!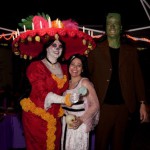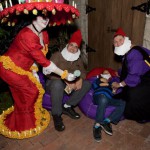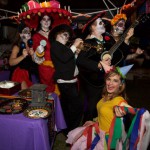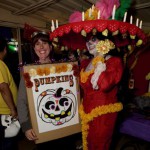 Creepy Cuisine: Scary Jerry's Mexican Chocolate "Poo" cupcakes, Debi & daughters for their Puking Pumpkin. Honorable mentions in absentia: Erica's adorable pretzel Skelly-Cakes & Kevin C's delicious chicken wings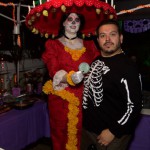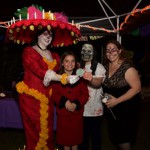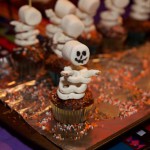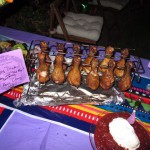 Ultimate Distance Award: all the Canadians! Not only did Shannon's extended family travel the furthest to attend this year, but all of them helped immensely with party prep! I thanked them profusely in front of everyone, and I thank them again now!!!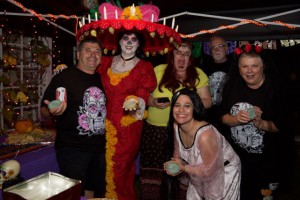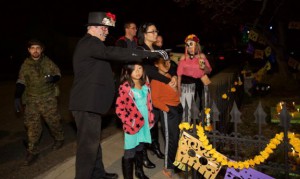 After the awards were presented, everyone kept chatting, eating & drinking, sometimes going back out front to watch the show again, since it ran every 20 minutes. The last guests left around 3am, and I was so completely exhausted from only 4 hours sleep over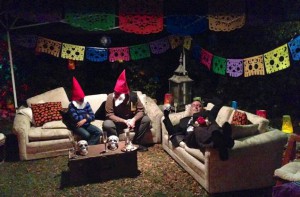 2 days that I barely got the perishable food put away and some dishes soaking in the sink before I had a quick shower to get my makeup off, then crashed in bed at 4:30am…whew! What a fantastic night!
You can click to keep reading for my detailed party post-mortem, or skip to the end for the combined party gallery of ~300 photos from Cat, Kevin C. and me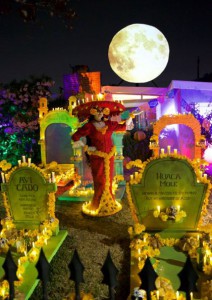 if you like, and you can also click over to Facebook or the professional album for all the photos taken by the fabulous Photography by Cat (aka Gamora from Guardians of the Galaxy for this Halloween).
There will also be other posts coming soon of our public show run including Halloween night, and for other behind-the-scenes projects including my elaborate La Muerte costume with giant sombrero and flickering candles above and below! Hope everyone had a fun Halloween like we did!
Party Post-Mortem:
I took the three days before the party off work, and I really needed it this year! Working on everything for the front display was all-consuming for so long, so I wasn't anywhere near as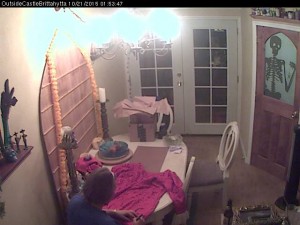 far along as usual on the party food. By Friday I did have the edible medals printed and cut, cookie dough mixed in the fridge, 128 baked sourdough Bone Breadsticks in the freezer, the chocolate sauce dip in the fridge, the pumpkin empanada filling chilling in the fridge, a few cream cheese Sinister Skulls molded, and the chili lime corn ready to spoon into the tortilla chip cups. However, after proudly having my costume ready a couple weeks early the past few years, this year my La Muerte costume still needed the final touches finished, with final dress painting continuing past 2am Friday morning, and all the candles and flowers attached by Friday at 5pm…hooray!
We did get the new moon hung on Wednesday since Glen came by on his lunch hour from work, and I had marked the position using bricks so we could rebuild it further back from the edge, then move it back into position. Thankfully that worked so I didn't have to remaster the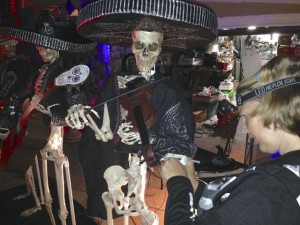 video placement! We were still adjusting the skeleton movements with programming and there was no point in dressing them until that was completely finished…which didn't happen until 6am Friday morning! There I was "sewing" with my glue gun, and then the mariachis were ready to perform! Poor Glen only got a little sleep until 9:45am when my housecleaners arrived, then he went straight to his office all day, coming back about 5:30pm to keep working on party prep with me. He realized for Halloween 2013 how much last-minute party prep there is for food and decor including the last grocery store trip, and I really appreciate all the help!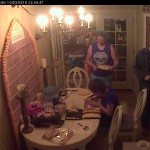 HUGE thanks to the Canadians! Shannon & Brock arrived with their 5-year-old daughter Carmella around 7:30pm on Friday, just in time to watch our front show dress rehearsal, which went well enough not to run again until Saturday. They tucked Carmella into bed, then they both worked on party prep until 12:30am! So much more fun to have fellow Halloween haunters to help! Shannon set up the spooky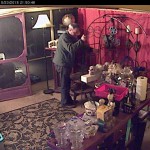 glassware, set out Jerry's decor on loan around the living room, prepped the cheese plates, including cutting the tiny swiss cheese skulls (poking the eyeholes without breaking the shape takes precision care!), and we used Brock's height to hang the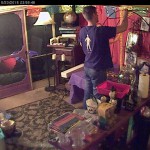 banners inside the house since he didn't even have to stand on a chair! Brock did a great job hanging my new red patio curtains, adding the garlands to the main ofrenda after Glen built the garden arch, working on backyard lighting, and adding flowers to both patios! After they went to bed, I kept running around doing my list while Glen kept working on the backyard lighting, until I found him at 2:30am crashed on the love seat!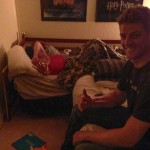 Poor guy! He hadn't been home since Thursday morning, so he left about 3:30am for some proper sleep and a shower, plus his costume! Since this was my last chance to see anything in the dark, instead of baking I frantically set out the lighted pumpkins along the walkway, dressed a skeleton as a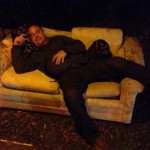 La Catrina on the front porch with extra lighting, and worked on the backyard lighting until I was finally satisfied, sadly around 5am when I knew little Carmella would be getting us up around 7am!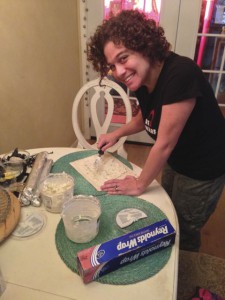 Saturday morning, Shannon finished prepping the vertebrae and I baked all 7 dozen skull cookies while our breakfast was baking, then they headed for a day out in San Francisco. I absolutely could not keep my eyes open so I closed my eyes about 45 minutes, then kept going with my party prep to do list. I was still in my pajamas trying to get the music going without ever succeeding, when Shannon's dad knocked at my door! Dave & Nancy were staying with Shannon's aunt & uncle at an apartment not quite a mile away, so they all decided to take a walk to see if they could find my house. They stayed to help decorate the tables and the backyard area for about an hour, getting all the sweeping done, cushions on chairs, tablecloths, paper lanterns, luminaria bags with candles, and the last of the flowers set out! What a HUGE help! Glen arrived with the last groceries and bags of ice just as they were leaving, and they teased him that they already did all his work! 😉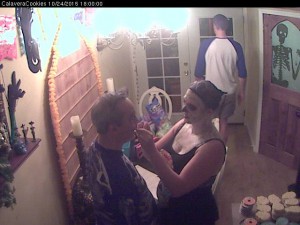 I had to break for a shower & getting my own elaborate La Muerte makeup on, and my makeup took longer than expected so that pushed me later, then I had to help Glen get his temporary tattoo skull face on, which finished exactly at 6pm, our deadline for starting the show so it would already be running on schedule when people arrived! Shannon, Brock & Carmella returned around 5:45, got their costumes and makeup on in the guest room, then cranked through my fresh food prep list while I set up the Sourdough Skeleton, and Glen set up the Violent Vertebrae using his new cheese disc variety idea.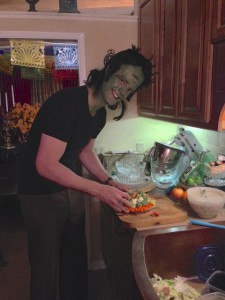 I had already given up on decorating any Calavera Cookies as examples, so all seven dozen skull cookies were just set on the cookie decorating table with all the sprinkles, colored frostings and food color sprays for the Calavera Cookie Contest. I had baked the edible medals but never gotten the ribbons added, so those were all set up in hopes I could quickly do that while the party was starting…but more people started arriving and I still wasn't in costume, so as the last food was being arranged as everyone arriving helped out, I finally got my costume on about 8:15, going straight out front to the graveyard for photos before I might melt since it was so warm inside! I stayed out front about an hour taking photos and chatting with people watching the front show, then went out back to the rest of my guests, finally able to enjoy my own party!
If you've read this far, you now know EVERYTHING that happened…congratulations! 🙂 Enjoy the rest of the photos below, and I hope to have some more Halloween 2015 videos and posts to show you in the next few weeks!