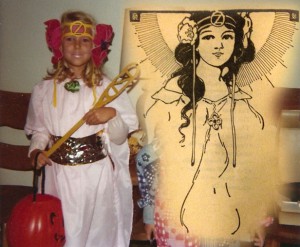 When I was 5 years old I had already devoured all the Oz books my library had, even requesting book transfers wherever possible, and I wanted to be Ozma of Oz for Halloween. Sure, Dorothy is brave, spunky and kind, but Ozma is the one in charge, and honestly had a prettier outfit.

I distinctly remember this was my first costume where I insisted on accuracy to the book as much as possible! Of course I needed help from adults for execution, but I was in charge!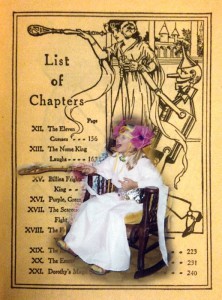 Luckily for me, our neighbor Cheryl was an adult Oz fan! She and I gave my mom and dad all the requirements, then she helped me make the giant flowers and my Oz crown. We used yellow bias tape for the "gold" crown, with the Oz emblem drawn with pens on scrap white tagboard then taped to two bands of bias tape, and we used cloth-covered floral wire and red satiny fabric for the flowers, gluing the wire to the edges of the fabric so we could bend the petals into shape. I remember working in Cheryl's garage on the flowers, and I was so impressed that she actually OWNED Oz books so we could look at the illustrations as long as we needed!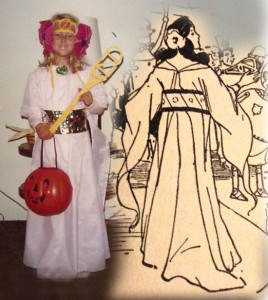 My mom sewed the dress from scratch, including the dramatic long sleeves that trailed down. We didn't have any color illustrations of Ozma in any of the books we had, so she made the dress from inexpensive pink fabric to go with the flowers. My dad had access to white unprinted corrugated cardboard from his job, so he cut the see-through Oz scepter, my first memory of seeing a scalpel-style craft knife in use. We made the Magic Belt from heavy duty aluminum foil, with the colored diagonal with center jewels design drawn with felt markers directly on the foil. You can just barely see there is a design if you enlarge the photo. In my complete Oz book collection I now own at home, I only found one illustration showing Ozma actually wearing the Magic Belt, even though the books mention her keeping close custody of it after Dorothy gave it to her at the end of Ozma of Oz, and it even summoned Dorothy back to Oz if she signaled at the right time of day when Ozma was watching her Magic Picture. Oh, yes, I am still an Oz fan.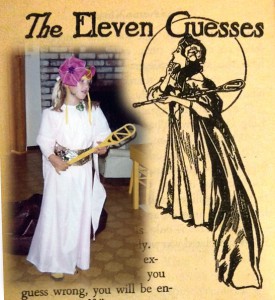 I am so glad we finally found these old photos again! I have been asking about them for probably 10 years now, and we had searched in vain through several boxes in many visits to my parents, but my mom finally found them up in their attic, so now I can document them properly here as the beginning of a lifetime of costumes.
My mom said I took my role so seriously! You can see I even tried my best Ozma-style "beloved & beneficent ruler of Oz" smile.