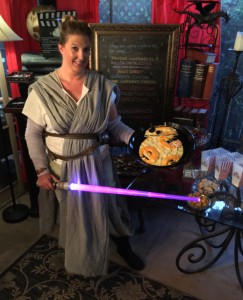 It was the most anticipated movie of 2015, and even though everyone most likely saw it already, 18 of us enjoyed watching Rey, Finn, BB-8, Han & Leia in The Force Awakens as our last summer backyard movie! The S'mores Awakened the fun food, including Starkiller Cocktails, Frozen Lightsabers, and my carefully-arranged BB-8 Cheese Plate, and I even pulled together a quick Rey outfit to go with the purple lightsaber I built at DisneyWorld!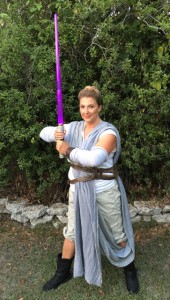 Since my heart has always belonged to Star Trek, I have never dressed up as anything Star Wars ever before, but since the votes landed with The Force Awakens for our Cinema Brittahytta summer season finale, I figured I could quickly throw together a Rey outfit for fun. I know my lightsaber is the wrong color, but I built my own at DisneyWorld and I liked purple best since there was no aqua or teal blade. 😉 The hair was perfect for a hot summer day, and we mimicked some poster poses pretty well! For the full details how I assembled the outfit, see my separate costume post here.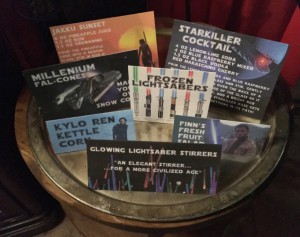 I got lucky and was able to brainstorm plenty of fun menu and cocktail ideas for this theme, like Frozen Lightsabers, Millenium Fal-cones (Make Your Own Snow Cone), Jakku Sunset, Starkiller Cocktail with Glowing Lightsaber Stirrers ("an elegant stirrer…for a more civilized age"), Kylo Ren Kettle Corn, and Finn's Fresh Fruit Salad. I grabbed images from online and designed menu and cocktail cards with the free Star Jedi font, which looked pretty good!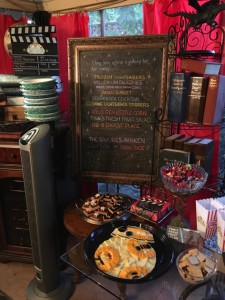 I wrote out the menu chalkboard in the same classic Star Wars font, starting with "A long time ago in a galaxy far, far away…" in the blue font from the opening credits, listing the menu in the classic Star Wars font, ending with The S'mores Awaken – Light Side or Dark Side?
Due to lack of s'mores consumption this year, I have been attempting to recycling homemade marshmallows all summer! What started as the Trek chevrons for 50 Years of Star Trek were cut into small stars and rolled in blue & red sugar for Star Spangled S'mores for the 4th of July Fireworks & Fun, then to transform them into The S'mores Awaken I used the white stars with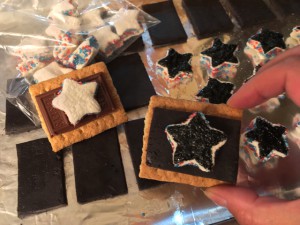 normal milk chocolate bars as the Star S'mores Light Side vs. black modeling chocolate slabs and black stars for the Dark Side…heehee! Thankfully I still hada stash of black modeling chocolate I could soften and roll just fine, and painting the marshmallow stars with black food coloring went fairly quickly.
Robin says, "May the S'mores be with you!"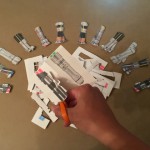 Frozen Lightsabers aren't an original idea, but I still had a ton of single popsicles from a kind donation in July, so I figured why not use them? I found a nice graphic of whose lightsaber is whose and enlarged them to cover the popsicle stick and as wide as the popsicle. I printed onto cardstock, cut them out, then prepped with double-stick tape, since I couldn't assemble these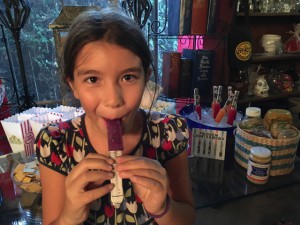 until people arrived or they would melt! I arranged them popsicle down in clean ice in a big bowl, and Ellie & I enjoyed ours, but I'm afraid most of them melted before others had their chance.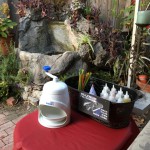 Millenium Fal-cones Make Your Own Snow Cones were all set up and ready to go on the kid-height table by the waterfall, but since Ellie has been making them all summer, they weren't used until later in the evening….when E & V suckered their dad into shaving the ice for them…lucky kids! 😉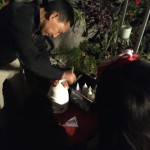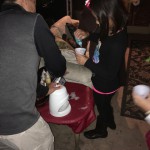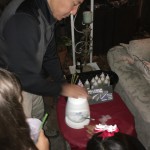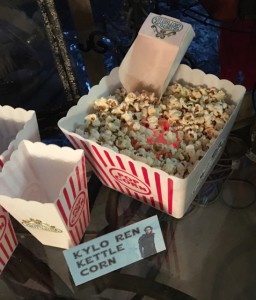 Some of the fun food was just renamed. Finn's Fresh Fruit Salad was a new name for one of my favorite summer staples. I can always enjoy leftover fresh fruit salad! The Kylo Ren Kettle Corn was our normal kettle corn in the Cinema Brittahytta popcorn boxes but with a menacing red Sith glow from the depths! I do love my little submersible LED puck lights adding a little glow almost anywhere!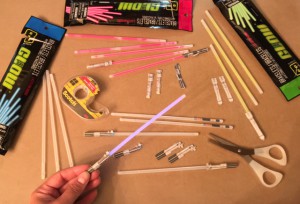 I have been using glowstick bracelets as drink stirrers for years now, so of course they were natural Glowing Lightsaber Stirrers "an elegant stirrer…for a more civilized age" just by printing smaller versions of the same Frozen Lightsabers images onto cardstock, cutting them out, then using thinner double-stick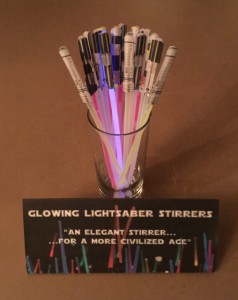 tape to add to the ends of the unwrapped glowsticks. I left them uncracked until the party (except for the proof of concept test) so they would be ready for my custom cantina cocktails!
I designed two themed cocktails that could both be made as mocktails for others and that could use the Glowing Lightsaber Stirrers. The Jakku Sunset was inspired by a Tequila Sunrise but with pineapple juice and gold rum for a more exotic feel. The Starkiller Cocktail was a color story using my knowledge that the black vodka layers nicely over full-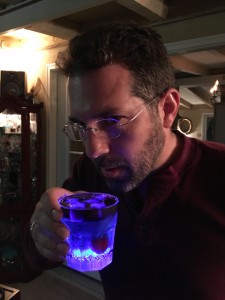 sugar blue raspberry mixer…and the bright red maraschino cherry looked like the eye of the beam! We used my LED glasses to make them glow, I still had star ice cubes from Fireworks & Fun that gave that extra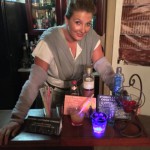 finishing touch floating on top against the black vodka, and Kevin sure looks like he was plotting for the First Order and the Knights of Ren as he sipped his!
I do believe that of all this fun food, I am most proud of my BB-8 Cheese Plate, not only for the rhyme and the mosaic-style execution, but that I didn't see any other BB-8 Cheese Plates online! You might have seen my carrot cupcake fail from earlier this year, so there was no way I was going to go through that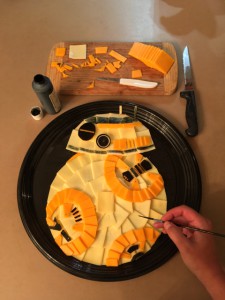 mess again…but I always have sliced cheese for parties anyway, so this was the perfect answer! BB-8 is already orange and white, classic cheese colors, so I only needed to paint some black food coloring accents and it looked great! When Ellie walked in and saw it, her jaw dropped to the floor and she couldn't wait to eat him! Robin & Nathania were also jumping at the chance to make him BB-Ate…haha!
We could have started the movie earlier since it was dark early enough, but there were still some on their way, so we finally started at the normal 9pm summer movie time…and I couldn't resist taking the iconic shot of the words scrolling into the starfield! 18 of us was a nice full house for our summer season finale…and we did have two kids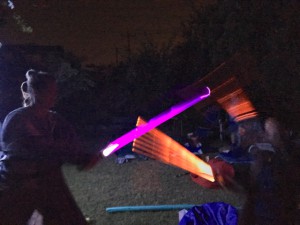 who brought their own lightsabers to duel with Rey! No fair that E had TWO red lightsabers…those Sith are sneaky! 😉
I sure had a blast that so many of my friends could enjoy summer backyard movies with me again. Hope everyone enjoyed their summers too! Stay tuned for next year's 10th anniversary season of Cinema Brittahytta with special surprises in store!