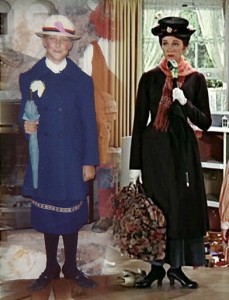 In honor of my summer season premiere Cinema Brittahytta backyard movie night coming up this weekend, celebrating the 50th anniversary of the Disney classic movie Mary Poppins, I bring you Britta Poppins way back from Halloween 1981!
I was only 10 years old, and as the voracious reader I was, I had read all the Mary Poppins books I could find at the library, so this costume was pulled from our family's closets inspired by the descriptions in the books more than copying the Julie Andrews Disney version, but I put together these images from the movie to compare our ensembles.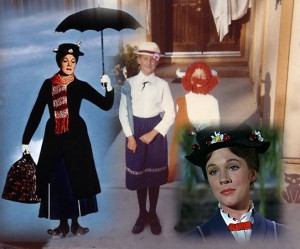 Rosy cheeks…check
Floppy hat with squashed flowers…check
Prim & proper white button-up shirt with ribbon bow at the collar…check
Navy blue skirt…check
Proper dark stockings…check
Large shoes with toes turned out…check
Parrot head umbrella…check…
I wasn't allowed to permanently alter anything, so I made the parrot head from paper & taped it to the umbrella handle. The navy blue skirt was formerly of my junior Norwegian traditional holiday bunad! We had no carpetbag sorry, but I think I had the prim & proper smile down pat.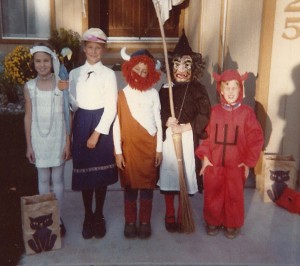 Here is the neighborhood Halloween 1981 photo from War Horse Court, with Flapper Shannon, Britta Poppins, Erik the Red, aka Hagar the Horrible, Witch Stacia, and Devil Patrick! Note the cute black cat luminaria bags, and you can see the bottom of the white sheet ghost hanging on the porch behind us.

Hope your summer will be "practically perfect in every way!"