Happy Tuesday again! Today, watch how to make your own cheap & simple Spooky Spellbooks in the fifth 2012 episode of Enhanced Eerie Elegance! Only one more episode before Halloween!
Fresh fruit & veggies are still to be purchased, and that's a significant part of this year's menu, but my freezer is overflowing with Bone Breadsticks! I have just over 200 now ready to finish baking on party day, so I sure hope that's enough! The giant cream cheese Sinister Skull won't be carved & assembled until party day, but I've made a few smaller cream cheese skulls to place on the other food tables to spread out the creamy goodness. 😉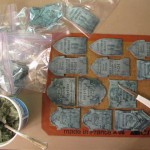 There aren't as many cookies this year, but 9 dozen new Tasty Tombstones are ready to serve. It took forever to cut out all those the frosting sheets, but they looked great. Unfortunately I had to replace the Nucoa non-dairy baking margarine that I haven't been able to find anywhere since February. Very sad my trusty non-dairy baking friend seems to have disappeared! I was forced to buy the ONLY vegan margarine at Whole Foods, at triple the cost, and it doesn't work quite as well as even the reformulated Nucoa. All the other margarines on the shelf include milk, so not good for my non-dairy friends or my vegan friends.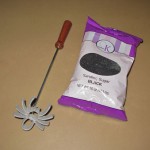 Spooky Spiders black rosettes are scheduled for Wednesday so they will stay fresh & crispy in my airtight cookie tins, and so my friend & trusty house-elf Angie can help. The pumpkin donuts will be Thursday since there is NO FREEZER SPACE LEFT, then the deep fryer can be put away before the housecleaners come on Friday. The donuts will be reheated on party day to crisp again, then we'll see if I have time after they cool to decorate them or not. Glad they are tasty just plain too!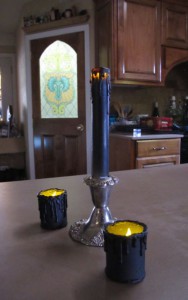 Interior wall art of spooky portraits and other items are very nearly arranged to my satisfaction and I'm sure that will get done this week. All candles, real & fake, are ready to go. Due to all the major projects still in process, both final patio setups are still underway. I'm always worried about hanging the bookcase mural wallpaper too early since you never know when rain might surprise us in late October! It rained Sunday night just as we got the first major decor up on the roof with forecast to keep raining until Thursday…ack!
Last yardwork of lawnmowing, edging & pruning was done on Saturday since now I need to decorate outside! Sprinklers should be ok to keep running until Friday unless we have a ton of rain, then I will set out all the pumpkins & the pots in their final arrangement and turn off the sprinklers until after I undecorate. When it's sunny again, the potted pumpkins might need hand-watering so I'll keep an eye on them.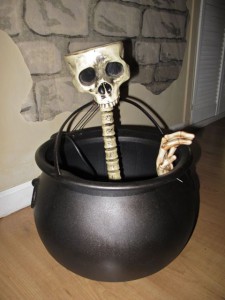 The skull fountain keeps leaking while it's stored in the heat, so I've sealed it yet again with silicone caulking. There was also a sticky splashback problem last year even after drilling more drainage into the plastic skull, so I've tried again. That mess was a pain to clean up since it even splashed onto the bookcase wallpaper as well as all over the chalkboard & lab table, but it needs to stay in the Library Laboratory for secret reasons. The lemonade cauldron will be on the outer patio.
The castle walls will be going up on Thursday since I'm worried about wind blowing them down, let alone the rain forecast until then. I couldn't find large clear washers for sale, but I had some clear acrylic scraps, so I cut them into rectangular washers & drilled screw holes myself. Hopefully these will stay in place better, since last year the day after Halloween, wind started blowing down ramparts one by one as I raced to take them down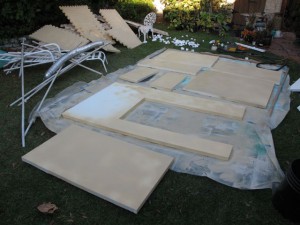 without breaking!
Webcams are ready! Ideally I would have 3 webcams this year but I waited too long to decide to buy, so I'm just moving the inside cam to the backyard to view the outer patio. Since the wifi doesn't reach through my stucco walls very well, especially to the back, I have a maximum-length ethernet cable running out my living room window & over the roof to the backyard. No advance peeks this year since not only is rain not good for electronics, but there are too many spoilers! On party day the webcam links will be live at camera.britta.com.
That's all the time I have until after the party! Everyone enjoy your Halloween weekend and Happy Haunting!