Happy October! It's Tuesday update time! Check out the second 2012 episode of Enhanced Eerie Elegance, Carved Stone Walls: Part 2, teaching you painting & aging techniques!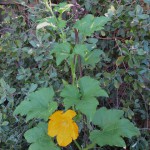 The tallest pumpkin vine is now taller than me! Even the plants that aren't as big are blooming well, but I still haven't seen any female blooms yet, so we'll see if I ever get pumpkins. I'm glad all these are still doing so well! I will definitely try a front yard pumpkin patch again next year, pots for sure, and I might actually try planting a few way out front along my pathway.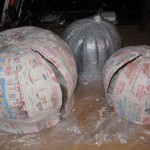 About 3 layers of strip papier-mache seemed enough for the fake pumpkins to hold their shape, so I cut them off the cauldron forms, then papier-mached them back together. I'm making one more midsize pumpkin with one layer completed already, then I'll try some plain tan craft paper as the final layer of papier-mache on all three in hopes I don't have to paint a primer coat before painting them orange. I won't spend the time making even more of these, since they do take awhile, and I found a nice huge jack o lantern at Target for only $30, plus others for extra 25% off 40% sale price. With 5 to 10 fresh pumpkins from the grocery store that I will leave whole to bake after Halloween, I think I my pumpkin patch will be well-stocked.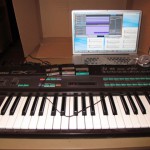 I don't think you'll figure out any secrets by me revealing that I have written original music for this Halloween! I haven't written anything in this style since college *mumble*-years ago, so once I got on a roll, it was really fun that it was working as I'd hoped. I wrote it at my piano, scribbling onto score paper, then entered it into Sibelius on my Mac to be sure it fit together properly. For final recording, I had to get out my ancient classic 80s Yamaha DX-7 keyboard since Garage Band doesn't have the exact sounds I wanted. Very nice that 30-something-old tech can still play with new…but why does writing music always work best after midnight? 😉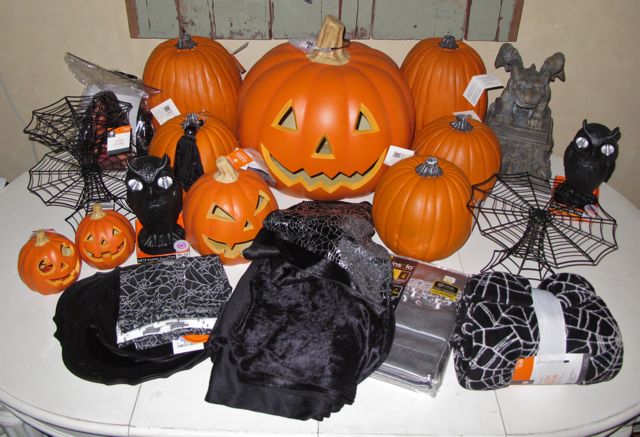 I wasn't sure what I would buy this year during Halloween shopping weekend, since I have already been buying party stuff since May, but I did find a bunch of cool stuff. I found the hooting owls at BigLots so I bought two (thanks to Cruella on Facebook for the heads up to look!), more spiderweb dishtowels at Ross to go with the ones I already own, finally a brunette wig for my wig collection at Halloween City for 30% off, but nothing I wanted at Spirit. Since I had already bought the elegant towels from JoAnn, and my costume fabric was purchased back in April, all I bought was some craft supplies, and black crushed velvet with silver glitter spiderweb pattern for new bathroom curtains. I found a silver valance on clearance + coupon at Bed Bath & Beyond to glam up the bathroom curtains too. Hobby Lobby had a black tassel I will use as the tieback in my redecorated bathroom, but their pumpkins were the Funkins expensive ones, which I can't handle buying even half off! I did score on other pumpkins, which I will also be using for next year's Nightmare Before Christmas party, so they are a good investment at the prices I found. The plain ones were at Michaels at 40% plus 25% entire purchase, and I especially love all the cute cutout faces in all sizes from Target. Only one Target gargoyle that I couldn't resist, a web fleece blanket, some cool wire web tier stands, and I did get the elegantly gothic black plastic platters, only disappointed they weren't any larger.
Sadly I can't show you any of it without giving too many surprises away, but after some small final handstitching details tonight, my costume will be *completely finished* the first week of October! That hasn't happened since I was Daphne from Scooby Doo in 2002, and that was a much simpler costume. Maybe planning that far ahead is a once a decade thing? 😉 It doesn't let me off the hook though…I need all the time I can get since I still have plenty else to do!
Until next time!