Happy Tuesday! Be sure to check out the first 2012 episode of Enhanced Eerie Elegance, Carved Stone Walls: Part 1, covering cutting, sketching & carving. Painting & aging will be in Part 2 next week!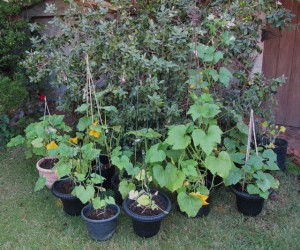 Now for my Halloween progress… I had to repot some more pumpkins again this weekend, and even change some stakes to my 5-foot tall iron tripods I usually use for tomatoes. I think that longest vine is at least 4 feet long already! Plenty of male blossoms each day now, but still no female blossoms, so chances are thin I'll ever get any actual pumpkins, or maybe not until Thanksgiving? 😉
Good thing I'm not worried about having real pumpkins growing by Halloween, since I have a few fake pumpkins I've collected over the years I can sprinkle between my vines, which is exactly what I want. The larger fake pumpkins are horribly expensive,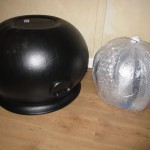 not worth it for me, so I decided to get out my various sized plastic cauldrons, cover with plastic garbage bags, fill in with long rolls of bubble wrap for ridges, and papier-mache some pumpkins instead! The larger one is 18″ across, and I could only find fake pumpkins that large at floral supply stores online for well over $100! After a few more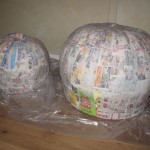 layers of newspaper strips, flour & water, and some orange paint, I think these will be decent looking pumpkins for much, much cheaper. 🙂 They will be open at the bottom to set over battery LED flicker lights for the ones that I cut as jack o lanterns, and I definitely will be using them again for the Nightmare Before Christmas party next year!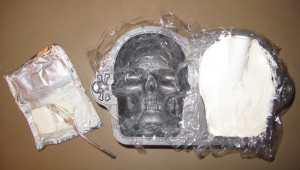 Due to reasons I cannot reveal quite yet, much of my party food will be different! No gelatin body parts at all this year, but that should relieve my last-minute party prep schedule from all that food coloring painting. That's great since there is SO much final equipment setup this year I think I'll need the time. One of the new food items is a giant Sinister Skull! You've seen my small Sinister Skulls before, made in my small thin plastic candy containers and served with blood-red chili sauce and crackers, but this year I have need for a giant one. My friend Tracia bought the new Wilton skull baking pan last year, and her daughter Ashlyn brought a tasty poundcake as her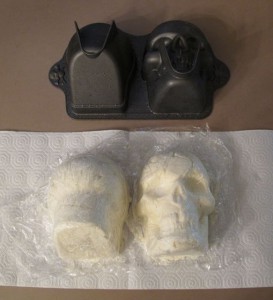 Creepy Cuisine last year, so they let me borrow their pan. I lined the pan completely with plastic wrap first, spread 6 POUNDS of room-temperature cream cheese into the cavities, pressing firmly to be sure it would take all the mold shape, covered the top with more plastic wrap, then popped them in the freezer. A week later, they were frozen so solid that I had to set the pan upside-down for awhile until it thawed enough, then the skull halves dropped out on their own. The halves are now covered in plastic, wrapped loosely in foil for protection, and safely back in the freezer until I will thaw in the fridge the night before serving. For the party, there will be a little carving before assembly, and a very special display. 🙂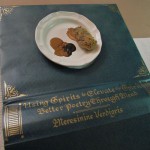 One of the episodes I was not able to film last year while writing my latest book was Spooky Spellbooks, partly from lack of inspiration to make any new books to display. Nicely enough, we have reason for new books this year! I cranked these out last week, so watch for that episode closer to Halloween. I realized during filming but forgot to mention on screen that I was aging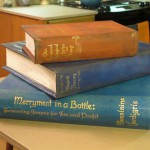 fake books that I made a DECADE ago for my first Hogwarts Celebration! I guess now that they're 10 years old, they should start looking ancient? You see, I didn't age them for that party because I wanted them to look like they were just purchased at Flourish & Blotts. Now they look like they've been in a castle library for hundreds of years…perfect!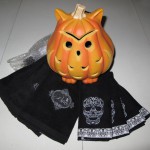 Even though our annual Halloween Shopping Weekend isn't until this coming weekend, I've grabbed a couple things as I've seen them. BigLots had some let's say interesting (weird?) choices like a football jack o lantern, but this owl was too adorable to pass up, especially since I am doing the Ogle the Owls contest again! When I was at JoAnn Fabrics getting supplies for other projects, I saw their Halloween stock come in, so during last weekend's big sale, I grabbed all these fantastically elegant silver embroidered black towels on 40% off while I had the chance. I already have plain black towels for my bathroom, and the white handtowels with orange & black cat trim are getting a bit old. These fancy ones will go perfectly now! I might even look for a fancy black shower curtain too…we'll see!
Until next week!