What would Hogwarts be without Professor Severus Snape's Potions class? :)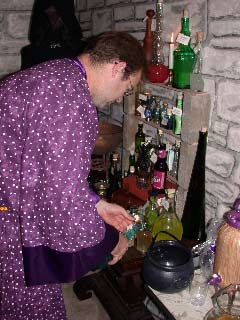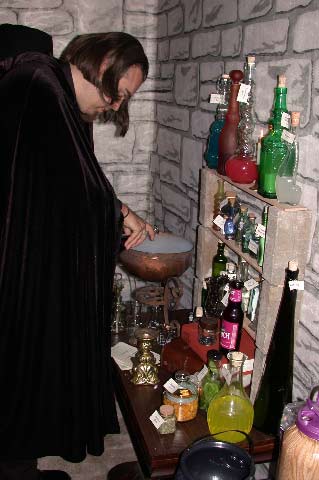 My logical and obvious vision of Potions class for the party was a mix your own beverage station, with as many unique ingredients as possible from which to choose. I paid close attention to any potion ingredients used in the books, and I found the Harry Potter Lexicon Encyclopedia of Potions invaluable as well. Once I had my list of ingredients, I went to various specialty candy and food stores looking for real edible things that could be "billiwig stings" or "boomslang skin," which was great fun.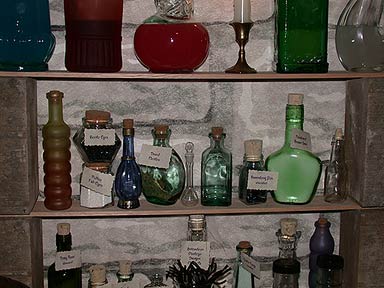 Of course, you can't just use boring containers for Potions class, so I kept myself alert anywhere I went for any interesting bottles and jars. I inherited several from my mother's teaching supplies, some I already had, some purchased at thriftstores or craft stores, and some which I had to suffer through drinking some pretty questionable wine just to get the bottle! ;)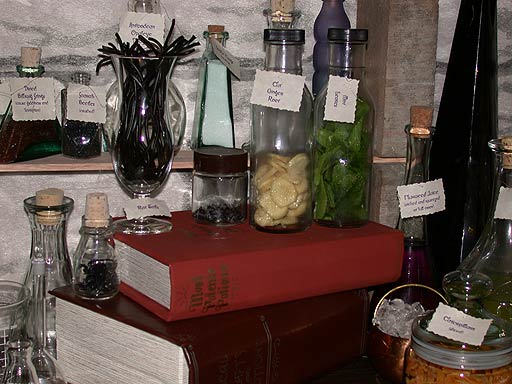 I found a font I liked, printed the ingredient labels on parchment, then handwrote the real ingredient on the back of each label so guests could just flip the label over to tell what it really was. Each label was then tied with gold thread to the neck of the container. Everyone at the party got a big kick out of "cut ginger root" and "mint leaves" saying the exact same thing on both sides of the label...haha...I figured they might think that was funny... :) Click here to see the full list of ingredients and what they really were...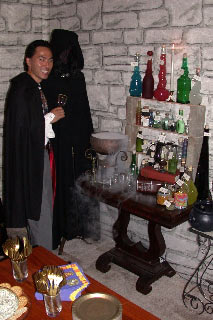 For the classroom itself, I used a table I already had, with small oak planks with gray bricks to make the shallow shelves against the wall. I had found the excellent metal cauldron in my exploits, so it was filled with dry ice and water for the rolling fog effect. I put a head, black wig and my black hooded cloak on my dressmaker's form to make the Snape ominously monitoring the class, and I had made parchment recipe cards that sat on the table next to the copies of "Most Potente Potions" and "Magical Drafts and Potions" that I had made.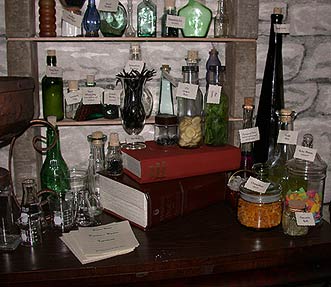 Everyone submitted their potion recipes throughout the party, explaining the ingredients, purpose and name of their potions using the green-ink ballpoint eagle-feather quills I had made, then I read all the recipes aloud while all the guests voted for their favorite on the parchment ballots I provided. I was ecstatic that everyone was SO creative with their Potions! Many told me it was their favorite of the whole party!




"Fab Fortis" by Professor Sinistra (Robert) was the Best Potion winner, but I have included all the recipes that were entered, since I thought they were all clever enough to be immortalized here:


Potion Recipes


*** winner ***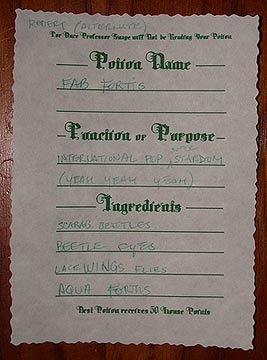 Fab Fortis
(Robert - Prof. Sinistra)

International pop super-stardom (yeah yeah yeah)

scarab beetles
beetle eyes
lacewing flies
Aqua Fortis

---

Cuban Warlock
(Kael - Beldar McNabb of Bertie Bott's)

Summer Hangover Cure for after those All-Night Spell-Casting Sessions

nettle wine
Aqua Fortis
chopped daisy root
mint leaves

---

Marella Monk's Miracle Mixture
(Lisa - Leezy the house-elf)

Relief for stomach and big toe cramps

1 part pureed Jobberknoll feathers
2 rat tails
a dash of shredded boomslang skin
for stomach, 1 part Aqua Fortis
for big toe, 4 parts Aqua Fortis

---

Pulchritout les Monde
(Anne)

Makes everyone look beautiful.

90 % Aqua Fortis
dash of each:
bicorn horn
scarab beetles
dragon eggshells
leech juice
mint leaves
beetle eyes
pamplemousse juice
boomslang skin

---

"A guaranteed A-" (for your Potions final)
(Jeff O.)

Empty the larder in time for in-laws to visit.

Scarab beetles - Crush beetles with lacewing flies. Add crushed Snake Fangs slowly, carefully, pour in spoonful of Aqua Fortis. Dissolve completely. Mix in pamplemousse juice. Add a dash each of
beetle eyes
powdered bicorn horn
boomslang skin
crushed beetle eyes
Drink [me?]!

---

Drunken Worm
(no name)

Fun and entertainment at the expense of poor, helpless invertebrates.

Aqua Fortis - add tube worms one at a time. Watch them crack horrible jokes and try to pick up on the other halves of their bodies.

---

Ruby Glitter
(Johnathon)

Loosen your inhibitions.

Pamplemousse juice, Aqua Fortis, mint leaves, lacewing flies, tubeworms.

---

Skyward Sailing Soda
(Dan)

To aid in self-levitation, while helping evoke a fresh minty mouth!

A splash of pamplemousse juice
a shot of leech juice
a dash of boomslang skin
one Antipodean Opaleye dragon shell
a strong helping of Aqua Fortis
one mint leaf
three dried nettles

---

Aquamenade
(Dan)

To subdue your foe without his or her being aware.

Aqua Fortis + lemonade

---

Gingerknot
(Robin - go Gryffindor!)

To clear the head of malicious cobwebs.

pureed Jobberknoll feathers
Aqua Fortis
cut ginger root
shredded boomslang skin

---

Rapidus Fastus
(Natasha?)

Super Seeker speed to catch the Snitch.

1/4 cup leech juice
1 Tbsp gillywater
1 ice cube
dash powdered bicorn horn

---

Amortropicus
(Maureen - Prof Trelawney)
Tropical love potion to sweeten the mood.

Aqua Fortis
leech juice
dragon eggshell

---

Snape's Secret Sauce
(Jay)

To inspire the extremities and invigorate the secret passions.

1/4 cup rum
1/2 cup gillywater
2 bits crushed mint leaves
chill on frozen grindylow piss

---

"It's Yoko Ono" forward
"Oh, no! It's Yoko!" backward
(Jeff O.)

Forward: Split up the Beatles
Backward: Beatles reunion

powdered beetle eyes
add to half nettle wine and half leech juice, mix. Crush four scarab beetles and add to the mix. Infuse with eclectic smattering of recreational drugs. Hold nose and swallow hard.

---

Gryffindor Gimlet
(Robert - Prof Sinistra)

memory eraser

Aqua Fortis
cut ginger root

---

There's a Fly in my Soup
(Jeff O.)

Capture that special someone.

Aqua Fortis
spider (sunken)
fly (floating)
Take a sip, then approach your selected target.

---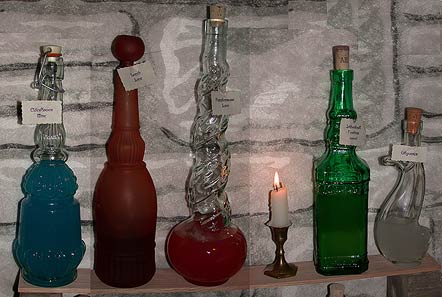 And last but not least, here is the complete list of Potions ingredients I had available:

Liquid:

gillywater = white Powerade "Arctic Shatter"

leech juice = cran-raspberry juice

elderflower wine = green Powerade "Lemon Lime"

nettle wine = blue Powerade "Mountain Blast"

pamplemousse juice = pink grapefruit juice

pureed Jobberknoll feathers = pineapple juice

fluxweed juice = dragon fruit Twister

Aqua Fortis = vodka


Dry:

shredded boomslang skin = blue & black edible glitter

beetle eyes = black sugar crystals

dried billiwig stings = thin chocolate jimmies

powdered bicorn horn = powdered sugar

cut ginger root = cut ginger root

chopped daisy root = coconut

sliced caterpillars = sliced dried mango

lacewing flies = clear edible glitter

dried nettles = thyme leaves

puffer fish eyes = white non-pareils

crushed snake fangs = granulated sugar

crushed scarab beetles = fine black sugar

rat tails = thin black string licorice

chopped tube worms = chopped gummy worms

porcupine quills = dried rosemary

Antipodean Opaleye dragon eggshells = white chocolate flakes

mint leaves = mint leaves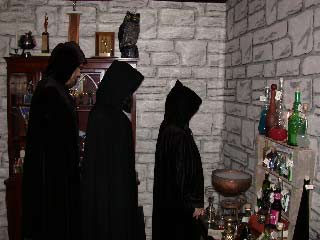 (Can you choose which cloak does NOT have a real person inside?)