70s Disco Diva
(September 2000)



Tracia had started the tradition of having theme parties to soften the blow of turning 30 with her 80s party, so when Stephanie turned 30, her love of disco warranted a 70s party. I designed her a Flower Power cake in orange, magenta and yellow, and after pondering what would be the most fun costume, I decided against the hippie early 70s and went for the late 70s glam disco era...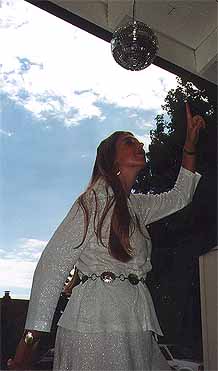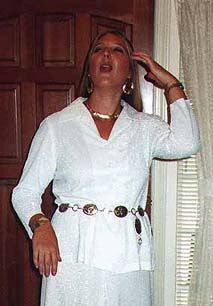 Hair:

Since my hair looks like it has been ironed straight no matter what I do to it, and it was still very long at the time, I HAD to go for the authentic "blonde Cher" look! Of course I actually had to do the Cher "hair flip" pose, too!

Jewelry:


This matching set of earrings, choker and bracelet is authentic 70s that my mom had handed down to me a long time ago. It had previously been worn as part of ancient Greek as well as gypsy and genie costumes. The belt was yet another closet find, this time in my mom's closet, though.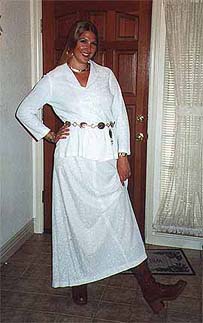 Outfit:


Believe it or not, this polyester white outfit with embedded silver sparkles was in my closet as possible costume fodder (the skirt was used by itself as the Cleopatra halter dress), but I never imagined I would wear the original outfit as it was intended! I'm not really sure where this came from, but it was given to me, so of course I had to take it.

Boots:

These are the infamous boots in their original glory! Rust-colored fake leather, brown shoelaces, and pale-flesh-colored plastic platform heels! I still can't imagine my mother actually wearing these things! But they have since been painted dark brown, including the heels, and put to excellent use in the Amazon Goddess and Valkyrie costumes.

---
Copyright ©1996-2008 Britta Blvd. All rights reserved. All text, photos, graphics, artwork and other original material on Britta Blvd
are copyrighted and may not be published, broadcast, rewritten or redistributed without prior written consent.