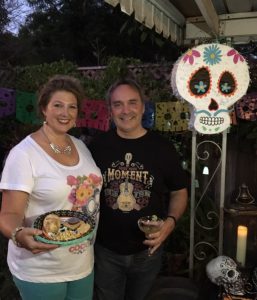 After seeing the fantastic animated movie Coco last November in the theatre, we knew we would show it for our Cinema Brittahytta summer backyard movie night series finale! 18 of us enjoyed the movie, most of us for at least the second time if not the fifth, I bought some new fun decor already spotted in stores for this Halloween, got out my custom-decorated skull sippers and other decor I had saved from our Halloween 2015 – Day of the Dead party, brought back Dia de los S'muertos and created new fun food and edible art like skull-shaped Chimichanga Calaveras for our Mexican munchies, and even made skull ice cubes for our margaritas!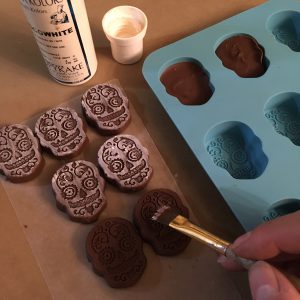 I didn't get the menu chalkboard written this time around, so no one know it was supposed to be a Frightful Fruit Salad, Queso Fundido, or Skull Sangria, but at least I did make special Coco signs for Make Your Own Margaritas, Chimichanga Calaveras, and Dia de los S'muertos! You've probably already seen over the past several years how I enjoy creating special s'mores for my summer parties. I first made Dia de los S'muertos for The Book of Life movie night in 2015, but I used my skull ice cube molds and handpainted different designs on each. They looked impressive, and I included them in my book Eerie Elegance Eats, but the form factor wasn't the best for s'mores, and I found a different silicone pan design since then that made the chocolate skulls much easier, even though they were all the same design. This year I also added 1 teaspoon of ground cinnamon to 1 cup of melted milk chocolate chips for a Mexican chocolate flavor, which filled the pan of 9 skulls about halfway like a thick chocolate bar. Once the skulls set solid in the fridge, I popped them out onto wax paper, then a quick light brushing of ChocoWhite highlighted the recessed design perfectly so that anyone can make these Dia de los S'muertos, regardless of artistic skills!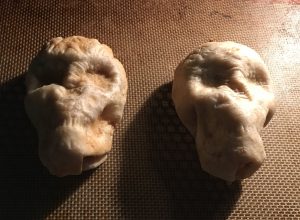 The next recipe required some proof of concept testing first. Some skull calzones have been making the rounds on the Internet for a couple years already, and I kept watching the Nordic Ware skull pans on Amazon. The video made the rounds again this summer, then I was given a set of 2 pans as a wedding gift…hooray! Since I knew I was showing Coco this summer, I wanted to try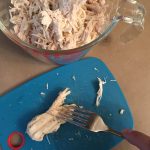 something other than pizza dough, so how about Chimichanga Calaveras? 😉 I found a recipe online that used already-cooked shredded chicken, so I used the chicken tenders I had in my freezer and shredded them until I had 5 full cups ready for the sauce. I adjusted the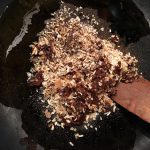 sauce recipe to use garlic salt and dried onion flakes due to other dietary preferences, and I used chipotle in adobo with the seeds instead of a raw jalapeño, so I didn't need the first step of simmering the onions, garlic & jalapeños until they softened. I had fresh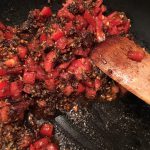 homegrown tomatoes from my dad's garden to add, but I have at least one person who is severely allergic to dairy, so I eliminated butter from the mixture and made 4 non-dairy chimichangas before adding the sour cream to the mixture for the rest. I found shredded jack cheese with jalapeno & habanero peppers, and I used chipotle in adobo from a can instead of a fresh jalapeno. I doubled the recipe included at the bottom of this post to make 24 skulls, which was 2 full batches with each 6-skull pan. I sprayed the skull pans with olive oil spray for better browning, and a plain baking sheet set on top of the skull pan kept the ends folded together while baking.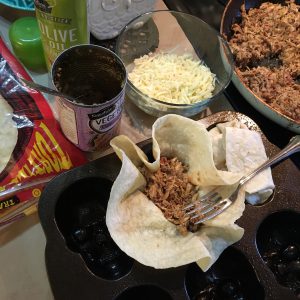 However, I tested using a different brand of flour tortilla than I bought for the party, and that made a big difference in how much skull detail baked into the chimichangas! I didn't have enough of the Costco tortillas after testing, so I bought some at Trader Joe's that were more "homemade" looking. I didn't realize until I started making them the day of the party that the Trader Joe's tortillas were not only a more varied surface texture, but they were also much thicker. This meant it was trickier to coax them into the skull shape even after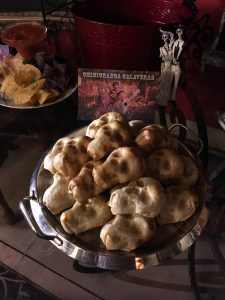 15 seconds in the microwave, and even 20 minutes in the oven with moist contents, the tortilla didn't mold to the skull shape while baking as much as the thinner & flatter Costco tortillas did. I finished the last 6 using Costco tortillas, and you can see the difference in browning pattern, plus the first two proof of concept test skulls even showed the teeth detail. Now you know so you can look for thinner commercial tortillas for your Chimichanga Calaveras using the recipe below, and save your homemade-style tortillas for where that texture is more appreciated, like a quesadilla or fajitas!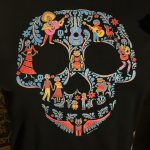 Since we have decided to bring back our homemade animatronic skeleton mariachi band show for a future Halloween, I bought Coco shirts to add to our Scream Team work shirt collections! All three of us have matching skull designs like Jerry wore, plus I bought a floral women's cut for me, and a Seize Your Moment guitar design for Glen that we wore this time.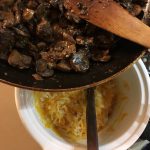 Queso Fundido is a favorite of ours at Margarita Friday, so I found a good home recipe for Halloween 2015 that I included in Eerie Elegance Eats. I knew we had less people coming to Coco, so I made only half a batch, and since I knew how it ended up clumpy by the end of the evening, I added a little olive oil and some milk to make it more liquid. It still needed stirring once in a while, but that stayed smooth from 2pm until 11pm…not a bad run! The full recipe for Queso Fundido is included below.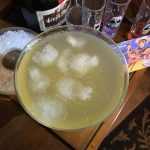 I do love sangria in summer, so I made a pitcher with some of the same fruit as the fruit salad, but the cocktail for the evening had to be margaritas! I thought I had some leftover margarita mixers from previous parties, but they were all premixed with alcohol, which meant no teetotaler or kid special beverage option. Most recipes recommend freshly-squeezed lime juice for the best margaritas anyway, so I decided we could serve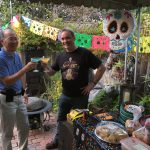 stevia limeade that could be drunk straight or used to mix margaritas. We have a key lime tree that drops tiny round limes onto our driveway, so I collected as many as possible the past couple weeks, squeezed until I got hand cramps, then Glen finished squeezing the rest of the limes, which gave exactly 2 cups of juice…whew! That was a LOT of tiny little limes but they tasted great! I used my normal recipe of 1/3 cup powdered stevia extract, 1 cup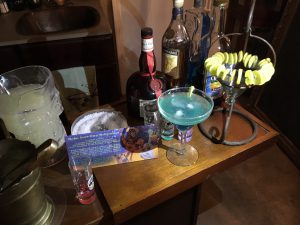 lime juice, then fill up water to make 2 quarts. The Make Your Own Margarita recipe is included at the bottom of this post, including the bonus instructions how to make a teal MargaBritta. 😉 The limeade was on the bar in a clear skull pitcher next to the skull ice cubes, and we went through almost 4 quarts of lime juice and a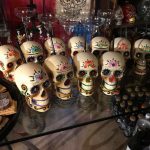 whole bottle of tequila in one evening! Some used actual margarita glasses, but many used the skull sipper cups that I had painstakingly decorated in 2015…I think more people used them this time than that Halloween party when 3 times as many people attended!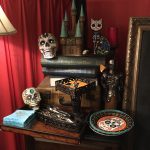 As for decor, I bought another 100ft papel picado skull banner and strung it around almost the whole backyard, and all those bright colors really made it look festive! The skull piñata was only $5 at a local discount store, and the lighted pillow was only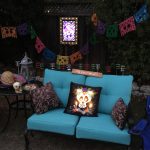 $6…score! I bought new plates & napkins when I bought the long banner, but the other items like the small skeleton statues, decorated "sugar" skulls, and skeleton cats I still had in my Halloween boxes, so they were easy to set out quickly.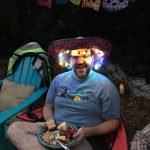 Ben cracked me up by wearing the lighted sombrero he made for our Halloween 2015 party! I love how you could spot him easily when I took my audience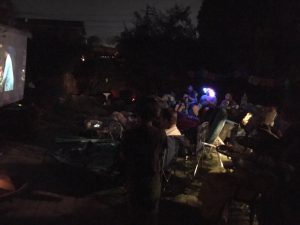 photos…haha! No Rock Band this time since everyone was enjoying chatting, making margaritas, and cleverly chomping Chimichanga Calaveras! Glen did light a fire before the movie to show off the magic color-changing flames again, but no one roasted any marshmallows, they only ate "naked" s'mores!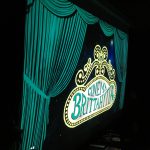 The full recipes for Chimichanga Calaveras, Queso Fundido, and Make Your Own Margaritas are included below, along with the complete photo gallery. This might be our last backyard movie for a year or more because by spring we plan to do a major remodel of the entire house…so thank you for joining us for ELEVEN spectacular summers of Cinema Brittahytta!
(inspired by Food Network's Almost-Famous Chimichangas (baked) )
Yields 12 Chimichanga Calaveras hand-sized skulls or 4 full 10″ tortilla chimichangas
Ingredients
2 tablespoons olive oil + 2 tablespoons unsalted butter for browning (replace with more vegetable oil for non-dairy)
2 tablespoons olive oil
4 tablespoons dried minced onion flakes
1 1/2 teaspoons garlic salt
1 chipotle chiles en adobo, seeds in but finely chopped, or 1 jalapeño pepper, diced (remove seeds for less heat)
1 1/2 teaspoons chili powder
1/2 teaspoon ground cumin
1/4 teaspoon ground cinnamon
1 small tomato, chopped, plus more for topping
2 tablespoons chopped fresh cilantro
2 1/2 cups shredded rotisserie chicken
1/4 cup sour cream (remove for non-dairy)
1 15-ounce can refried beans
12 8-inch flour tortillas – soft taco size (or 4 10″ flour torillas)
1 cup shredded monterey jack cheese (remove for non-dairy)
Directions
Preheat the oven to 375 degrees F. Melt the butter with 2 tablespoons vegetable oil in a skillet; transfer to a bowl to brush on for browning. If you are using the skull pans, you can use olive oil spray. Heat the remaining 2 tablespoons oil in the skillet. Add the onion, garlic salt and chipotle/jalapeño and cook until soft, about 3 minutes. Add the chili powder, cumin, cinnamon and 1 teaspoon salt; toast 30 seconds. Add the tomato and cilantro and cook until slightly dry, about 2 minutes. Stir in the chicken (and sour cream) and warm through. Remove from the heat.
If your pan is non-stick, there is no need to brush or spray with oil, but it does help with browning to show the skull detail (verify this?). Soften one flour tortilla in the microwave for 10 seconds, then quickly before it cools, gently position into the skull shape, evenly arranging the folds of the extra tortilla around the shape. Spread 2 tablespoons refried beans down the center of each tortilla, gently pushing the tortilla down into the detail of the skull shape. Top with (1 cup) 1/4 cup chicken mixture and (1/4 cup) a sprinkling of cheese. Fold in the ends and repeat until your skull pan is full. Place a baking rack or ventilated sheet pan over the skull pan so the tortilla stays closed, then bake at 375F for 20 minutes. The folded side of the tortilla will be crunchier than the skull side, but it is still tasty!
Arrange the completed Chimichanga Calaveras on a platter with toppings available for each person to garnish their own. Serve with rice and beans if you like, or leave the skulls plain to dip as finger food.
(from Eerie Elegance Eats: A Halloween Cookbook of Creepy Cuisine)
3 cups sliced crimini mushrooms, white button mushrooms, or ever fuller-flavor mushrooms like oyster or shiitake
1 1/2 chipotles chiles en adobo, seeds in but finely chopped
2 Tbsp dried minced onion flakes, or 1/2 medium red onion, chopped
3/4 Tbsp olive oil
16 oz grated sharp cheddar cheese
16 oz grated mozzarella
8 oz grated pepper jack cheese
1/4 tsp salt
black pepper to taste
olive oil & milk to thin for long-term heating serving in a crockpot (optional)
This smaller recipe filled a 1-quart crockpot perfectly. Double the amounts for a normal 1-quart crockpot for a larger party. Start warming your crockpot, and add half the grated cheeses as it heats while you saute the mushrooms. In a large non-stick skillet, heat the oil over medium-high. Add the onion flakes or chopped raw onion if desired, and cook, stirring frequently, until softening and beginning to brown, about 5 minutes. Add the mushrooms and stir over lower heat nearly constantly until they have softened and any juice they release has evaporated, about 5 minutes longer. Stir in the sliced chiles, then taste and season with salt, usually about 1/4 teaspoon.
Transfer the hot mushroom mixture into your already-warm crockpot over the grated cheese, stirring to melt the cheese into the mushrooms until you have a creamy cheesy dip. Once the mixture is melted and there is more room, add the rest of the grated cheese and stir well. Making this ahead will not reheat very well so prepare immediately before serving. If you want it to stay more liquid during a longer evening, add some olive oil and milk and stir well. Keep the crockpot on the lowest heat setting while serving, stirring periodically or it might get clumpy, but that didn't stop my guests from enjoying it!
We have a key lime tree, so I juiced those to make stevia limeade for kids & teetotalers to enjoy virgin margaritas with us. It took a whole pile of tiny key limes and lots of hand-squeezing by Glen and me to yield 2 cups of juice, which made 4 quarts of limeade using 2/3rd cup stevia powder, and it was almost all gone by the end of the night! If you are making individual margaritas, use 2 oz freshly squeezed lime juice (1 or 2 limes) plus 1 oz Simple Syrup in place of the 3 oz stevia limeade.
Make Your Own Margaritas
3 ounces tequila
3 ounces freshly squeezed stevia limeade
add freshly squeezed lime juice to taste
1/2 to 1 teaspoon orange liqueur like Grand Marnier or Blue Curacao
Shake tequila, sweetened limeade, and orange liqueur with ice until mixed and chilled. Place salt on a plate, and press the rim of a chilled rocks or wine glass into the mixture. Strain margarita into the glass over skull ice cubes!
If you use Blue Curacao as your orange liqueur, or add Blue Raspberry to your limeade mocktail, you will have a tasty teal MargaBritta!