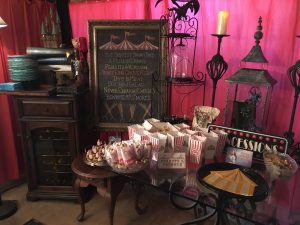 I was lucky enough to see Hugh Jackman singing & dancing live in his one-man show in San Francisco several years ago, so I knew he was much more entertaining than his Les Miz performance. When I saw the trailer for The Greatest Showman, I knew I'd want to see it, but I had no idea that Glen would buy the soundtrack the day after we saw it in the theatre, nor that it would be our driving soundtrack over & over for the next couple months! We had heard from plenty of friends that we were not the only ones singing along, so I decided this would be my birthday movie for Cinema Brittahytta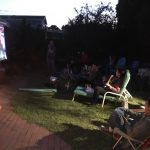 this summer. We actually had more guests who had NOT yet seen it than repeat viewers, so only some of us sang, but all 24 of us really enjoyed the evening, with Rock Band as the sun was setting, our menu of circus food and clever song-title puns, special s'mores, and even birthday cake!
My first menu thought was for circus food, and I already had my reusable plastic Cinema Brittahytta popcorn boxes, so a bag of roasted peanuts in the shell with a bunch of cute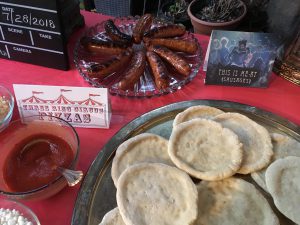 vintage paper bags were an easy Amazon purchase. Since there weren't animals in the movie until the very end, I didn't use the animal crackers or cookies, but Keith & Doug brought the pink & white frosted classics to share!
Since we hadn't had grilled pizzas yet this summer, I called them Three Ring Circus Pizzas, leaving them in circles…the first time since the first summer Forbidden Planet Pizzas that I did NOT make the dough into a special shape. 😉 Glen came up with Sideshow Salad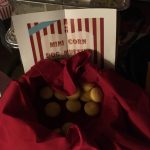 for the fruit salad, and Eileen brought some clever & tasty Mini Corn Dog Muffins with slices of hot dog baked into the muffins, then that was the end of the circus menu.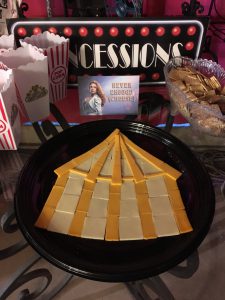 Trying to brainstorm food puns for the song titles started with "This Is Me-at" for the sausages, which still cracks me up! I found a movie poster of the Bearded Lady leading her crew, so that became my menu sign…heehee! I always have a plate of cheese slices, and I could eat cheese all day every day, so that became "Never Enough (Cheese)"…which was enjoyed enough that the next day I heard that Julianna was singing "Never enough cheese…"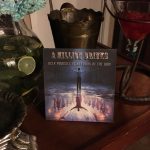 complete with various cheese verses…hahaha! I made a circus tent cheese mosaic, then set the other slices normally on a tray to the side, since no one wanted to mess up the design. I guess two trays of cheese enforced that there truly was "never enough?" 😉
I had tried creating a custom cocktail for A Million Dreams with "the brightest colors fill my head" but was stuck trying to make it non-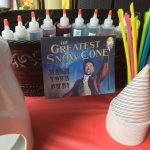 alcoholic for all the kids coming…then I thought of how I have countless bar mixing options, so that became "A Million Drinks: Help yourself to anything at the bar!" 😀 However my favorite menu sign was The Greatest Snow Cone, since I tweaked the logo lettering so it matched perfectly and actually added a snow cone into Mr. Barnum's hand for the menu sign. We had enough kids the right ages that we went through all the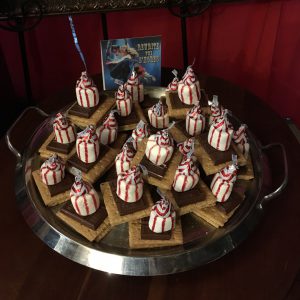 pucks I had frozen, so I guess I should have made more in advance this time!
Last but not least was Rewrite the S'mores, our special s'mores for this movie! Obviously "rewriting" the s'mores would be making them different in some way, so I used a red food coloring pen to add stripes onto purchased marshmallows, and Glen found red & white swirl Hershey kisses on sale after Independence Day. We set the striped marshmallows over Hershey bars on purchased graham crackers, then added a striped kiss on top to be little circus tents!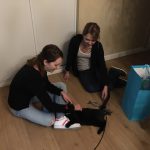 My college friend Stephanie brought her whole family from Davis for their first ever Cinema Brittahytta, so they arrived first and helped assemble the s'mores. Keith & Doug brought some friends this time, and Wendy & Diana spent half the party playing on the floor with Midnight! Thankfully Midnight was still our social kitty
at his second big party, letting Cyd cuddle him on the couch with Elias, and playing with everyone willing. Since the patio screen door now randomly opens on its own, we had to shut the french doors all evening, and when no one was inside, Midnight sat at the door, looking out at the patio people wistfully like he wanted to join the party!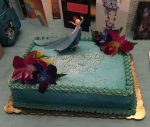 Usually people bring an assortment of food to round out our potluck, but this time it was almost all sweets! Stephanie brought cupcakes, and Jen brought a dozen fancy Psycho Donuts that were scarfed quickly – glad I got the chocolate mint "Girl Scout" donut! Keith & Doug brought cookies & a candy-coated puppy chow snack mix, and their
friends brought a big batch of popcorn. Jerry stopped by with his fantastic chocolate fudge cake while Glen was out picking up the teal cake he had ordered already! We saved the Jerry cake for ourselves later, and since Keith & Doug had just given me the Hallmark Christmas ornament of Elsa, we put her on the matching teal sparkly cake for me to blow out my candles after the movie!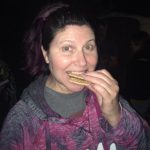 Since Stephanie's family was staying the night, we had a built-in after-party for s'mores…hooray! Glen had fun throwing our new flame colors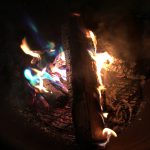 into the fire, and it was tricky to take photos, but some of them burned teal! Jeff's family also stayed through s'mores and back inside, having a ball playing with Midnight while the clock approached midnight…when I sang Jeff his Happy Birthday song as his birthday began on July 29th!
Thanks to everyone for such a fabulous evening! You can click below to see all the fun photos if you like! We still have one more movie before this summer is over, so stay tuned!