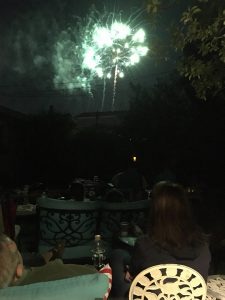 For 2018, a fun crowd of 18 including 2 kids enjoyed Fireworks & Fun for the Fourth, with some new guests and some new & relatively healthy menu items! Thanks to the City of Santa Clara for the show and everyone who helped us celebrate!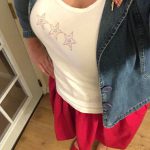 Since the 4th of July was a Wednesday and I couldn't take any extra days off work, I started my patriotic outfits with Margarita Friday and kept them up on Monday & Tuesday for work. I made red & white striped pillow covers last summer and had just enough fabric left for a cute skirt, but not enough to turn a hem or waistband, so I added a red lining and planned it to be reversible! I had it cut & pinned last summer but had to put it away for the sake of other projects, so I got it out this year & finished the skirt just in time to wear it both ways before the 4th! The trickiest part was how to make the pockets reversible, since they must be accessed from both sides. I anchored them to the striped side, then left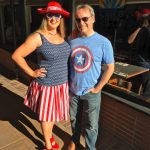 a matching slit in the seam of the red side.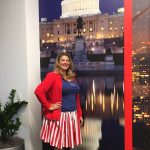 When I turn the skirt inside out, I need to turn the pockets inside out too, and be careful to get stuff actually into the pocket and not just the opening in the red side. I should have angled the waist since it's extra bulky gathered around the elastic, but I got many compliments and felt very cute wearing my new outfits. 🙂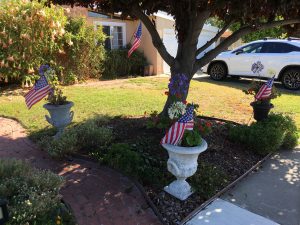 This year's RSVPs were thin again, and I am still WAAAAY behind from wedding projects & honeymoon taking up my usual spring catchup time, so I decided to take a break from some of my traditional 4th of July plans in hopes of being a little easier while still fun and special. No one had ever come as early as 4pm in all the years past, plus friends were playing their music set at the park party early in the evening, so I set the official start time as 6pm this year so Glen & I could take a short break to check out the park party and a little of the Houserockers, who played a great show. Glad I finally got to see them live, since I played with many of them in my days with Black Sunday Roadshow!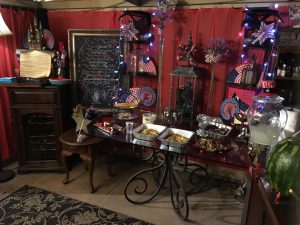 I also tried to make prep easier with less food. For so many of my summer parties my special s'mores haven't even been eaten, so I had all the standard s'mores ingredients ready and figured we could always make them special by topping with a Sparkling Sugar Star cookie. I kept the cheese plate as Festive Fromage with stars cut from white havarti slices, but I skipped the pastry brie, which has been cut before for heat reasons. I cut the Old Glory Green Salad since most years I have almost all as leftovers, and I love the Apricot Cashew Salad, but same results that I eat most of it as a lot of leftovers. I had already made a batch of the Grilled Sweet Potato Salad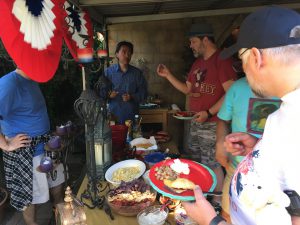 that sadly went uncooked on our Napa castle camping trip that ended up as a burn ban, so I froze it to finish for the 4th, which also saved time while still keeping a delicious tradition. I also love the Corndog Sparklers, but they take a lot of time to deep-fry, with lots of last-minute cooking & cleanup, so they were cut this year too.
Thankfully I was able to draw my menu chalkboard this year, changing around some names due to the cut items freeing up some patriotic phrases. Now I'm wondering if it might look a little too busy with all the fireworks and stars, but it is festive! I usually make lemonade with 100% stevia powder, but it wasn't until this year that I thought of Liberty Lemonade "freed" from sugar! haha! Here is the full menu for 2018: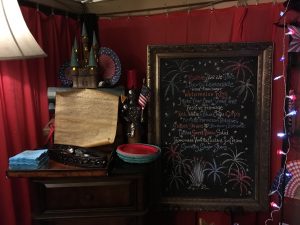 Razzle-Dazzle-Tinis
Watermelon Juice
Liberty Lemonade "freed" from sugar!
Make Your Own Snow Cone
Kettle Corn
Festive Fromage
Red, White & Blue Chips & Dips
Patriotic Parmesan Potatoes
Striped Skewers with Blueberry Balsamic Glaze
Grilled Sweet Potato Salad
Sparkling Sugar Stars
Homemade Vanilla Custard Ice Cream
Tricolor Trifle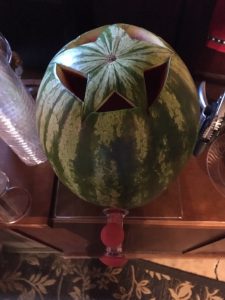 My stick blender broke during last year's watermelon juice and I don't yet have a replacement, but we had Glen's hefty modern blender, so with enough extra large containers for intermediate holding of puree, I was able to scoop out the watermelon chunks into the blender, puree those, dump that into the strainer over the stockpot, then I took what was left in the strainer and blended it with the next set of chunks. There weren't many seeds in the first place, and the blender was powerful enough that almost everything got liquified so much less waste! Straight watermelon puree is too thick to run through the keg tap, but the puree from a large watermelon + 8 cups water all blended again is a perfect consistency as a thick, sweet juice, and lovely with limecello over ice. We went through about half a "keg" of juice so had about 8 cups leftover in the fridge that I enjoyed over the next week watered down even more.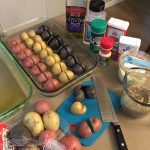 I tried to find some healthier recipes to replace a couple of my previous menu items. I saw some tasty-looking Parmesan Crusted Potatoes online plus red, white & "blue" baby potatoes at Trader Joe's, so those became Patriotic Parmesan Potatoes! They were gorgeous in the glass pans ready for roasting, and they did brown well enough so the colors were not as vivid, but they smelled delicious while baking and stayed crispy in a star bowl for the party, and even at room temperature everyone enjoyed them! We did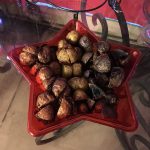 have a few leftovers, so after keeping in the fridge reheat them in the oven a few minutes on a baking sheet to make them crispy again. The full recipe is at the bottom of this post if you'd like to try your own Patriotic Parmesan Potatoes!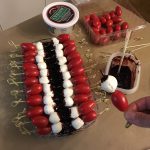 Some easy-looking caprese skewers with fresh mozzarella balls & grape tomatoes became Striped Skewers with a little blueberry balsamic sauce reduced to more of a glaze that would stick instead of drip. To serve in stripes, I lined up the skewers with their points meeting in the middle, and they fit perfectly on a long rectangular tray so I could spoon the extra sauce as the "blue" stripe down the middle that functioned as extra dipping sauce. Super easy, tasty & fun!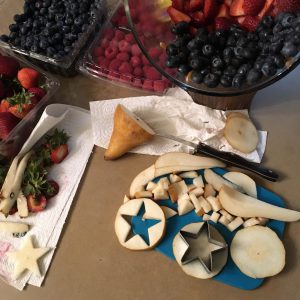 I usually make a normal fruit salad with lots of summer fruit variety, but I had so much fun creating an Incredibles fruit mosaic in my tall trifle bowl for movie night, that I decided to try to limit my fruits to strawberries, raspberries, blueberries, and golden pears to create a red, white & blue Tricolor Trifle. It worked best to cut golden bosc pears cross-wise since the center slices were the perfect size to use one of my star cookie cutters, and the seeds around the center core looked like part of the design. A tall plain bowl works best and you may need to angle it while arranging your design. Place the stars first so you know you have enough room above and below for more fruit, then fill in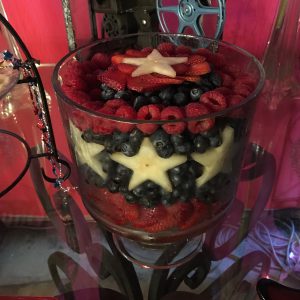 the bottom layers to hold the stars in position. Layer the cut strawberries on the bottom or block with uncut berries or they will stain anything underneath! Fill the inside with mixed fruit salad so your guests can scoop some variety without disturbing the outer design. This fruit mosaic was definitely one of the "stars" of my party!
I definitely wanted to keep my once-a-year homemade vanilla custard ice cream and at least some cookies, so my Sparkling Sugar Stars were back, but I used real eggs this time since I didn't expect any vegans. It has been so long since I used real eggs that these must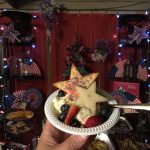 have had more water content, since my dough was so gooey even after chilling that it took longer to cut the stars! I think next time I will go back to the egg-replacer powder for consistency!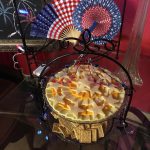 I do love Festive Fromage, especially when my small star cutter fits perfectly in already-cut cheese slices. I also really like the cheap patriotic paper fans, since I can decorate with them, plus they are available for cooling if it gets too warm! The blue corn chips are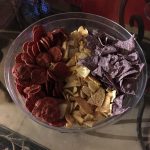 common party food for me, especially for Halloween, but I was pleased to find some beet crackers that were a nice natural red hue for my red white & blue chips!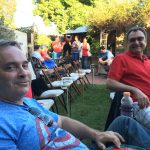 Thankfully it wasn't too hot this year, and by starting after 6pm, the shade was covering most of the backyard by the time most guests had arrived. Since I knew only 2 kids who were coming and expected a smaller crowd, we didn't play Rock Band either, just chatted until the main event.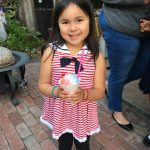 We did have a couple snow cones, including a cool patriotic striped one, and a spiked snow cone for me in a glowing glass, and I did make a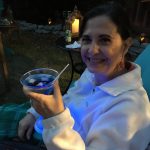 couple of my traditional Razzle-Dazzle-Tini layered cocktails for some of the new guests.
After Ebony passed away in January, Obsidian was an only kitty, but we adopted 4-month-old kitten Midnight just weeks before his first party and his first festive outfit!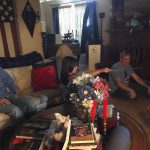 Even after 6 years of parties, Obsidian still hides when guests arrive, but Midnight calmly lets anyone pick him up and enjoyed playing the whole party,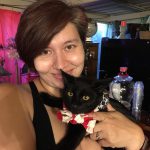 so we might finally have another party kitty, like Onyx was for so many years!
I served my ice cream promptly at 9:15pm so we would all be back in our seats & ready for the main event to start at 9:30pm. It was another fantastic fireworks show, even if some bundled up under piles of cozy blankets!
You can see the full photo gallery with all the partying people by clicking the link below. Huge thanks to everyone who helped and had fun yet another year! Hope Santa Clara keeps having annual fireworks so I can keep having my Fireworks & Fun party! 🙂
I found a mixed bag of red, white & "blue" purple baby potatoes at my local Trader Joe's, and two bags fit two 9″x13″ pans almost perfectly with even stripes of colors!
inspired by: https://www.recipetineats.com/crispy-roasted-parmesan-potatoes/
Crispy Roasted Parmesan Potatoes
Prep Time 10 mins
Cook Time 35 mins
Total Time 45 mins
Tender potatoes with the most incredible CRISPY parmesan crust! Make these for your Sunday Roast or pass them around at a party! Serves 4 – 5 as a side.
Servings: 4 – 5 people
Calories: 219 kcal per 4 potatoes
Author: Nagi
Ingredients
750 g / 1.5 lb baby potatoes , halved (about 3.5cm / 1.75″, 20 – 24 potatoes)
2 tbsp olive oil , plus more for drizzling
Parmesan Mixture:
1/2 cup / 50 g grated parmesan , the sand-like type (Note 1)
1/2 tsp garlic powder
1/2 tsp dried thyme
1/2 tsp paprika
1/4 tsp salt
1/2 tsp black pepper
Instructions
Preheat oven to 200C/400F. Mix Parmesan Mixture in a bowl. Drizzle oil in 22 x 33cm / 9 x 13″ glass baking dish (Note 2). Tilt pan to spread all over the base. You definitely need more oil than any olive oil spray will yield, so don't try that as a shortcut. Use a spoon to scatter the Parmesan Mixture over the base. Spread as evenly as you can. Once sprinkled, do not touch – don't try to spread it. Place potatoes cut side down, pressing firmly.
Optional: drizzle top of potatoes with a touch of oil or here's where you can spray with oil, then sprinkle with salt.
Bake potatoes for 35 – 40 minutes or until they are soft and the parmesan crust is deep golden. (you can check through the glass!) REST for 5 minutes. Then use an egg flip to cut between every potato (i.e. cutting through the parmesan crust which bonds between each potato), then place the potatoes crispy side down on a serving platter or in a bowl. Serve as a side dish or as nibbles!
Recipe Notes
1. Use the grated parmesan that has a sand-like consistency sold in the refrigerated section. I take no responsibility if you try this with the grated parmesan sold in the aisles!! Shredded parmesan doesn't go as crispy. For freshly grated, use 50g/1.75 oz parmesan and a fine grater (microplane). Don't measure by cups because the volume of fresh grated parmesan is far greater than store bought for the same weight.
2. This works in a metal pan as well but I find the potatoes come off slightly easier from glass. Don't try lining with baking paper, you'll lose some of the crispiness.
3. Adapted from various Parmesan Crusted Potato recipes.
4. LEFTOVERS/MAKE AHEAD: Cool then refrigerate. Place in a baking pan cheese side UP and bake at 200C/400F for 5 minutes or until just heated through and cheese is crispy again. It's not quite the same as freshly made, but it's still darn good!