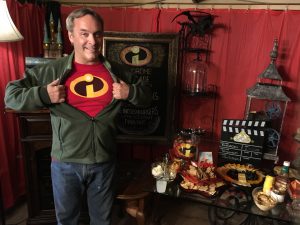 On the ninth a cozy crew of nine started our summer movie season by catching up with The Incredibles before their long-awaited sequel arrived in theatres! We had a whole family of Incrediburgers on the grill including little Jack-Jack Sliders, Dash Dip, Incredi-Cheeses & Crackers, Make Your Own Frozone Cones, and a Super-Sized Fruit Parr-Fait! My own Mr. Incredible manned the grill, the new cupholder yard stakes were a hit, and my Movie Marquee was back outside showing a new reel of posters for this summer season of Cinema Brittahytta!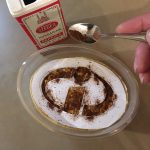 With working on all the wedding projects for so long, I haven't had much chance to create edible art lately, so I really enjoyed making the fun food for this movie! The first was fairly simple, just sketching, cutting & drawing a stencil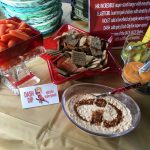 the correct size to sprinkle Hungarian paprika over an oval bowl of Dash Dip = spicy for super-speed! We bought the jalapeno dip mix at a local street festival, but I couldn't even eat it since it was too spicy for my wimpy palate! Glen loved it but only a couple guests could handle it, so he will have a lot of leftovers to enjoy. 😉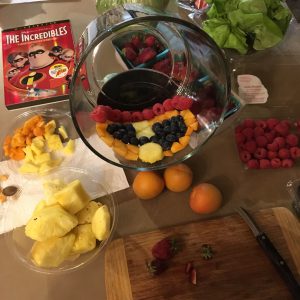 I was quite proud of the next edible art since it was tricky to execute such curves and tapers in a fruit mosaic, especially vertical to show up the side of my large trifle bowl. I propped the bowl at low angle so it was mostly flat, then used the DVD case as a model for the same oval "i" logo, careful to flip it upside-down and backwards for the direction I was working. You might think this would be easy, but the fruit needs to be chopped fairly fine for curves and tapers, and it works best with the cut side toward the glass so each fruit shape sticks in place instead of rolling around like berries do. I never expected to say "I need smaller blueberries for better image resolution…" haha! You also need to be careful which kinds of fruit yields juice that still stain your other fruits, plus if any fruits might oxidize and turn brown. Cut strawberries are the worst culprit since their juice drips everywhere and stains everything red, so I filled in around the logo with red raspberries first before fading into cut strawberries, and I made sure not to place any strawberries at the top edge or red juice would stain the pineapple "i". I also used apricots for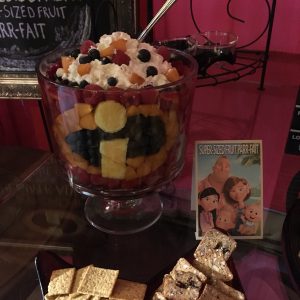 the orange areas since peaches bruise and brown so easily. Once your design is complete, you must tightly pack fruit behind it, filling in from the bottom up, so when you turn the bowl upright, your image along the glass stays intact. Make sure you don't backfill with any cut fruit that will stain until you have enough fruit buffer next to your image, then you can fill with a mix of fruit. Having the fruit already mixed at the top toward the back means people can scoop to serve themselves while leaving the design intact. Since I called this my Super-Sized Fruit Parr-Fait, and parfaits are layered with whipped cream or custard, I quickly squirted whipped cream on top and garnished with some last fruit pieces. My guests were definitely impressed, but this fruit salad was so large that this also means we have a LOT leftover to eat! 😉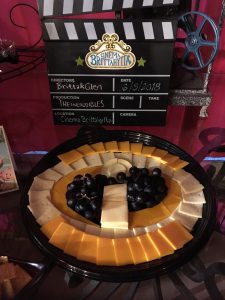 Since the rest of the menu was just clever names with signs, I had time for a stretch goal of Incredi-Cheeses & Crackers, using the "i" logo again, this time using gouda & cheddar, with black grapes to fill in the oval. Since I was using a black tray I could have left the oval empty, but I liked the idea of cheese & grapes together. To have more cheese for snacking, I added rows around the oval. A cheese mosaic is such an obvious and simple idea that now it's hard to believe my very first one was only the BB-Ate Cheese Plate 2 years ago for The S'mores Awaken! I'll definitely be doing this more often as long as I have a fun concept.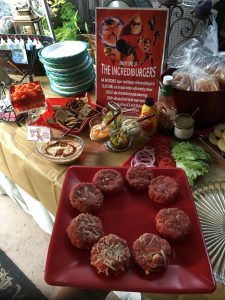 My first food idea for the Incredibles was a whole family of Incrediburgers, inspired by A&W's Papa burger & mama burgers. I painstakingly altered some clip art to replace the names over the family figures, and made a fun sign explaining them: MR. INCREDIBLE super-sized burger with everything on it – ELASTIGIRL lean teriyaki chicken with stretchy cheese – VIOLET add a purple forcefield of sliced onion rings – DASH add spicy Dash Dip for super-speed …or try one of the JACK-JACK Sliders, each with a different surprise!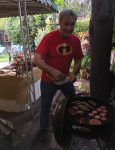 We bought full-size burger patties that my own Mr. Incredible grilled for us, and he made his own teriyaki marinade from scratch for the Elastigirl chicken breasts. I love the King's Hawaiian rolls which are the perfect size as slider buns, so I stole two full-size burger patties to split into quarters to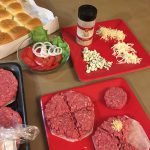 fit on the rolls. I love blue cheese inside burgers, so that was two sliders, grated mozzerella in two more, a 4-cheese blend in two more, and minced onion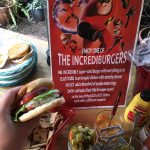 flakes inside the last two. The only trick was finding which one you wanted after they were grilled, but I guessed correctly and enjoyed a blue cheese! All the sliders and chicken breasts were scarfed, along with all but one burger, so we were very glad they were a hit!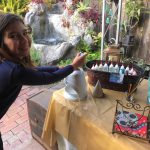 I keep wondering if the Make Your Own Snow Cone will get old one year, but it hasn't happened yet, so this time it was Make Your Own Frozone Cone, with an extra Elsa joke for those with sharp eyes…not my artwork, but found as an online poster mashup that cracked me up! Ellie made a couple since she is the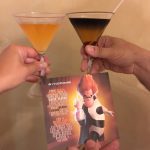 resident expert snow cone maker, but none of the adults had any this time around.
I had Super-Ade lemonade on the menu, but the custom cocktail was orange, white & black as the Syndrome…"Pour peach syrup into a cocktail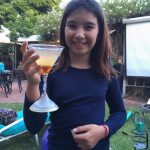 glass, then fill with white cherry energy drink until almost full. Carefully pour black vodka so it layers on top of the soda. For a Buddy Pine mocktail, eliminate the evil vodka, and you're in happy times before the superfan became a villain." We did have a couple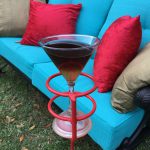 people enjoy the mocktail pre-villain version, and all the glowing martini glasses fit perfectly in the cupholder yard stakes that made their summer debut! Thanks to Glen for a great Christmas present!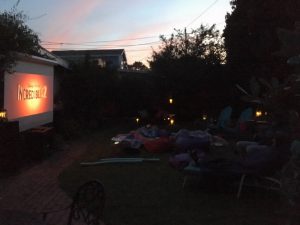 Everyone enjoyed the movie, but no one stayed for s'mores this time. I had suspected that might happen so I didn't make special s'mores this time, but I did have normal s'mores fixings all ready just in case anyone surprised me. Glad we had a successful season premiere for Cinema Brittahytta! You can see more photos below, and stay tuned for two more movies this summer…