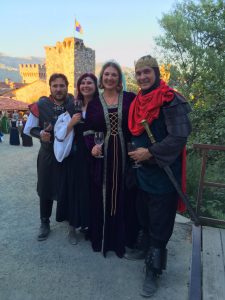 We had so much fun last year at our first Midsummer Medieval Feast at Castello di Amorosa that we decided to make it an annual tradition, so this year we invited more friends, got camping reservations 5 months ahead as cheaper lodging (even the cheaper Calistoga hotels are expensive!), and made a Napa Valley weekend of it! Thanks to Cyd & Mike for joining us & making this year's feast extra fun!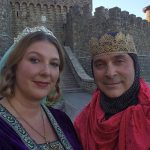 Glen & I rented medieval outfits last year since Glen wanted to be fancier than any outfits I could cobble together from my costume closet with less than 2 weeks notice, so since I didn't make anything myself(!), I didn't post here. For this year we wanted to be visiting royalty, so we both wore crowns and clothing suited for a king and queen, including a cape for King Glen, and a rhinestone tiara with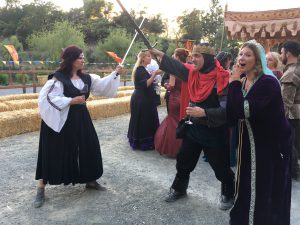 sheer aqua veil for me. Over the past year, I had gathered my patterns and found fabrics & trims to make us our royal outfits for this year, but due to all my wedding projects, especially making my Victorian ruffled wedding dress, I couldn't start our medieval outfits until after we got back from our honeymoon. I found a fantastic faux chainmail shirt and matching hood for Glen, some laceup black pants and boot covers that were also great for pirate use, all from Amazon using free points. We were especially impressed how the shirt & hood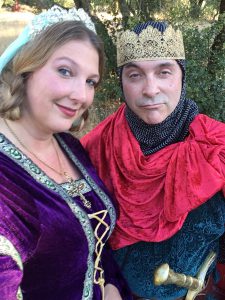 had such a cool woven raised texture that really looked like chainmail, for only $30! It was over 90F but Glen thought the chainmail hood looked so much better than his "businessman hair" that he wore the hood all night! 😉 I gave him his choice of metal crowns also found on Amazon, but he preferred the look of the crown I made from tall gold lace trim. We had researched kingly outfits online, and he wanted 14th century or earlier, with the long belted tunic and cape across the shoulder. I had 2 yards of embossed teal velvet in my stash so used that for his tunic, without trim for this year since I ran out of time. He wore the new black leather shoulder pauldron he bought for steampunk use, and I draped some leftover crushed red velvet as his cape, running out of time to add the white fur trim, so that will be something new for next year. We had just bought the brown leather belt at the pirate festival the week before, and he chose his favorite plastic sword from my stash tucked into his belt.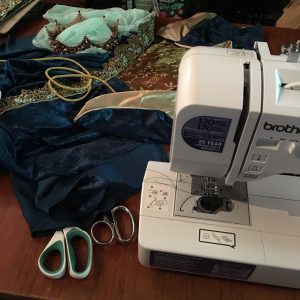 Time still got away from me for my teal & gold dress I had planned, so I finally got everything cut out the Sunday evening before the event, with barely enough evenings to sew, but then my sewing machine didn't work! My wedding dress must have been its swan song, since it was still working when I put it away when my wedding dress was done, but now the switch won't turn on at all. I got a basic model sewing machine same-day shipping on Amazon Prime and was able to finish Glen's tunic, cape & crown enough to wear, but still not quite enough time to finish my matching dark teal velvet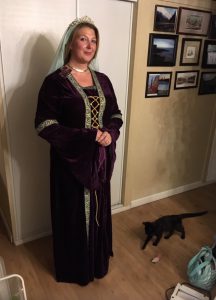 & gold brocade dress, so I resorted to a purple costume dress I was able to get in time with free points via Amazon Prime, and not only was the XXL surprisingly long enough for my long legs even though I needed to take it in more than the lacing could manage, but I did have just enough time to add pockets in the side seams, which were a real blessing! Since this isn't a historical event like a renfaire, and seeing what people wore last year we can get away with a lot more variety, so having a few less expensive outfits to rotate through the years will be good to have. I still hope to finish my teal & gold dress soon so I don't put it away unfinished & run out of time next year too!
The castle event starts with a glass of wine as you stroll up the hill with a herald trumpeting your arrival, then some appetizers and free-flowing wine under decorated tents up at the lake with the Blue Knight vs. Black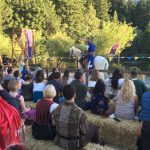 Knight horseback jousting in real armor, thankfully usually a breeze at the lake since it's often at least 90F! After the joust as the sun is going down, lighting the castle towers perfectly, everyone is ushered back down the hill along the castle ramparts and down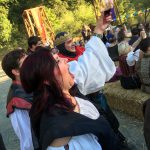 into the courtyard, which has been completely filled with long communal tables, with a menu at each place setting advising everyone to authentically eat with their hands, and listing smoked turkey legs, cheeses, fruits, nuts, desserts, and more free-flowing wine of course, since the Castello is a winery after all! This year we were at the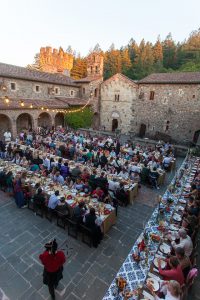 corner under the balcony next to the VIP table, so we saw the juggler, heard the musicians, and our kilted friend who we had chatted with up at the lake found us later in the evening for more fun conversation. Everything abruptly ends at 10pm as everyone heads to the parking lot for free shuttles to Calistoga hotels, the local Calistoga shuttle that costs $1 per person, or Uber directly to our campsite if the shuttle never shows up. 😉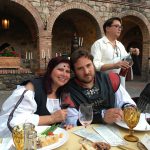 Last year it took so long in traffic that we were changing into our outfits in the car in the parking lot, so I was really hoping to arrive earlier this year so we could use our member discount for touring the other castle rooms that close at 6pm, especially since we needed to set up camp before dark. I took the day off but Glen had to work that morning, so we didn't get on the road when we hoped. Due to Friday afternoon traffic, we barely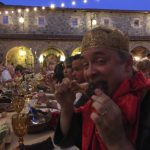 got to the campsite at 5:30pm, set up our tent & changed into our garb, then the $1 shuttle pickup finally arrived closer to 7pm, so not only was the rest of the castle already closed, but the evening event had already started. Last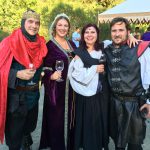 year we were too late even for any of the appetizers, but this year thankfully there was still food, and the jousting hadn't begun yet. My pockets were heavily used for my folding fan, phone, tissues, bobby pins, and even a whole box of safety pins that came to the rescue of another guest's wardrobe malfunction! Next year we really want to leave home before noon so we can take fantastic photos in our outfits inside the Great Hall and around the castle towers, and if you also attend, please find us & say hello!