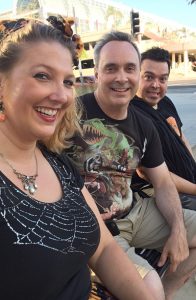 My Eerie Elegance Halloween Scream Team decided to take a road trip to a new Halloween festival in Long Beach! This was only the second year for Midsummer Scream, but we had seen good reviews of last year and we had a great time. Interesting panels, good instructional demonstrations, lots of inspiration, I had fun wearing a pinup girl style spiderweb dress I barely finished before driving down plus a graveyard skirt mashup outfit, but we actually didn't buy anything since I had just received my new Hot Wire Foam Factory electric knife set and foam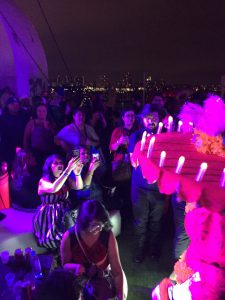 coat products the night before for my birthday! It was fantastic to be able to quiz the company owners and see products in use! Since the costume ball was on board the Queen Mary, we decided to stay the weekend there in the vintage ship hotel and also attend a couple of their ghost hunter tours, with me wearing my Madame Leota dress with crystal ball earrings for Dining with the Spirits…and I thought for sure something gory would win the costume contest at the party packed full of hundreds of people, but guess what?!? Keep reading for the whole story and photos!
Eerie Elegance Scream Team road trip! 🕷🕸💀🎃👻
My hands were too full unloading to take a photo of the outside of the ship, but we are now in our room on the Queen Mary with a lovely view of the harbor! Fun vintage toilet flush pedal, original fan and heater, a mermaid riding a seahorse, and cool openable portholes!
Our Dining with the Spirits tour started with a delicious group dinner with a harbor view at Sir Winston's Restaurant on the Queen Mary! Glen was the only one who finished his whole steak, and the edible flower garnish was like a mild radish. Jerry is still uncooperative for photos though! 😉
Our Dining with the Spirits tour continued with our guide Tony taking us around the ship and telling stories about past haunted encounters experienced by himself, people on his previous tours, and others. He advised us to take photos of reflective surfaces since ghosts might appear as reflections, but I never saw anything other than reflections of our group. Tony got out an electrical meter he said would beep when electrical energy spikes were near which meant ghosts, and you could ask the ghosts yes or no questions…funny that he gave it to the Ghostbuster girls! 😉 In the engine room and by the propeller Jerry felt many angry spirits filling him with dread to the point of making him dizzy. Glen and I felt nothing truly eerie, but we enjoyed the spooky stories and the Art Deco decor.
My first ever room service but no room to eat it! We made it to Midsummer Scream and registered early enough to get tote bags, and we are enjoying chatting with fellow haunters while we wait for the main hall to open. 🙂
Glad we got in early since the line to get in by 11:45 was around the block! We saw only a little of the exhibit hall before the Creating the Twilight Zone Tower of Terror panel started. There's a long line for Elvira autographs even though she's not in costume, but we saw her!
We caught a Day of Dead haunt preview show then finally finished surveying the exhibit hall. I was able to ask a ton of questions of the company owner and handle examples of all the foam coat and cutting products I got for my birthday! I spotted Haunted Mansion Boba Fett, a fantastic Frankenstein couple, and Glen was in heaven at the electrical device display, and even suggested to the builder electrical details how to make his dials move. 😉
Even with our premium Front of Line passes we only made it through 6 of the 13 mini haunts in the Hall of Shadows, so more tomorrow. I attended a facade design presentation while the boys went to one on triggers and controllers, but it was worth staying late for the rescheduled Peppers Ghost presentation!
The Sinister Circus Costume Ball was so packed there was a long line to get in! There were a ton of excellent costumes, and I thought for sure something gory would win…but guess what?!! 😮 Both before and after the contest I was constantly asked for photos, keeping me grinning ear to ear, and Glen documented that so well that I have a billion photos to go through after some sleep!
We got back to Midsummer Scream exactly at opening time, and our front of line passes with wristbands from yesterday were totally worth it since we walked right in past all the crazy lines! First stop was the Black Cat Lounge kitty adoption room since there was always a line yesterday. This sweet black kitten with orange eyes let me hold him for quite a while!
More fun costumes plus my new Halloween mashup outfit with spiderweb face paint, spiderweb shirt, web necklace, skull bracelet, black cat jack o'lantern earrings, and graveyard skirt & matching headband!
All three of us split up for our first presentations today, so I saw the cool Halloween Science Fun preso with glowing fluorescein, flaming bubbles, ghost poop with an adorable Ghostbuster, and fun with 2000 volts of static electricity and hair! All three of us joined again for the excellent Designing Immersive Environments presentation.
Glen and I couldn't resist a preso called How to Make a Dragon! Definitely useful and interesting with foam carving and coating techniques and pneumatic systems taught by home haunters of CalHaunts of Southern California. We both asked a bunch of questions afterwards since we need to use pneumatics this year for the first time.
Jerry attended the Winchester Mystery House panel and scored a fancy movie poster plus 2 free tickets to their new tour, and got the scoop on the new October Candlelight Tour haunt that will be $125 each! Too bad it was opposite the dragon demo or we would have been there too. We had some fun with more photo ops, then we saw all but one of the rest of the 13 mini haunts in the Hall of Shadows…we were still in line when the last one was forced to close after official closing time, but we cranked through 6 in only an hour!
We took advantage of every minute Midsummer Scream was open but it's all over for 2017! Jerry couldn't take Monday off work so he left for the airport straight from the convention center. Glen & I grabbed some dinner & a nap before our Haunted Investigation tour back on board the Queen Mary…
Our Queen Mary Paranormal Investigation tour with real ghost hunter Matt and his equipment was almost 5 hours long starting at 10pm! We spent a lot of time in the engine room especially door 13 where John Pedder died in 1966, saw the giant propeller again and heard the same tragic story, went up into the bow for some spirit box white noise attempt at spoken contact, and a bonus "after-tour" of room B340 again "the most haunted room" that really isn't. Some people on our tour felt touches and heard disembodied voices, but neither Glen or I did and no ghost kitty either…darn!
Thank goodness we could sleep in this morning! We checked out & loaded the car, then went back on board for more self-exploration of the Queen Mary. Too bad the only way to see the fancy grand salon rooms are on yet another paid tour though, since they weren't on either haunted tour. There is a giant Lego model and several scale models even with cutaways, an excellent movie highlighting personal experiences of crew, military heroes, war brides, and refugees who traveled on the ship, and of course fabulous original Art Deco decor with wood paneling. Farewell to the grand ship as we drive ourselves home from a fun weekend!